By Matt Hougan
News that Charles Schwab (NYSE:SCHW) is expanding its ETF line-up means it's serious about exchange-traded funds. Can you count on its funds to perform as advertised?
In a word, yes. But there are things to watch out for.
As Olly Ludwig reported recently, Schwab has filed papers to launch three fixed-income ETFs. The funds are:
Schwab U.S. TIPS ETF
Schwab Short-Term U.S. Treasury ETF
Schwab Intermediate-Term Treasury ETF
They are the first Schwab ETFs to enter registration since the company launched its initial 8 ETFs in November and December. The company's selling position has been to offer very low-cost funds and provide free trading for clients with Schwab brokerage accounts. It's been successful: The company has raised more than $1 billion in assets over the past six months in those initial ETFs. That's impressive for what amount to me-too funds.
But have the funds been delivering on their promises. To be honest, I hadn't looked recently. But when I did, I was pleased.
Of Schwab's eight ETFs, six traded with either 1-penny or 2-penny spreads in April. The two that didn't---international small-caps and emerging markets---are inherently more difficult to trade. While I would prefer to see those spreads come in from 4-cents-a-share, four cents is not terrible.
By and large the funds have also tracked closely to their index on a NAV basis. Although it's not shown in the table, the funds have traded in line with their NAVs as well. The only fund that's worrisome from a tracking perspective is the Emerging Markets fund, which lagged its benchmark by 0.60% in March. That's probably because it was a new fund, but it at least raises a red flag. One hopes this evens out over time.
All-in-all, the funds have performed more-or-less as expected, with low costs, decent spreads and rising trading volumes.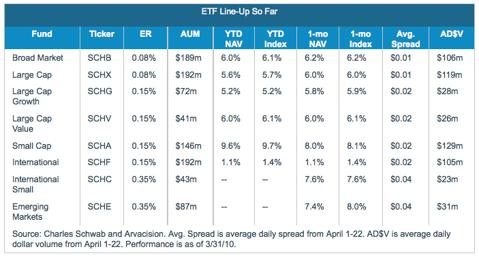 Does that mean all investors should switch over to Schwab ETFs? Of course not. The question of what is the "best" ETF in these categories is more complicated. But if you have a Schwab account and want to DRIP into ETFs, they can't be beat. The new Treasury funds will only add to that.