At first look, Phillips 66 Partners (NYSE:PSXP) seems to be quite an unattractive proposition for MLP investors. The stock offers a pitiful 2.30% yield and trades at a 40x multiple to DCF, quite high compared to other midstream MLPs. However, as is often the case with this market, the first glance is often wrong.
The reason why Phillips 66 Partners trades at these levels is quite simple -- it has considerable growth potential.
Phillips 66 Partners' general partner ("GP") Phillips 66 (NYSE:PSX) has many assets that are just waiting to be dropped down to the MLP. These transactions will likely lead to massive amounts of accretion to Phillips 66 Partners' DCF per share and hence higher future distributions.
Below are some of the reasons why Phillips 66 would be interested in dropping down assets to its MLP:
Phillips 66 owns both a large common and subordinated unit stake (71.7%) in Phillips 66 Partners and hence will benefit from the incremental distribution increases
Phillips 66 controls a 100% interest in Phillips 66 Partners GP and hence will receive higher incremental cash flows via its incentive distribution rights, or IDRs
Phillips 66 would receive cash for its midstream assets, leading to more capital available for upcoming growth projects

Midstream assets inside a MLP structure are much more tax efficient
As shown, Phillips 66 clearly stands to benefit greatly from Phillips 66 Partners' growth. The company has also noted that it expects to use the MLP as a vehicle to expand its midstream businesses.
Likely first dropdown: Sand Hills and Southern Hills pipelines
As was noted in the IPO prospectus, Phillips 66 Partners was granted the right of first offer ("ROFO") to Phillips 66' one-third equity interest in the Sand Hills and Southern Hills pipelines. These are NGL pipelines transporting product from the Eagle Ford, Permian, and mid-continent region to storage facilities around Mont Belvieu. Phillips 66' direct investment in these projects is estimated at about $709M.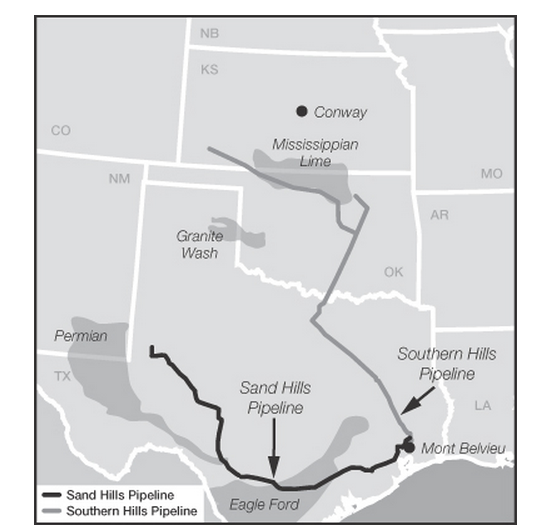 I expect Phillips 66 to eventually offer these pipelines to Phillips 66 Partners sometime in 2014 as the MLP has ample liquidity to fund this transaction, with $425M in cash and an untapped $250M credit facility.
Assuming Phillips 66 sells its interest in the pipelines at cost and that Phillips 66 Partners uses 50% equity (offered at a 5% discount to current prices) to fund the transaction, the company would need to issue about 9.6M units and spend about $355M in cash to fund this transaction.
Below is a breakdown of my numbers:
$355M from 9.6M units offered at $37.00
$355M in cash
= $710M
How accretive would these pipelines be? Well to answer this we would need to do some estimates on their EBITDA metrics.
Both of these pipelines were placed into service during Q2 2013. While volumes are still ramping up, we can still make some educated guesses on their EBITDA numbers. During Q4 2013, I estimate that Phillips 66 generated from $10M to $15M in EBITDA from its equity interest in these pipelines. On a per year basis, this would represent $40M to $60M.
Using the midpoint of $50M, Phillips 66 Partners would pay slightly more than 14x EBITDA for the pipelines, which is likely to decrease once volumes are maxed out.
Assuming 15% of EBITDA is required for maintenance capex annually, Phillips 66 Partners would generate upwards of $42M per year in DCF from these assets. Given that Phillips 66 Partners currently generates about $71M in DCF per year, this transaction would increase annual DCF 60% to $113M. Do note that I assume Phillips 66 Partners would need to issue 9.6M units to fund the 50% equity portion of this transaction, increasing total unit outstanding by 13% to about 80M units.
However, the potential increase to the distribution will likely be limited due to increased IDR payments to the GP. As shown below, Phillips 66 will be entitled to an increasing share of DCF starting at distributions of about $0.244375 per unit per quarter.

If Phillips 66 Partners maintains its current 1.10x coverage ratio and adjusting for increased IDR payments, I estimate the company to be able to increase its distribution to roughly $0.30 per unit per quarter, up 33% from current levels.
Other potential dropdowns: Sweeny Fractionator and Freeport Liquefied Petroleum Gas Export Terminal
While the NGL pipelines are very likely to be Phillips 66 Partners first dropdown, there are also several other large midstream assets in Phillips 66 portfolio.
It has been rumored that the Freeport Liquefied Petroleum Gas Export Terminal and the Sweeny Fractionator One projects will be eventually dropped down to the MLP. Phillips 66's board recently approved a $3B capital investment to move forward on these projects.
Once completed, these will be ideal assets for Phillips 66 Partners as they provide stable, fee-based income ideal for the MLP structure. In addition, they are being supplied via both the Sand Hills and Southern Hills NGL pipelines, allowing for further cost synergies.
Conclusion
Phillips 66 Partners is clearly a MLP set up for massive growth. During a recent conference call, it was noted that the company is targeting upwards of 20% DCF per unit growth going forward.
I fully expect Phillips 66 to offer at least one of its equity interests in the NGL pipelines to Phillips 66 Partners in 2014. With the recently announced $3B midstream expansion project, Phillips 66 will likely need some cash for this expense. As I noted above, Phillips 66 will still benefit from Phillips 66 Partners' growth given its limited partner and GP interests.
Disclaimer: The opinions in this article are for informational purposes only and should not be construed as a recommendation to buy or sell the stocks mentioned. Please do your own due diligence before making any investment decision.
Disclosure: I am long PSX. I wrote this article myself, and it expresses my own opinions. I am not receiving compensation for it (other than from Seeking Alpha). I have no business relationship with any company whose stock is mentioned in this article.