Russell Reconstitution 2010 coming soon.

On June 11, 2010 Russell Investments will start the reconstitution of its indexes by publishing the preliminary additions/deletions. This will go on until the end of June when the full membership list is posted. This will affect the Russell 3000, Russell 1000®, Russell 2000®, Russell Midcap® and Russell Microcap Indexes.
One might assume that if you can buy before the reconstitution you can make a huge return, but that's not entirely true. There was a paper written back in 2001 called "The Russell Reconstitution Effect" that backtested returns from 1996-2001 looking at the returns of equities that entered the Russell indexes. Through the addition/deletion effect it showed that one would have a mean return of 15% by trading the reconstitution in June alone. So it's not huge, but a decent return.
Since the Russell 3000E has the top 4000 equities in the U.S. by market cap (as stated on last trading day in May), and the indexes are subsets of this large list equities can move up and down in these indexes. I'll go over the basic methodology which anyone can get from the Russell website, and then I'll use their methodology to figure out which microcap energy stocks could be good candidates for addition to the index. I encourage the Seekingalpha community to add their insight on the list of stocks that could be added to the Russell 3000E. This article is just the beginning to find good candidates and then to track to see if there is unusual volume coming up in May that could indicate institutional buying.
Basic methodology
Russell 300E= 4000 biggest U.S. companies by market cap.

On last trading day in May all eligible securities are ranked by their total market cap.

The other Russell indexes are formed from this set to become subsets.

IPOs are added at the end of each quarterly calendar.

Defining eligible securities:
U.S. companies are selected, this is to minimize country risk according to the Russell Methodology pdf.

Stock price min $1.00 on last day of May, and its average monthly value was $1.00 to avoid any extra turnover

Min market cap $30mm.

Float must be larger than 5%.
Cross ownership shares will be excluded. By this I mean that if another Russell constituent holds a large percentage of shares outstanding of new firm then these shares are not included in the float

Large corporation and private holdings greater than 10% will be ignored, but institutional ownership is not eliminated, that is accounted for in the float count.

ESOP shares that are more than 10% are adjusted

Unlisted shares not traded on U.S. exchanges are adjusted

IPO lockups are adjusted

Government holdings are removed, government pensions are not removed
Home Country Indicator (HCI): three criteria
If it's incorporated in the U.S. then OK

Has a stated hq location in the U.S. then OK

Trades in the same country (ADRs, ADSs are not okay)
So I created a screen that looked at all energy stocks not in the Russell indexes that were within the market cap of $50M-$375M, had a stock price above $1, and average daily volume above 75k shares traded daily.
| | | | | |
| --- | --- | --- | --- | --- |
| Ticker | Short Name | Market Cap | Price: | 30 d Ave Volume |
| | MV OIL TRUST | 305.10 | 26.53 | 81,925 |
| | WHITING USA TRUS | 298.91 | 21.56 | 170,777 |
| | GASTAR EXPLORATI | 270.15 | 5.40 | 168,310 |
| MHR | MAGNUM HUNTER RE | 269.60 | 4.65 | 842,822 |
| | CHINA NORTH EAST | 226.98 | 8.78 | 638,232 |
| | ABRAXAS PETRO | 224.88 | 2.95 | 488,153 |
| | CALLON PETROLEUM | 188.25 | 6.55 | 2,130,965 |
| AHD | ATLAS PIPELINE H | 184.23 | 6.65 | 154,046 |
| | CRIMSON EXPLORAT | 152.14 | 3.95 | 183,506 |
| HOKU | HOKU CORP | 149.74 | 2.73 | 108,811 |
| MILL.PK | MILLER PETROLEUM | 145.23 | 5.35 | 211,587 |
| RAME | RAM ENERGY RESOU | 144.24 | 1.85 | 198,588 |
| | HYPERDYNAMICS CP | 112.15 | 1.23 | 931,734 |
| MPET | MAGELLAN PETRO | 111.25 | 2.14 | 270,173 |
| | BIOFUEL ENERGY C | 103.03 | 2.92 | 174,472 |
| CEP | CONSTELLATION EN | 87.44 | 3.75 | 94,145 |
| | PACIFIC ETHANOL | 71.96 | 1.17 | 3,960,170 |
| | NGAS RESOURCES | 55.98 | 1.67 | 293,463 |
| | CANO PETROLEUM I | 54.23 | 1.19 | 271,155 |
| | VERENIUM CORP | 53.23 | 4.40 | 174,881 |
| | GEOMET INC | 51.22 | 1.30 | 184,130 |
| | FLOTEK INDS | 51.09 | 2.11 | 564,274 |
Next I made the assumption that any of the stocks that Russell kicked out last year won't be included this year; they state in their methodology that they want to minimize transaction costs and that is why they rebalance yearly. Adding back stocks it dropped last year doesn't seem to fit this rationale, thus I'm excluding those stocks. This takes the energy stocks down from 22 to 14.
Of these 14 remaining stocks, there is a REIT (NYSE:WHX), a trust (NYSE:MVO), a Chinese player (NYSEMKT:NEP), a firm that is primarily working in West Africa (NYSE:HDY), and MILL, which is a pink sheet that is $0.25 on yahoo and $5.35 on Google. So these stocks I removed from my final list.
The remaining stocks are:

GASTAR EXPLORATION (NYSEMKT:GST)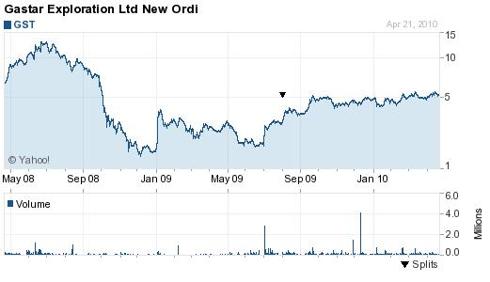 Gastar Exploration Ltd., an independent E&P. The company owns and operates exploration and development acreage comprising approximately 28,200 gross acres in the deep Bossier gas play in the Hilltop area of East Texas; and approximately 38,800 gross acres in the Marcellus Shale in the Appalachian area of West Virginia, and central and southwestern Pennsylvania. It is also involved in the development of coal bed methane comprising 40,700 gross acres in the Powder River Basin of Wyoming and Montana. Gastar Exploration Ltd. was founded in 1987 and is based in Houston, Texas.
It has two main segments it is working in, East Texas' Bossier Shale, and Marcellus Shale in the Appalachia region. Like many other E&Ps it is in the hot regions in the U.S. which I would feel would be something the Russell rebalance would consider. How much exposure would be enough is the question one needs to ask though.
MAGNUM HUNTER RESOURCES (MHR)
Magnum Hunter Resources is an independent oil and gas company. It's an E&P in West Virginia, North Dakota, Texas, and Louisiana. The company operates approximately 2,048 wells; and owns approximately 87,000 net acres, including approximately 46,000 net acres overlying the Marcellus Shale, as well as the shallow sandstones. As of December 31, 2009, it had estimated proven reserves of 6.2 million barrels of crude oil equivalent. The company was formerly known as Petro Resources Corporation and changed its name to Magnum Hunter Resources Corporation in July 2009. Magnum Hunter Resources Corporation is based in Houston, Texas.
Keybanc just initiated MHR with a Buy rating, and check out the YTD return on this stock.
At the IPAA conference this year MHR showed its resources are in close proximity to those of EOG, which has had a similar run up of late.
A lot of good news has come for MHR recently and this momentum could continue into June.
Atlas Pipeline Holdings, L.P., a midstream energy company engages in the transmission, gathering, and processing of natural gas in the Mid-Continent and Appalachia regions. As of December 31, 2009, the company owned and operated 8 natural gas processing plants with aggregate capacity of approximately 900 million cubic feet per day (MMCFD); and 1 treating facility with a capacity of approximately 200 MMCFD. The company also operated 9,100 miles of active natural gas gathering systems located in Oklahoma, Kansas, and Texas, which gathers gas from wells and central delivery points to companies' natural gas processing and treating plants, as well as third-party pipelines. In addition, it owned and operated approximately 1,800 miles of natural gas gathering systems in the Appalachian Basin; and approximately 80 miles of active natural gas gathering pipelines located in northeastern Tennessee. Atlas Pipeline Partners, L.P. operates as the general partner to Atlas Pipeline Holdings, L.P. The company is based in Moon Township, Pennsylvania.
With 30% of its shares outstanding available for float (9M shares), it meets all the criteria to be considered as a candidate for the Russell indexes, but it was also last year and was not included. It would be interesting to see why it wasn't.
CRIMSON EXPLORATION (NASDAQ:CXPO)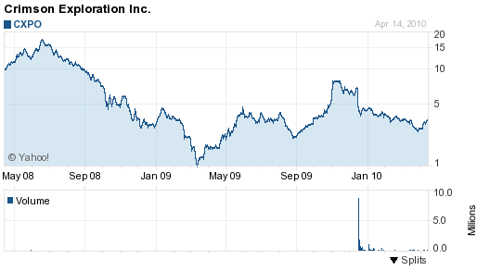 Crimson Exploration is an E&P in natural gas and crude oil properties primarily in East Texas, Southeast Texas, South Texas, Colorado, Mississippi, and Southwest Louisiana. As of December 31, 2009, its estimated proven reserves were 97.5 billion cubic feet of natural gas equivalent. The company was formerly known as GulfWest Oil Company and changed its name to Crimson Exploration Inc. in June 2005. Crimson Exploration Inc. was founded in 1987 and is based in Houston, Texas.
CXPO presented at the 2010 IPAA conference and here is a summary from that report:
East Texas - Haynesville Shale
12k net acres

Estimated EUR 6.5Bcfe per well

84 drilling locations

Similar numbers for Mid-Bossier Shale and James Lime (but with more drilling locations)
Eagle Ford Shale
5000+ net acres

Estimated EUR 150Mboe per well to 5Bcfe per well

50 drilling locations
RAME is a competitor and it was deleted from the Russell index last year.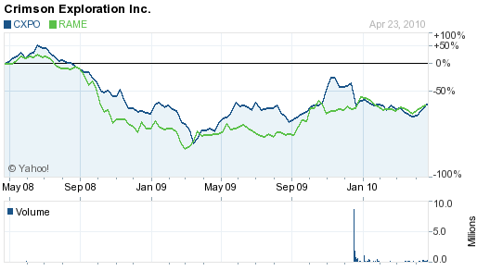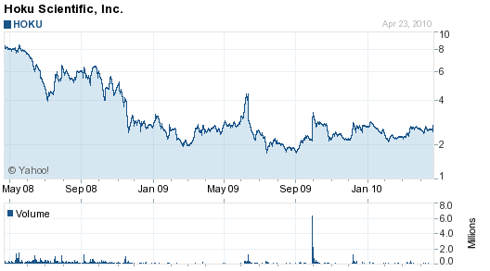 Hoku Corporation operates as a diversified clean energy technologies company. It operates in three divisions:
Hoku Materials

Hoku Solar

Hoku Fuel Cells
The Hoku Materials division plans to manufacture, market, and sell polysilicon for the solar market from its plant under construction in Pocatello, Idaho. The company was formerly known as Hoku Scientific, Inc. and changed its name to Hoku Corporation on March 19, 2010. Hoku Corporation was incorporated in 2001 and is based in Honolulu, Hawaii.

According to PTR Research, HOKU's cost of capital is 11% and its ROE is around 3% leading to its slow and steady decline. What is interesting is that its volume on Friday 4/23 was 4x its average traded volume.
Magellan Petroleum Corporation and its subsidiaries engage in the exploration for, and development, production, and sale of oil and gas reserves in Australia, North America, and the United Kingdom. Its assets include the Mereenie, Palm Valley, and Dingo fields in Australia; the East Poplar and Northwest Poplar fields in Montana; and a series of licenses (Markwells Wood / Havant) in the onshore southern United Kingdom. The company was founded in 1957 and is based in Portland, Maine.
It has a diverse geographic segment, but based on what I've read it meets the requirements, yet I don't see anything compelling about this for the reconstitution. As a reference, Zion Oil & Gas (NASDAQ:ZN) is in the indexes because it's headquartered in the U.S., but it does a lot of its E&P in Israel.
BIOFUEL ENERGY CORP (NASDAQ:BIOF)
BIOF has "the goal is to become one of the leading ethanol producers in North America. Headquartered in Denver, Colorado, the company owns and operates two of the largest dry mill ethanol facilities in the United States. We produce 230 million gallons per year of fuel grade ethanol and 720,000 tons of distillers grains at these facilities and deliver these products to fuel blenders and agricultural users both locally and nationwide."
Green Plains Renewable (NASDAQ:GPRE) was added to the Russell indexes last year, PEIX, another competitor, was dropped last year as well.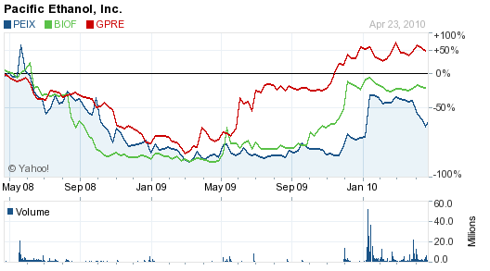 CONSTELLATION ENERGY PARTNERS (CEP)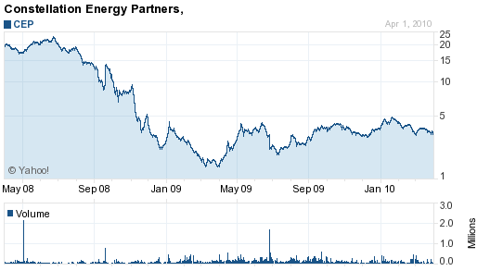 Constellation Energy is an E&P in oil & natural gas properties. As of December 31, 2009, the company had approximately 131.2 Bcfe of estimated proven reserves; and owned approximately 2,760 net producing wells. The company was formerly known as Constellation Energy Resources LLC and changed its name to Constellation Energy Partners LLC in July 2006. Constellation Energy Partners was founded in 2005 and is headquartered in Houston, Texas.
I really couldn't find anything compelling about the stock, it has 31% insider ownership, but it does meet the reconstitution rules and has a decent average volume.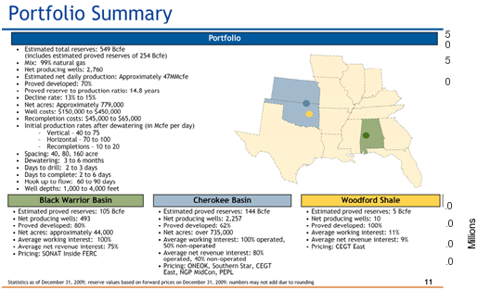 NGAS RESOURCES (NASDAQ:NGAS)



Price/Book only 0.42, volume is increasing.
Operates in the Southern Appalachia basin primarily and is active in natural gas exploration.
Devonian Shale Play Summary
333,000 acres

2,000 potential locations

Expanding play with extended laterals

Environmentally sound drilling and fracing operations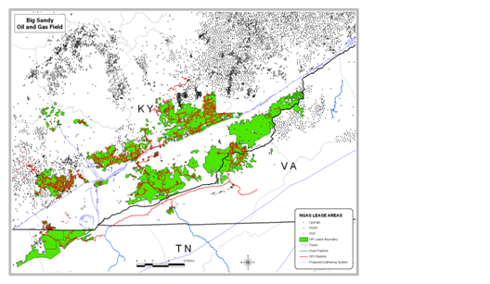 TVA is building an 880MW gas fired plant near the Rogersville Gas process plant that NGAS has. This plant will be completed in the fall 2011. The catalyst that NGAS is commenting on is that utilities such as Duke Power will be closing coal powered plants. Going to natural gas powered plants such as the TVA plant would be to NGAS' advantage.
Currently has 50%-57% of its natural gas contracted out into Q2 2011 in the $6.50- $6.66 range.
Conclusion:
Although all these stocks fit the criteria, I like MHR, GST and BIOF. Add your comments on each stock since I've taken a high level look at these stocks, and don't know much about their history, such as why so many changed their names.
Disclosure: None