With two days in a row last week of 1% moves higher, we finished the week strongly and with momentum headed in the correct direction. Foreign markets liked the news and today both Asia and Europe are higher, and strongly so.
We have seen big moves in some of the hardest hit names we follow, and this we view as a necessity if the market is to continue higher. With a lot of the recent losses reversed, the market appears to be setting the stage for Janet Yellen to possibly move markets with her comments when she goes to Capitol Hill.
Chart of the Day:
We know that we have used this chart multiple times over the past few weeks, but we wanted to highlight it one last time, using a three month period, so that readers could file away and/or note the importance of the 4,000 point level on the Nasdaq Composite. With many of the large caps looking like they are in rally mode, or at least headed higher from here, we may not have to worry about heading back down to that support at 4,000 but if we do we think it is important to carefully watch the large momentum names for guidance. That is what was the most recent downturn's tell and it might be the tell should this happen again.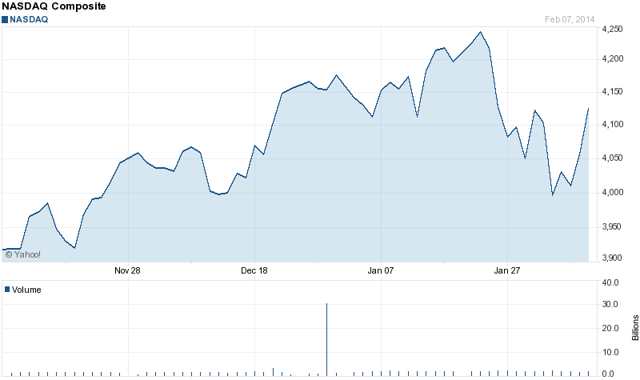 Source: Yahoo Finance
We have no economic news today but will have the JOLTS and Wholesale Inventory figures tomorrow.
Asian markets finished higher today:
All Ordinaries -- up 1.08%
Shanghai Composite -- up 2.03%
Nikkei 225 -- up 1.77%
NZSE 50 -- down 0.16%
Seoul Composite -- up 0.04%
In Europe, markets are trading higher this morning:
CAC 40 -- up 0.40%
DAX -- up 0.00%
FTSE 100 -- up 0.19%
OSE -- up 0.40%
Icahn Backs Down
With Apple (NASDAQ:AAPL) having taken an offensive posture in recent weeks, we wondered how Carl Icahn would approach the upcoming non-binding shareholder proposal to have the company immediately repurchase $50 billion of its stock by issuing debt. It seems after last week's revelation that Apple had bought back $14 billion in stock over two weeks along with the news that proxy advising firms were backing Apple and not Icahn, the tide shifted swiftly and Mr. Icahn saw that his window of opportunity had closed. This is probably best for all parties as it will now allow management to get back to work and not have to worry about daily tweets and interviews from Mr. Icahn.
Does This Put eBay In Play?
Although Apple was a long shot for Mr. Icahn, eBay (NASDAQ:EBAY) seems like a much more logical target. A target in fact that Mr. Icahn might very well find some help in battling management because there have been talks for years about splitting the PayPal division off of the e-commerce division.
Although a five year chart looks great on eBay, when you go out further it becomes quite obvious why the company is a ripe target for activists such as Carl Icahn.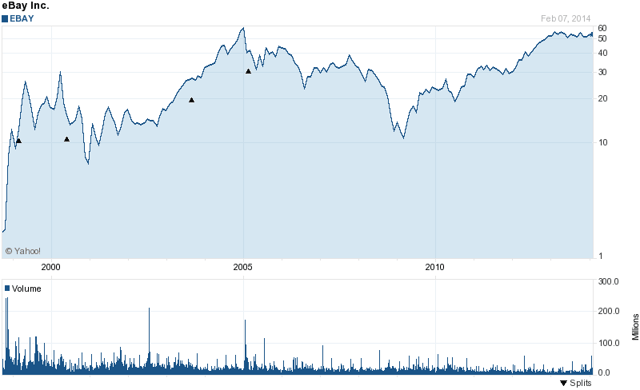 Source: Yahoo Finance
With a stagnant stock and growth issues facing the business, now might very well be the most opportune time to strike as investors can see the value and draw parallels to other pure-play names in the two divisions' sectors. With Icahn having run into a wall for now with his Apple position, look for him to focus his efforts on eBay and build a coalition to get representation on the board. From the articles we have read and the interviews we have seen it sure appears that many large shareholders are open to the idea of splitting up the two businesses.
Search, Localized
We tweeted (our handle is @theinvestar) this weekend that Yahoo (YHOO) had reached a deal with Yelp (NYSE:YELP) to integrate Yelp's local data into Yahoo's search results. We questioned in our tweet whether Yelp had gotten hitched to the correct partner for the long-term and were quite surprised that not one of the 'Yahooligans' responded to voice why it was good long-term. Just as the last mile was key when laying fiber-optics and other high speed wires, local is once again becoming a focal point for the tech industry as they look to incorporate data from users to offer more detailed and relevant search results.
With good results last week and this announcement, shares are on fire. The question now is the impact that will have long-term for the business and whether this makes Yelp more of a takeover target, or less of one.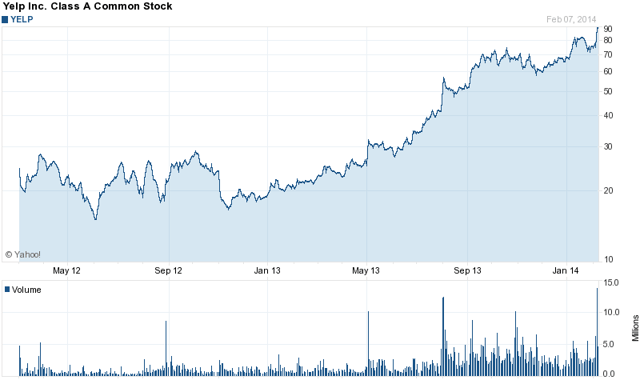 Source: Yahoo Finance
Shares are moving higher for Yelp shareholders, but our hope is that this would lead to a buyout in the future...preferably the near future as Yelp has now begun walking down a road of no return. Obviously Google (NASDAQ:GOOG) has its own system for reviews of local businesses and the such, but simply by aligning with Yahoo indicates to us that future opportunities with Google are essentially zero.
With Alibaba money coming in soon and Yahoo continuing to look for acquisitions to drive growth from both a revenue and traffic standpoint we think that Yelp might very well be an attractive takeover target for Yahoo. Obviously hurdles would have to be cleared, but with the companies set to tie their products together for consumers it seems to pave a path for further cooperation moving forward.
Disclosure: I have no positions in any stocks mentioned, and no plans to initiate any positions within the next 72 hours. I wrote this article myself, and it expresses my own opinions. I am not receiving compensation for it (other than from Seeking Alpha). I have no business relationship with any company whose stock is mentioned in this article.