Seeking Alpha editors published Part 1 of this series shortly after the New Year. At that time, I suggested three general 2014 stock investment strategies:
Understand the current phase of the business cycle and overweight stock sectors that historically outperform;
Identify and seek contrarian stock values; "the most hated names of 2013"
Maintain discipline when evaluating securities in a market that's run up 30%; don't chase hot tickets
In addition, I offered eight specific stocks that I believe were aligned with these strategies: Eaton Corp., PLC (NYSE:ETN), Union Pacific Corp. (NYSE:UNP), International Paper (NYSE:IP), Apple Inc. (NASDAQ:AAPL), Energy Transfer Equity (NYSE:ETE), Intel Corp. (NASDAQ:INTC), Caterpillar (NYSE:CAT), and Annaly Capital Management (NYSE:NLY).
In previous installments, I covered the aforementioned securities:
Part 2, industrial sector stock Eaton Corporation PLC
Part 3, contrarian call Intel Corp.
Part 4, industrial sector stock Union Pacific Corp.
Part 5, contrarian call Caterpillar Inc.
Readers interested in these articles may find the links here.
In Part 6, we will review International Paper Co., the global paper and packaging producer. IP is a Materials sector stock. Historically, Materials stocks tend to outperform the overall market during the mid-cycle phase of economic expansions.
On February 4, International Paper reported fourth quarter and year-end 2013 earnings.
Over the past 12 months, IP shares have advanced 12%, trailing the S&P 500 by about 6 points. The deficit was mitigated via a robust 3% dividend yield. However, since emerging from the Great Recession, shares have handily beat the market benchmark.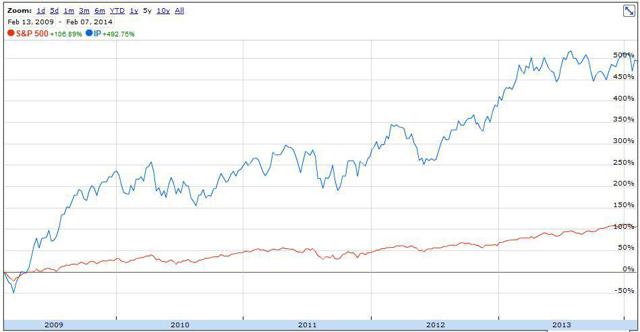 courtesy of google.com/finance
Investment Thesis
In early 2012, International Paper completed a $4.5 billion merger with competitor Temple-Inland Corp. This deal expanded IP's position as the largest paper and packaging corporation in the world. Within the commodity manufacturing industry, economy of scale is a key factor. International Paper is now triple the market capitalization of its nearest rivals. The company has leveraged size and span into superior margins.
While a solidly a U.S.-centric enterprise, International Paper adds breadth to its business with sound operations in Brazil, China, Russia and parts of Europe.
A growing economy means increasing transportation of all manner of goods, which in turn, requires greater demand for product and container packaging.
Over the past 7 years, CEO John Faraci and his staff have led the company on a successful journey to grow the business, streamline operations, and concentrate upon free cash flow. The team's track record for promise versus performance has been outstanding.
In addition, the management team and directors are shareholder-friendly.
International Paper by the Numbers
In Part 1 of this series, a number of financial metrics were offered to help identify whether or not a company is fairly valued. The best investors must not only identify great companies, but avoid overpaying for the stock.
Permit me to begin by stating that the numbers tell a story, but the numbers are not THE story. I point this out because it can become easy to get somewhat dogmatic about "the numbers." Let's review the metrics openly, but pragmatically; in light of the underlying corporate narrative and the investment thesis:
Price/Cash Flow: Year-end 2013 operating cash flow per share was $6.74. Based upon a recent closing price, this indicates ~7x Price-to-Cash Flow ratio. This is well below my general P/CF valuation target of 10x. Free cash flow (operating cash less maintenance capital) was $4.04 a share. Remarkably, International Paper generated significantly more free cash flow than net income.
2-Year PEG ratio: Over the next two years, S&P 500 Capital IQ offers a consensus view of Wall Street analysts indicating International Paper will grow operating earnings by 20% a year. Given the current 15x price/earnings ratio, this equates to a 0.75 PEG ratio. This is far lower than my PEG 1.5 hurdle rate. Materials sector stocks enjoy accelerating growth as the economy shifts to the mid-cycle phase.
Return-on-Equity: Premier companies often sport 15% RoE or greater. International Paper recorded 2013 return-on-equity of 17%. Buttressing these figures, the company routinely measures return-on-invested capital versus cost-of-capital. IP has covered the hurdle rate for the past 4 years. The following chart highlights the emphasis CEO Faraci has placed upon ensuring sound investment returns. The global economic recession hindered progress towards the benchmark for 2 years, but it has since eclipsed the hurdle rate.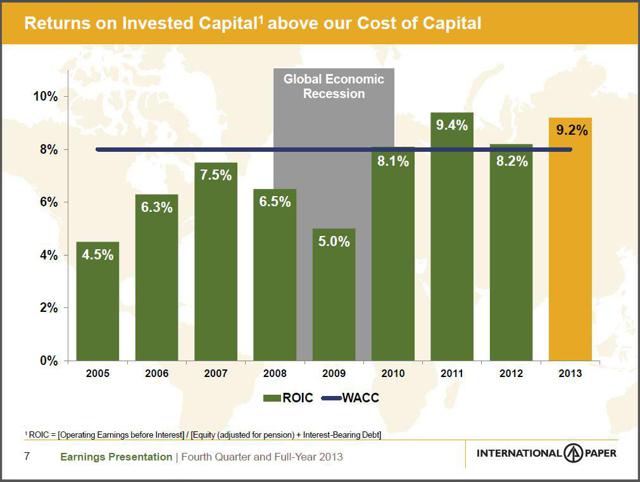 source: International Paper 4Q earnings presentation
Revenue Growth: Cyclical commodity businesses often don't show ratable revenue growth. Nonetheless, IP has logged consistent sales gains since 2009. This has been another key focus of the management team: attempt to diversify revenue sources globally and "flatten out" cyclical sales.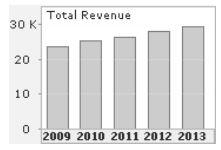 courtesy of ameritrade.com
Debt-to-Equity: Currently, International Paper has a long-term debt-to-equity ratio of 115%. This is largely the result of funding the Temple-Inland acquisition. The ratio is down from 153% a year earlier. Post-merger, Moody's and IP leadership agreed to evaluate debt management as a function of EBITDA. In order to maintain an investment credit rating, an expectation was set that the D2EBITDA ratio would be driven down below 3x. Shortly after the T-I close, this ratio stood at 3.8x. Less than two years later, it's 2.9x or within tolerance. This ratio includes managing a legacy pension accounting gap. CFO Carol Roberts commented on this event during the 2013 4Q quarter and year-end earnings conference call:
Turning to the balance sheet. I'm pleased to report that we've met our commitment to reduce our debt-to-EBITDA ratio below 3x by the end of 2013. As John mentioned, we paid down balance sheet debt by $650 million.
Margins: In 2013, IP expanded both gross margin and EBITDA margin. Corporate management indicates further margin expansion is projected in 2014 and out.
Price and Valuation
The correlation between a corporation's earnings / cash flow growth and price is indisputable. Investors pay for results and growth of a corporation's future cash flows.
Over the past 10 years, International Paper has compiled an average 7.5x Price-to-Cash Flow ratio. This is just slightly higher than the current multiple. Over the past decade, the company has grown OCF by about an annualized 5% rate. Analysts expect this growth rate to accelerate significantly in the next two years. If one concurs that the U.S. economic expansion will continue, even modestly; International Paper is well positioned to capitalize upon that growth.
Conservatively, I project International Paper to grow OCF to $3.35 billion, or $7.50 per share in 2014. Placing a 7.5x multiple on this yields a $56 stock. When combined with the dividend, this suggests a one-year total return target of 20%.
A market-median 15x P/E ratio on projected $3.75 2014 EPS correlates to a similar share price target and return.
Summary
International Paper is the best-of-breed player in the paper and packaging industry. A strong CEO has executed his vision to transform the company from an ordinary cyclical smokestack business into a consistent, cash-generation machine; even the Great Recession only temporarily sidetracked the journey.
Materials sector stocks tend to do best when an economic expansion reaches mid-cycle. Investors who agree that the current post-recession recovery has been weak, but remains sustainable, may concur that we are moving from an early-cycle to the mid-cycle phase.
International Paper spins off a great deal of cash: remarkably, free cash flow is 25% greater than net income. The balance sheet is leveraged due to the Temple-Inland acquisition, but debt has been paid down within credit agency guidelines. Returns are excellent. Industry-leading margins have been rising. The robust dividend has been growing smartly.
On a valuation basis, operating and free cash flows have been impressive, despite overall industry fundamentals remaining in a recovery mode. IP management projects the company will generate $2.2 billion FCF at the top of the mid-cycle phase. This represents a 22% increase versus what was booked at year-end 2013.
International Paper senior management is experienced. CEO John Faraci has emphasized clear, consistent operational and financial targets, then made good on execution and results without exception.
Please do your own careful due diligence before making any investment. This article should be used for information purposes only. It is not a recommendation to buy any stock. Good luck with all your 2014 investments.
Disclosure: I am long IP. I wrote this article myself, and it expresses my own opinions. I am not receiving compensation for it (other than from Seeking Alpha). I have no business relationship with any company whose stock is mentioned in this article.