Executive summary:
BWP lowers its distribution 81% in response to weak demand for its natural gas storage business
BWP is expecting several natural gas storage contracts to expire and reset to lower prices in 2014
Loews (NYSE:L) is helping out BWP via a $300M subordinate loan for its proposed Bluegrass Pipeline project
_________________________________
The worst case scenario for unitholders of Boardwalk Pipeline Partners (NYSE:BWP) just came true. The company was just forced to lower its distribution by a massive 81% to $0.10 from the previous level of $0.5325 per unit. As a result, the stock has been crushed with it now trading nearly 40% lower to about $15.00 per unit, its all time low.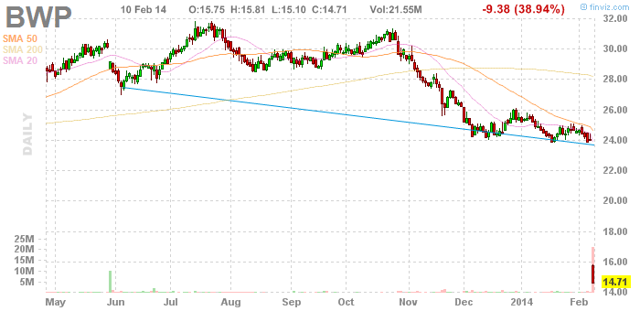 A look into the abysmal quarterly results
Overall, Boardwalk Pipeline Partners' quarterly results were frankly terrible. Revenues declined 4% to $313M, compared to $326M last year. However, net income was crushed, down 78% to $19.5M, compared to $90M last year.
Adjusted EBITDA, a key measure of profitability for MLPs, fell a ghastly 34% to $130M, compared to $198M last year. As a direct result, distributable cash flow, DCF, fell to $139M, down 3% from last year's $143M.
Why was the distribution lowered?
Basically, Boardwalk Pipeline Partners is heavily involved in the storage and distribution of natural gas and NGLs. However, profits in this segment have collapsed due to reduced price spreads and lower volumes.
Boardwalk Pipeline Partners' DCF has been trending lower for quite some time. The company noted that it expects its DCF to come into further pressure in 2014 due to favorable contracts expiring. In Q4 alone, revenues fell over $13M due to unfavorable contract renewals.
For 2014, Boardwalk Pipeline Partners now projects its Adjusted EBITDA to come in at $650M, down 6% from 2013's $689M while DCF will decline to $400M, down 33% from 2013's $589M.
Lower EBITDA in 2014 will also hurt Boardwalk Pipeline Partners' in its mission to meaningfully lower its leverage ratios. The company currently is targeting a 4.0x debt to EBITDA ratio.
In addition, Boardwalk Pipeline Partners has several critical capital expansion projects which it needs to fund this year. A big example of this would be its Bluegrass Pipeline project.
Do note that Loews Corporation, the General Partner ("GP") of Boardwalk Pipeline Partners, has agreed to help out its MLP with its growth capex via offering $300M in subordinated debt as well as other unstated financial support.
Long-term outlook: Murky at best
To make matters worse, Boardwalk Pipeline Partners is not at all confident that its DCF will stabilize this year. The company notes that it will see more storage contracts expire this year and reset at lower rates. In addition, the narrowing of the forward natural gas pricing curve will result in lower volumes as there is much less incentive to store natural gas for long periods of time. To put this in English, due to the recent increase in natural gas prices, the natural gas storage business is much less profitable.
Conclusion
The size of this distribution cut likely foretells Boardwalk Pipeline Partners' desperate need for capital. The company would have likely not received any good deals for debt given its sky-high leverage. This is likely the reason why Loews was required to "back-up" Boardwalk Pipeline Partners' Bluegrass expansion via the subordinated debt.
The current distribution does seem safe given that Boardwalk Pipeline Partners is projecting a 4.0x coverage ratio in 2014. However, given the uncertain pricing environment for natural gas storage and distribution, the future is cloudy for this MLP.
Disclaimer: The opinions in this article are for informational purposes only and should not be construed as a recommendation to buy or sell the stocks mentioned. Please do your own due diligence before making any investment decision.
Disclosure: I have no positions in any stocks mentioned, and no plans to initiate any positions within the next 72 hours. I wrote this article myself, and it expresses my own opinions. I am not receiving compensation for it (other than from Seeking Alpha). I have no business relationship with any company whose stock is mentioned in this article.