Tesoro Corporation (TSO) is a long-standing independent refinery company that refines crude oil into petroleum products via its six refineries in the Western United States and sells petroleum products through its more than 2,250 retail operations in seventeen states. Refinery companies have fallen on hard times, especially in the third quarter of 2013 as refinery margins contracted substantially and earnings took a massive hit. Just as the fourth quarter 2013 started, Tesoro's share price gained momentum in anticipation of stronger refinery profits going forward. After all, a booming energy exploration sector in the United States should translate into higher refinery utilization rates and higher throughput volume.
With the markets selling off in January and February 2014, Tesoro also corrected meaningfully: The share price of Tesoro has consolidated 17% year to date and the refinery company actually has been quite an underperformer compared to other companies in the Oil and Gas Refinery and Marketing sector.
(Source: Yahoo Finance)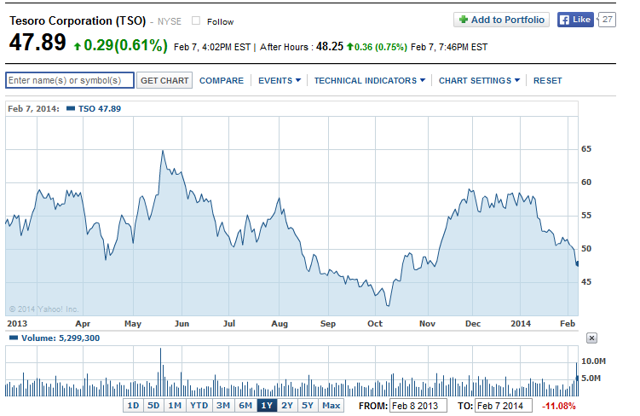 Over both a one- and two-year performance measurement period Tesoro Corporation has underperformed its peers Valero Energy (NYSE:VLO), Phillips 66 (NYSE:PSX) and Western Refining (NYSE:WNR). I believe Tesoro's valuation now has been driven too low and the low share price offers investors an interesting entry point.
(Source: Yahoo Finance)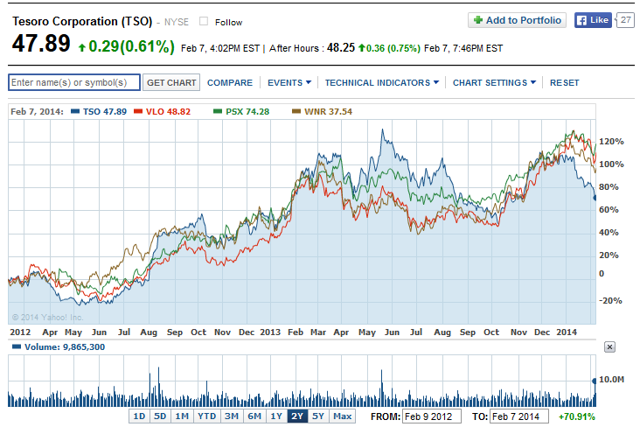 Fourth quarter disappointing
For the fourth quarter 2013 Tesoro reported a net loss of $7 million compared to net income of $99 million in the third quarter of 2013 and $27 million in the fourth quarter of 2012. Tesoro lost $0.03 per share from continuing operations in Q4 2013 compared to $0.46 in the third quarter and $1.32 in Q4 2012. Revenues jumped to $10.1 billion vs. $7.5 billion in the year ago quarter (up 34% y-o-y). Operating income decreased 85% from $338 million a year ago to $52 million in the fourth quarter of 2013 largely because of higher cost of sales and lower refinery margins. Tesoro's gross refinery margin fell 37% from $15.11/bbl in Q4 2012 to $9.45/bbl in Q4 2013. In addition to a reported loss of continuing operations of $0.03 per share, Tesoro also lost $0.02 per share regarding the sale of its Hawaii refinery.
While the business remained weak in the most recent quarter, the underlying business dynamics should favor refineries in the coming years. High domestic energy production and throughput volumes should drive refinery margins in the long-term. Tesoro holds more than $1.2 billion in cash and cash equivalents on its balance sheet and has a total debt to capitalization ratio of only 34%. Tesoro is well equipped to withstand margin challenges which I judge to be only temporary in nature.
Market values refineries at depressed earnings multiples
Independent refineries trade very cheaply. Driven down by low refinery margins throughout 2013, the investor base has become increasingly pessimistic regarding Tesoro's earnings outlook. I believe US refineries will benefit in the long-term from increased domestic fossil fuel exploration of crude oil, natural gas and NGLs as well as from additional export opportunities for energy commodities as the United States transitions to becoming an energy exporter.
Tesoro trades at a depressed forward P/E ratio of 7.73 which translates into a massive initial earnings yield of 13%. Other companies in the sector are also attractively priced and I am also bullish on Valero Energy - thesis here - and Phillips 66, which is the downstream business spun off from ConocoPhillips (NYSE:COP) in 2012.
Phillips 66 trades at less than ten times forward earnings whereas Valero Energy commands a multiple of 8.47 leading earnings. Those multiples are extraordinarily low and suggest that investors aren't overpaying for their shares.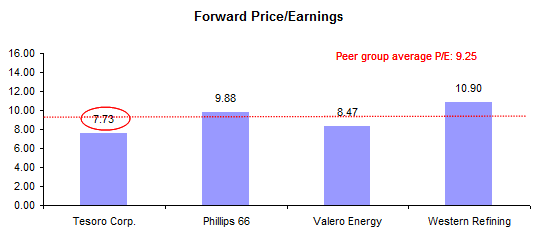 Tesoro presently pays investors a quarterly dividend of $0.25 or $1.00 per share annually. This translates into an annualized forward dividend yield of 2.09% which is about peer group average. With the exception of Western Refining, dividend yields in the peer group stand just above the 2% mark.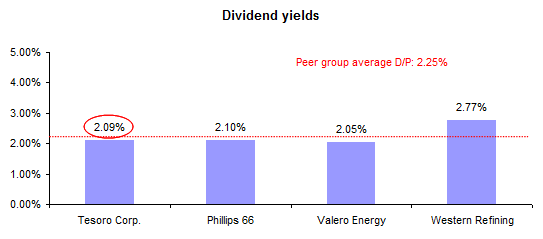 A summary table with valuation metrics as well as discounts to the peer group average ratios P/E, P/S and D/P is provided below:
Conclusion
Tesoro Corporation is an interesting investment for investors for a variety of reasons: First, the oil and gas sector in the US is booming and significant investments in transportation, storage and refinery capacity are required in the coming years. Second, the energy sector as a whole trades at low earnings multiples which underestimate the underlying earnings power of companies operating in the sector. This goes for upstream, midstream as well as downstream companies in the oil and gas sector. Thirdly, I believe valuations are only temporarily depressed. As soon as refinery margins mark a meaningful rebound driven by higher energy demand and refinery utilization rates, share prices of refineries like Tesoro should receive crucial tailwinds.
Investors who desire exposure to a leading downstream energy company trading at a very attractive forward earnings multiple of 7.73 should consider Tesoro Corporation. Potential dividend increases down the road add to the appeal of the independent refinery company. Long-term buy.
Disclosure: I have no positions in any stocks mentioned, and no plans to initiate any positions within the next 72 hours. I wrote this article myself, and it expresses my own opinions. I am not receiving compensation for it (other than from Seeking Alpha). I have no business relationship with any company whose stock is mentioned in this article.