The U.S. non-farm labor report for January, 2014 seemed to get universal disapproval. Yet, the stock market soared in response anyway. The bearish tidings that began last week have almost evaporated as rapidly as they arrived.
Perhaps it is possible that a sufficient number of market participants were more focused on the positives in the report than a miss on "expectations" which are always subject to plenty of error. From my own interest in particular, I took note of two things: the continued momentum for jobs in residential construction and the ability of the unemployment rate to remain stable despite an increase in the participation rate.
Seasonally adjusted jobs in residential construction increased from 633.4K in December, 2013 to 646.6K in January, 2014. This gain represents a very strong 8.8% year-over-year increase. It is also part of on-going momentum: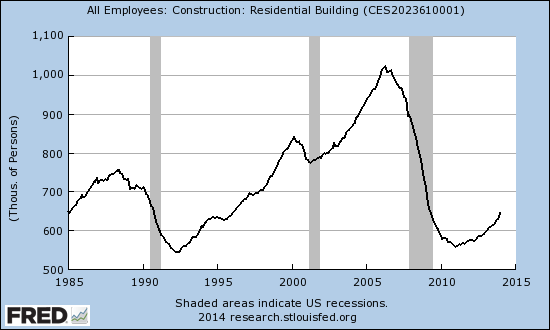 U.S. employment in residential construction (seasonally adjusted)
Source: St. Louis Federal Reserve
The jump off the bottom in employment for residential construction has lasted for about three years now and confirms the bullish expectations homebuilders have for the housing market over the next several years. Recent history shows that once this kind of momentum starts, it can sustain itself for years to come. However, the year-over-year increases are probably reaching a peak, and we should expect a deceleration in growth. Some may be too quick to interpret this as bearish. Instead, I think it makes more sense to say that housing industry may finally have reached a self-sustained momentum, a kind of "escape velocity" from the doldrums of the previous depression in housing.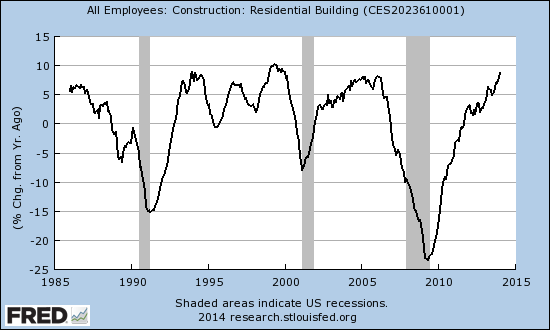 Year-over-year percentage change in U.S. employment in residential construction (seasonally adjusted)
Source: St. Louis Federal Reserve
The dynamics of employment change may be the biggest headline for residential construction this year.
The second item of note for me in the latest jobs report was the marginal increase in the labor participation rate. The labor force increased by 499,000, taking the participation rate up to 63.0% from 62.8%. This change is an important reminder that the participation rate may not simply decline for perpetuity. More importantly, the unemployment rate did not increase as many have feared might happen once the participation rate increases.
Back in September, I discussed interesting research by staff economist Andreas Hornstein at the Federal Reserve Bank of Richmond that challenged the conventional thinking on the relationship between the participation rate and the unemployment rate. Hornstein concluded that the unemployment rate will not increase if non-participants return to a strengthening labor market. January is of course just one data point, but there is now a very real possibility that Hornstein's work will be put to the test much earlier than I (and maybe others) expected. I interpret any indications that the unemployment rate can at least remain stable as the participation rate increases as potential evidence that the economy is strengthening and/or becoming more robust. But first things first, the economy must first demonstrate that the decline in the labor force participation rate has indeed come to an end.
Be careful out there!
Disclosure: I have no positions in any stocks mentioned, and no plans to initiate any positions within the next 72 hours. I wrote this article myself, and it expresses my own opinions. I am not receiving compensation for it (other than from Seeking Alpha). I have no business relationship with any company whose stock is mentioned in this article.