Pandora (NYSE:P) released calendar year 2013 financial results and January 2014 listening statistics after the market closed on February 5th, reporting a 3.7% sequential drop in monthly active listeners, flat listener hours and a slight drop in domestic radio market share. The drop in monthly active users should not have been a huge surprise to investors because January is historically a bad month for the company and the competitive landscape also became a little more challenging.
When you compare the percentage change in monthly active listeners on a seasonal basis you can see that the holiday season (November - December) has historically brought the largest increases while January has been zero to negative growth over the last three years. A simple explanation for this could be that some Pandora users are using it for Christmas or holiday music, abandoning the service after the start of the New Year. Another cause could be holiday sales of smartphones and connected devices driving up temporary usage while people experiment with the service.
The second factor that led to the dramatic decrease in active listeners was the double whammy introduction of Beats Radio and ad supported use of Spotify during the month. I believe that many of Pandora's listeners are experimenting with these alternatives, similar to the way they did when iTunes Radio (NASDAQ:AAPL) launched back in September. History tells us there will likely be a carry-over effect to February and investors should brace themselves for low February listening statistics as well.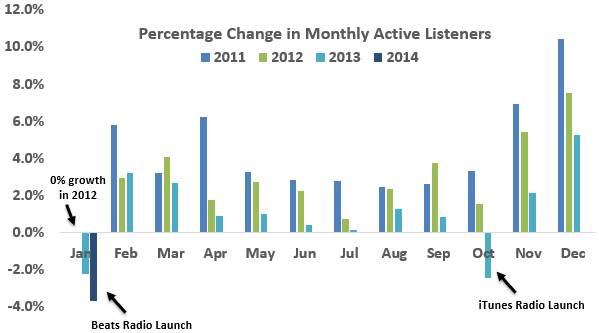 Although some of Pandora's listeners are testing alternative services I believe that it will only be a temporary setback and the company will continue to grow in 2014. Pandora offers a similar but different service than Beats Radio, Grooveshark and Spotify. Sure, they are all streaming music services but Pandora does not require the user to build playlists, select songs or pay any fees. The user is able to simply select a song, band or genre that best fits their mood and then relax while Pandora does all the work. An easy thumbs up or thumbs down is all the input needed for it to quickly learn the user's preferences and create a tailored radio station full of songs. It is perfect for when no one wants to DJ, or you simply want to hear classical or holiday music, but are not very concerned with selecting individual songs or artists.
Pandora's stock has risen close to 200% over the last year and to justify its $7 billion market cap the company will need to do two things: take more market share from terrestrial radio stations and continue driving up Revenue Per Thousand Listeners (RPM). January was the first time that the company's domestic radio market share has fallen since they removed the 40-hour mobile listening limit and could be attributable to the increase in competition mentioned above. To increase market share Pandora will have to go where the majority of radio usage takes place, cars. The company's management is working hard to build partnerships with automotive manufacturers and currently lists more than 15 partnerships on its website, but this may not be enough. The average age of a car on the road today is a record 11.4 years old and expected to continue climbing, indicating that Pandora could be waiting a long time to gain these important listeners.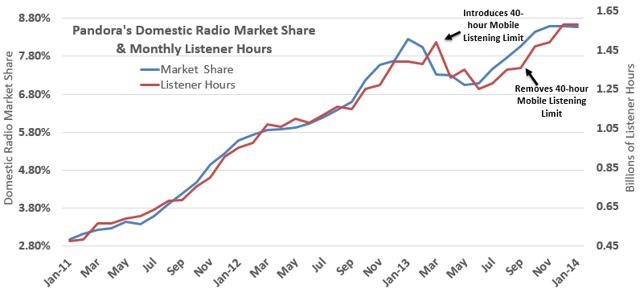 The second factor in which Pandora must execute is RPMs and in the most recent quarter the company reported record RPMs of $44.14, primarily due to increases in the quality and quantity of their advertisements. The company is in the early stages of developing highly targeted audience segments that allow advertisers to reach their specific target markets, such as Hispanic Listeners. This creates a better experience for the listener and a more relevant audience for marketers, driving up RPMs. The company also drove up RPMs by increasing ad loads during the year to an average of 3 minutes per listening hour. This is still well below the average of 15 minutes for terrestrial radio and represents a significant opportunity for future revenue growth. The company plans to double its sales force this year allowing it to increase ad inventory and sales.
Pandora's stock has been on fire over the past year and it does not look like the volatility of the stock will decrease anytime soon. Investors should brace themselves for a bumpy ride through monthly listening statistic disclosures, but will enjoy more long-term gains if management can continue to increase market share and RPMs.
Disclosure: I have no positions in any stocks mentioned, and no plans to initiate any positions within the next 72 hours. I wrote this article myself, and it expresses my own opinions. I am not receiving compensation for it (other than from Seeking Alpha). I have no business relationship with any company whose stock is mentioned in this article.