After a string of reporting consistently improving quarterly earnings, BP (NYSE:BP) broke that streak when it reported lower profits. With shares still mired in lawsuits related to the Gulf of Mexico spill, BP continued to improve shareholder value. It continued to sell assets, boost share buybacks, raise dividends, and maintain investments in riskier places like Iran and Russia. There are 4 takeaways from BP's fourth quarter, each of which suggest BP is trading below fair value today.
1) Expect dividends to increase
BP paid dividends of $0.57 per share in the last quarter, which yields 5.6% for shareholders. This is already a relatively high yield compared to other energy exploration firms:
NAME

YIELD %

MKT CAP

$

Total SA (NYSE:TOT)

5.5

133.61B

Royal Dutch Shell plc (RDS-B)

5.3

230.35B

Chevron Corporation (NYSE:CVX)

3.6

215.49B

Exxon Mobil (NYSE:XOM)

2.8

395.7B
BP has a dividend policy that is sustainable through at least the next decade, but it still aims to raise it. This is achievable, because BP may support the dividend with a healthy cash flow. It aims to generate operating cash flow of between $30B - $31B in 2014. After this year, the growth rate will be more meaningful. A capital expenditure level of $24B - $25B is constraining BP's cash flow growth. Projects also have yet to add meaningfully to revenue growth. For example, the Gulf of Mexico will add 300,000 barrels a day if the turnarounds are not delayed. In Brazil, a ramp up in oil activity will bring up to 380,000 of heavy crude daily.
BP in the Gulf of Mexico: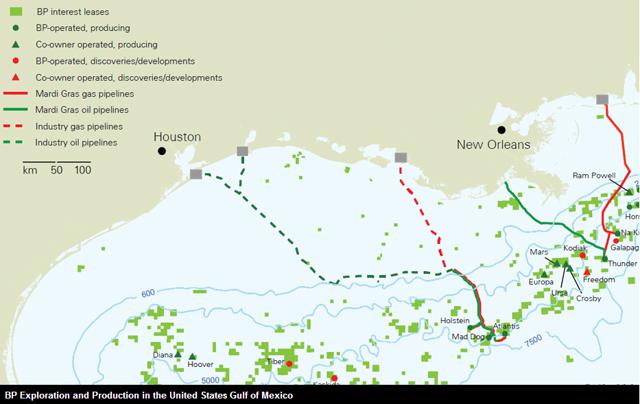 Source: BP
2) Lower debt
Gross debt was $48,182M, but net debt continued to decline. In Q4, net debt dropped to $25.195B, down from $27.465B a year earlier. The lower debt boosted the gross debt to gross debt plus equity ratio by 2%:

Source: BP 4Q 2013 Earnings, Supplementary Info
Excluding Q4, BP's debt ratio is still highest among energy firms.
Below: BP, Exxon Mobil, Royal Dutch, Chevron, Total SA: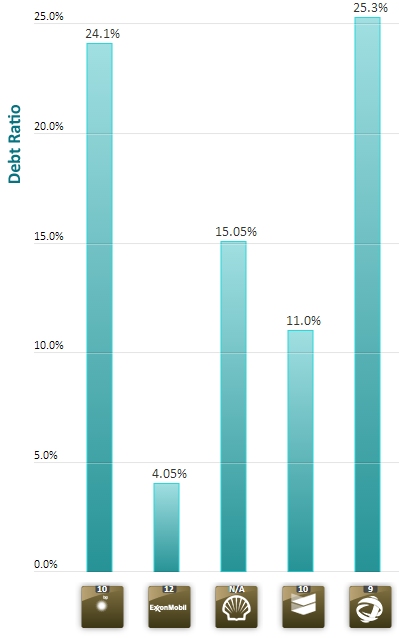 Source: Kapitall
3 Asset sales to continue
BP divested $17.1B last year. Investors should expect BP to continue to sell assets while boosting joint venture activities with Rosneft. Rosneft was a strong performer last quarter. BP will give investors a strategy update of Rosneft next month. BP said in its conference call that it will divest a further $10B in assets before the end of 2015. BP said asset sales will primarily fund the buyback of shares.
4) Rosneft partnership
A strong contribution from the Rosneft partnership in Q4 supports BP's desire to work even closer with the Russian firm. Rosneft adds an extra 840M barrels of oil equivalent ("boe") to BP's proved reserve base.
Risks
There are two major risks. The first is lower energy prices. Lower oil prices are a risk, but BP is growing its market share in gas. It aims to have 27% of its market share in oil, natural gas, and coal by 2035.
Second, litigation related to the Gulf of Mexico spill could be costlier than first thought. BP took a $119M charge in Q4, $470M in 2013, and accumulated $42.7B in charges in total. The firm has only $700M remaining in its $19.3B trust fund for payouts. Any unfavorable rulings against BP would be negative for BP shareholders.
Bottom line
BP is committed to improving its balance sheet and increasing shareholder return. It already divested 40B in assets, even though those assets had more than 50% returns on their capital employed. The firm is clearly committed to share buybacks and higher dividends. Assuming BP could grow dividends by 11% again in 2014 and a forward dividend yield of 5%, shares could easily trade to at above $50.
Disclosure: I have no positions in any stocks mentioned, but may initiate a long position in BP over the next 72 hours. I wrote this article myself, and it expresses my own opinions. I am not receiving compensation for it (other than from Seeking Alpha). I have no business relationship with any company whose stock is mentioned in this article.