Some large foreign companies are listed on the OTC markets instead of the organized exchanges. Rising listing fees and burdensome regulatory requirements are two of the reasons that these large firms prefer not to list on the NYSE, NASDAQ or Amex exchanges.
Investors looking to add some foreign equity exposure to their portfolio can find high quality, large cap stocks on the OTC markets. The following table lists 31 stocks that have market capitalizations of over $5B and dividend yields of more than 3%: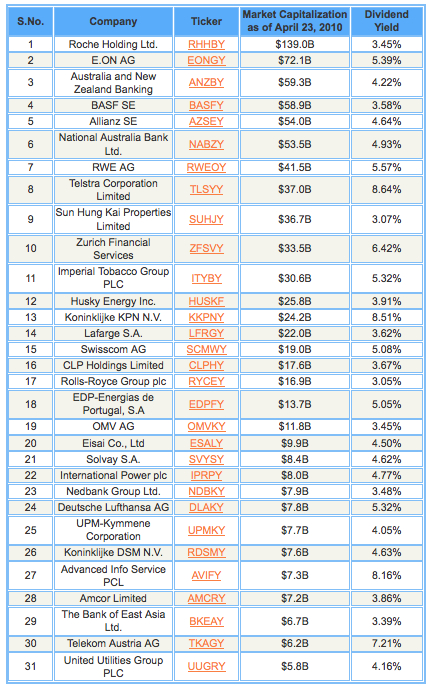 It must be noted that some of the above mentioned stocks may be thinly traded and as such, price spreads may be very high. However many of these companies are large global companies with a strong presence in many markets in addition to their home countries. For example, German utilities E.ON (OTCPK:EONGY) and RWE (OTCPK:RWEOY) are some of the largest utilities in Europe and have operations in multiple markets.
In the banking sector, Australian banks National Australia Bank (OTCPK:NABZY) and Australia and New Zealand Banking (OTCPK:ANZBY) offer great yields and emerged strong from the credit crisis. Two other banks noted here are Hong Kong-based The Bank of East Asia (OTCPK:BKEAY) and South Africa-based NedBank (OTCPK:NDBKY).
Two of the chemical companies on this list are Germany-based BASF (OTCQX:BASFY) and Belgium-based Solvay (OTC:SVYSY).
Calgary, Alberta-based integrated Canadian energy company Husky Energy (OTCPK:HUSKF) focuses on petroleum and natural gas exploration.