Executive summary:
Exxon's new deal continues the trend of bigger oil and gas firms doubling down efforts in the Permian Basin.
Gas-focused firms, large and small, continue to rebalance asset portfolios in light of shale oil potential.
Wolfcamp D and deeper Permian intervals continue to be targets for capital deployment.
Talking about shale oil is a good move for Exxon.
_________________________________
In the latest news in the Permian Basin, supermajor Exxon Mobil (NYSE:XOM) has inked a deal with Endeavor Energy Resources to access the Permian's shale oil action. Exxon has been viewed as being late to the shale oil boom, with a primary focus on shale gas. But there seems to be a slight rebalancing occurring. American Energy Partners, the new Aubrey McClendon start up, will "access" 30,000 Utica acres from XTO, Exxon's unconventionals subsidiary. Exxon will roll those proceeds over for development of the Permian acres.
Through their subsidiary XTO Energy, Exxon will gain access to 34,000 acres in the Wolfcamp formations of Midland and Upton counties. In 2012, Endeavor Resources was no. 10 in the top ten of Permian oil producers. In 2012, they produced 8,627,283 barrels of oil. And little advertised, XTO Energy produced 12,762,746. If you combine the production of these two firms, they are roughly equivalent to Pioneer's 2012 production of over 21 million, the second biggest oil producer in the Permian Basin. As a result of the Endeavor deal, XTO's holdings will increase to more than 1.5M net acres in the Permian Basin. Both Midland and Upton counties are high-production Texas counties running in the 22 million barrels total production range between June 2012 and June 2013. (See the oil production map of Texas.)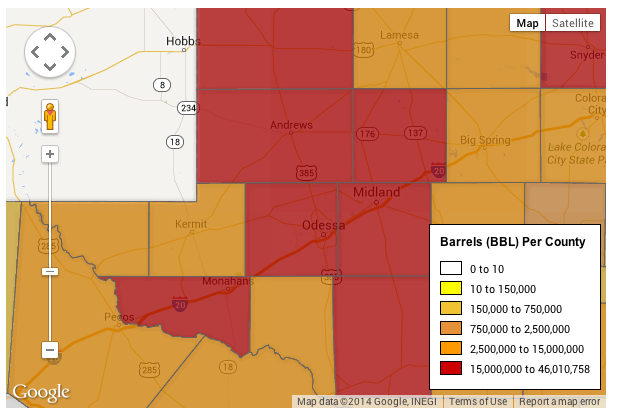 This news by Exxon follows on the heels of Occidental Petroleum's (NYSE:OXY) renewed efforts in the Permian Basin, to focus more in the unconventional space. OXY is the top Texas oil producer, producing over 42 million barrels of oil in 2012. (See detailed article about OXY in the Permian.)
A new Endeavor horizontal drilling application was noted by the ClineShaleSite on January 26. The post-Christmas application was for a 12,000-foot well in Midland County. Its depth indicates a Cline play, a/k/a Wolfcamp D well. Among the other applications in the Cline were eight from Pioneer, in Midland and Martin counties. Pioneer has had great success with their Wolfcamp D wells.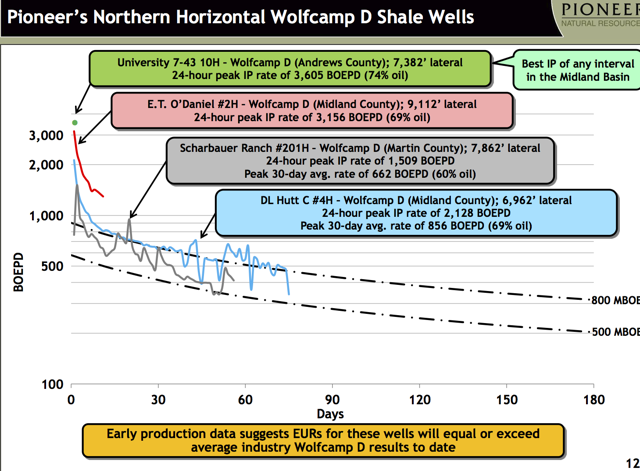 Of the results from four wells, Pioneer reports the estimated ultimate recoveries ((EURs)) follow 500-800,000 boe type curves. Three of the four were from Martin and Midland Counties. The following chart offers some indication of before tax IRRs for Pioneer (NYSE:PXD) in Northern Wolfcamp wells.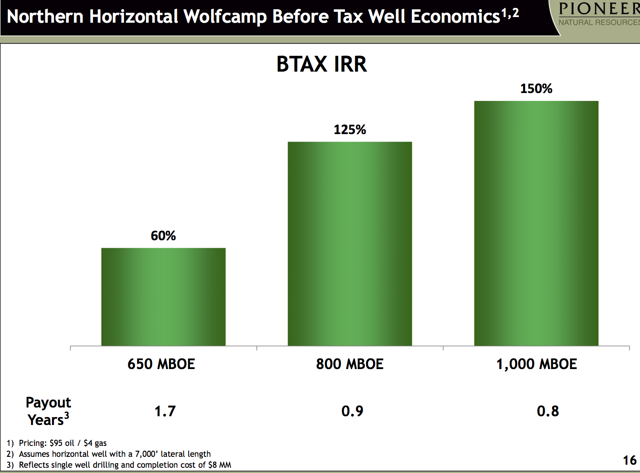 According to a news article, XTO will drill and operate horizontal wells in the deeper intervals. Endeavor will focus on shallower intervals. If one considers other intervals above Wolfcamp D, there are at least six intervals where firms are drilling: 3 Spraberry, Jo Mills, and Wolfcamp A and B, ranging from under 7,000 to 9,000 feet.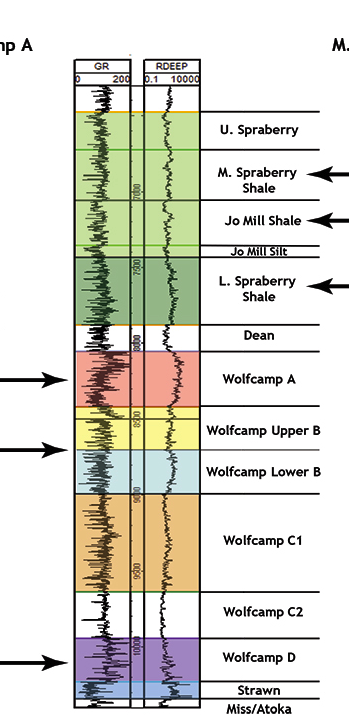 Consisting of these deeper intervals, the Wolfcamp D or Cline play was expected to hold between 30-35 billion boe, but the issue is what portion is economically recoverable. In 2014, more production results from key Cline players Laredo Petroleum (NYSE:LPI), Apache (NYSE:APA) and Pioneer will be emerging. The manufacturing mode of these independents will continue to drive down the costs of drilling deep horizontally. That the largest oil and gas firms, such as OXY and conservative Exxon Mobil, are committing more capital to development speaks to the continued life of the Permian Basin shale oil play. Majors like Chevron and Exxon will take what they learn from the U.S. shale plays and apply it in other contexts.
Disclosure: I have no positions in any stocks mentioned, and no plans to initiate any positions within the next 72 hours. I wrote this article myself, and it expresses my own opinions. I am not receiving compensation for it (other than from Seeking Alpha). I have no business relationship with any company whose stock is mentioned in this article.