Monday, March 3 will conclude the 40-day quiet period on underwriter research following the January 22 IPO of Santander Consumer Holdings (NYSE:SC). This will allow the firm's IPO underwriters to release research on the Banco Santander (NYSE:SAN)-backed subprime lender into the market, likely leading to at least a temporary rise in the price of SC shares. See our prior article on SC here.
Since pricing at $24 per share- at the low end of the expected range of $24-$25 per share-SC has shown little growth, topping out at $26.50; SC closed at $25.22 per share on February 10th. See chart below, highlighting decreasing volume of trades.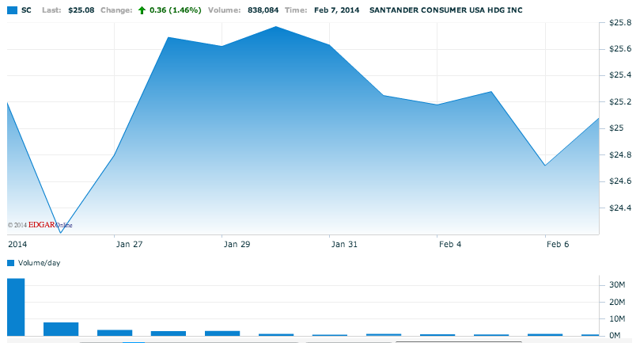 (Source: Nasdaq.com)
The firm's underwriters, including J.P. Morgan Securities LLC, Citigroup Global Markets Inc., Barclays Capital Inc., Morgan Stanley & Co. LLC, BMO Capital Markets Corp., Credit Suisse Securities, KKR Capital Markets LLC, LOYAL3 Securities Inc., RBC Capital Markets LLC, Deutsche Bank Securities Inc., Sander O'Neill and Partners LP, Santander Securities Corp., BofA Merrill Lynch, Stephens Inc., UBS Investment Bank, Wells Fargo Securities LLC., and Goldman Sachs & Co., will attempt to inject life into the stock with a massive release of positive research reports on SC on March 3rd.
Both the results of recent academic publications, as well as our own research over the course of the past two years, have shown empirical evidence of the correlation between the number and visibility of underwriters and a jump in the price of a firm's shares at the conclusion of the quiet period. Based on these findings, SC is well positioned to benefit, due to its potent corps of underwriters.
This rise in price usually starts days before the end of the quiet period as experienced investors begin to buy shares in the hopes that upcoming underwriter information will positively influence the stock's direction. (Underwriters usually only release positive information about a firm they underwrote.) Increased purchases generate an image of increasing demand and lead to a rise in prices before the underwriters actually release their reports.
SC Business Overview
SC is a subprime consumer finance company with a focus on vehicle finance and unsecured consumer lending products. The firm uses a proprietary software to price, manage, and monitor risk. SC has historically used auto dealer franchises as the primary source of loan originations, and has established relationships with more than 14,000 dealers across the US. SC entered a decade-long agreement with Chrysler in 2013 to originate leases and loans as the Chrysler Capital brand. SC's online platform, RoadLoans.com, originates loans for consumers using sites like AutoTrader.com, Cars.com, and eBay Motors.
Banco Santander has extended $4.5 billion in credit facilities to SC, with terms of three and five years. SC also has excellent access to capital markets: since 2010, the firm has issued and sold $26 billion in securitized transactions and has been able to obtain approximately $13.7 billion in privately issued amortizing notes from commercial banks and committed credit lines.
Management
Thomas G. Dundon serves as Chairman and CEO of SC, and previously served as President and CEO from 2006 through November 2013; he is also a director of Santander Holdings USA. Mr. Dundon has received extraordinary compensation packages in recent years, including total compensation of over $13 million in 2013 and a shocking $85.2 million in 2012. He received his bachelor's degree in economics from SMU. President and CFO Jason Kulas, who took over the position of President from Mr. Dundon, has served as the firm's CFO since January 2007. He previously worked as Managing Director in investment banking for J.P. Morgan Securities Inc. and as a Dun & Bradstreet analyst. Mr. Kulas holds a bachelor's degree in chemistry from SMU and an MBA from TCU.
Conclusion
SC's relatively quiet start in the public markets can perhaps be attributed at least in part to a reticence on the part of post-2008 investors to put their faith in anything associated with the word "subprime." Some investors may also have been scared off the IPO by the 100% insider sale, which meant that not a dime of the IPO proceeds actually went into the company. The CEO's ludicrous compensation package might also offend some investors. That said, SC continues to rake in money, with net income exceeding half a billion dollars for the nine months ended September 30, 2013.
Subprime lending may be risky, but SC seems to have it down to a fine science. Investors should see the upcoming quiet period expiration as an opportunity to get a piece of the company with an imminent potential upswing.
Disclosure: I am long SC. I wrote this article myself, and it expresses my own opinions. I am not receiving compensation for it (other than from Seeking Alpha). I have no business relationship with any company whose stock is mentioned in this article.