Last week was a pretty good week for Apple (NASDAQ:AAPL) investors. The stock started another climb off of the $500 mark after falling post earnings, and the headlines about the company were all semi-positive, focusing on Tim Cook and the company's current buyback.
Apple, between earnings, and the macro market uncertainty that started 2014, is down 7.4% year-to-date. In 2013, the company didn't see much traction either, as it wound up increasing by only about 5% last year while the S&P and other major indices rocketed.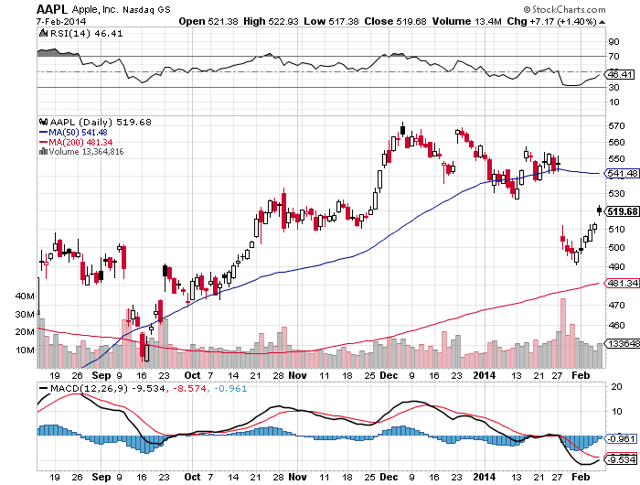 The current buyback was part of the largest buyback in stock market history, announced by Apple a few quarters ago.
Executing this buyback after the stock dipped from earnings is a cool move by Cook, one that was generally applauded and seen as a sign of strength for the company, which Cook says is "investing on itself". Cook said that they wanted to be aggressive in executing this buyback.
It was reported by ABC:
Apple has repurchased $14 billion of its stock in the two weeks after its first-quarter financial results and second-quarter revenue outlook disappointed investors.

Its shares rose in morning trading Friday.

Apple bought $12 billion of the shares through an accelerated repurchase program and $2 billion on the open market, the company confirmed.

Late Thursday Apple Inc. CEO Tim Cook said in an interview with The Wall Street Journal that the company was "surprised" when its stock dropped 8 percent the day after its earnings report and revenue outlook. He told the newspaper he wanted to be "aggressive" and "opportunistic."

Apple has grown accustomed to being a leader in the technology sector. In the Steve Jobs era, consumers and investors alike eagerly awaited each new product announcement and have been rewarded as devices like the iPhone and iPad won accolades for innovation and pushing technology forward.
Carl Icahn, of course, wasn't happy with this. He wasted everyone's time lobbying for another $50 billion in buybacks from the company. Then, on Monday, he conceded his selfish efforts, claiming it was for the best interest of the company all along. Smooth move, Carl.
It was my opinion that his chances of getting shareholders behind him were very small - as Icahn himself is only a 0.5% owner in the company.
Icahn, of course, makes a living of doing things like this. When you have the money Uncle Carl does, you can make short term investments, try and squeeze as much money out of cash-heavy companies as possible, and then sell and move on.
If I were an Apple shareholder, I would have voted against Icahn. The company has done well to get where it is today under Cook. Cook and Peter Oppenheimer (Apple CFO), in conjunction with the Board of Directors, are the people that should be making these decisions. Apple doesn't need activist investors.
CNBC reported on Monday:
Activist investor Carl Icahn waved the white flag Monday in his high-profile campaign to prod Apple into buying back $50 billion worth of stock. He is now voicing support for the tech giant's "aggressive" moves to buy back shares.

His statement came a day after a proxy advisory firm recommended that company's shareholders vote against Icahn's plan. Icahn had been agitating for months, pressing Apple to spend more of its cash pile while simultaneously adding to his own positions

In a letter, the billionaire said while he was "disappointed" that shareholder firm ISS recommended that Apple shareholders vote against his plan, he saw "no reason to persist with our non-binding proposal, particularly as the company is already so close to fulfilling our requested repurchase target."
One of the things heard in the background this week while I was watching CNBC was the fact that Apple has now really become a slow growth staple stock. Similar to that of a P&G (NYSE:PG) or a 3M (NYSE:MMM), Apple should be considered a dividend payer that has enormous long term potential, but may not rocket in either direction for the short-term.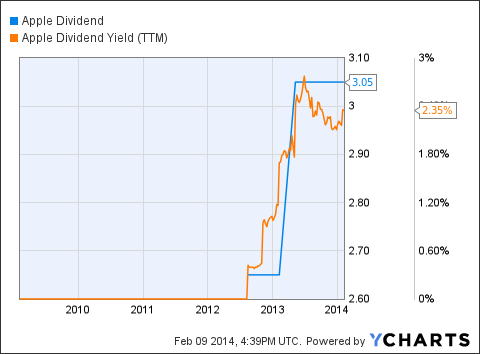 AAPL Dividend data by YCharts
When you compare the dividend to what it was in 2011, it also starts to look good (joke). Like the issue everyone is taking with Intel (NASDAQ:INTC), they want the dividend hiked and they want it now. Intel isn't likely to do so, but even though Apple is unlikely to increase their buyback size, I do find that the question of raising their dividends is probably likely.
The code to Apple's cash vault is to simply let Cook and Apple go about their business. If you can learn anything from the actions the company took this week, its that they're actively involved in this decision making and they know its an issue with investors. Aside from raising the dividend in 2014, they're going to address unlocking cash eventually. Again, Apple doesn't need activist investors - they need to manage their cash calmly, conservatively, and prudently return it to shareholders as they deem fit.
Best of luck to all Apple investors.
Disclosure: I am long INTC. I wrote this article myself, and it expresses my own opinions. I am not receiving compensation for it (other than from Seeking Alpha). I have no business relationship with any company whose stock is mentioned in this article.