Most people know about Sam Zell from his infamous leverage buyout of the media conglomerate, The Tribune Co. that filed for bankruptcy in 2008. The vision for the legendary investor was to roll up the Chicago Tribune, the Los Angeles Times, and other media assets and amass a media empire worth billions.
Of course we all know that the bubble burst for Zell as he managed to rack up over $13 billion in debt at the Tribune in a very "bad bet" was driven more by greed and enrichment than protecting an enduring business icon. Many participants, including Zell, were richly rewarded as corporate executives cashed out while others weren't so fortunate. Jeff Bercovici with Forbes summed it up nicely in a 2012 article (on Forbes.com):
But no amount of reformist zeal from the ranks could have prevented disaster. Zell took a company on a comparatively gentle downward glide path and strapped a mountain to its undercarriage, then blamed the subsequent crash and burn on weak engines.
Of course Zell didn't create many friends, especially journalists, when he tried to blame his failed Tribune "roll-up" on "us" journalists. Zell said:
I'm disappointed that I wasn't able to convince the people that it was in their own interest to modify the way in which the business ran, so as to be profitable. I [attempted] to create at The Tribune the same kind of collegial environment that's been so successful in everything else we've done. But it takes two to tango.
Sam Zell Thinks 30 REITs Are Enough
I've always wanted to meet Sam Zell and maybe one day I will. Perhaps then I will be able to tell him that I'm a big fan of Donald Trump - the most successful real estate developer in the world. Yes, all of us have failed, including Trump, but the key to winning is how you land on your feet. I can speak to that personally as I have had a few failures in life but I'm a living example of being a "comeback kid" and I like my odds.
So we all know, Zell is a character and a successful businessman. His wealth, estimated by Forbes to be around $4 billion was accumulated by savvy deal making and aggressive financial engineering. Like Trump, a large part of Zell's net worth is in real estate investments.
Zell is co-founder and Chairman of Equity International, a private investment firm that focuses on real estate-related companies outside of the U.S. In addition, he maintains substantial interests in, and is the Chairman of, a number of public companies listed on the New York Stock Exchange, including: Equity Residential (NYSE:EQR), the largest apartment REIT; Equity LifeStyle Properties (NYSE:ELS), a REIT that owns and operates manufactured home communities; Covanta Holding Corp. (NYSE:CVA), an international leader in converting waste to energy; and Anixter (NYSE:AXE), a value-add provider of integrated networking and cabling solutions that support business information and network infrastructure requirements (source: Wikipedia).
Last week Betty Liu, a reporter with Bloomberg, interviewed Zell in a 21 minute discussion on a variety of investment-related topics and towards the end of the interview Liu asked the billionaire a few questions about REITs. A link to the interview is HERE (source: Bloomberg ).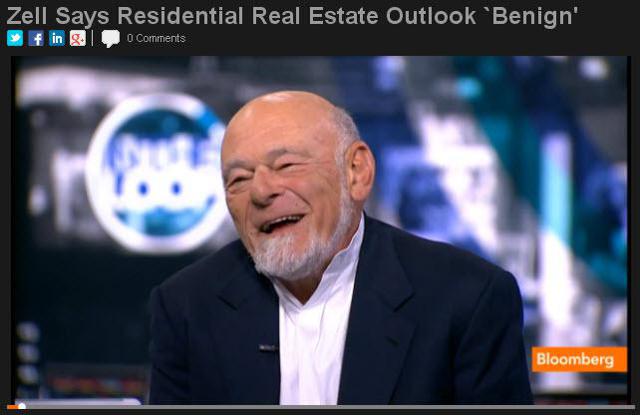 LIU: Sam, why do you say that there are too many REITs out there? You said something before I believe in a speech that there - that there - we've got actually a saturation of REITs, What do you mean by that?
ZELL: What I mean by that is at the last count there are 203 REITs. I think that there are probably 30 of them that have size, scale, market impact, et cetera, and will be leaders and growing in the future.
LIU: Yours included?
ZELL: Hopefully, hopefully, Equity Residential is $34 billion. Equity Lifestyle is $5 billion, $6 billion. So they're very big companies, but there are also a lot of $800 million, $700 million REITs that have no scale, have no liquidity, and I think only obfuscate the clarity of the picture. And I would expect over the next 20 years we will have more and more consolidation as the REIT industry continues to grow.
LIU: Well then why do you think they've been allowed - why do you think there's been a proliferation of these then, of these smaller REITs?
ZELL: For lots of reasons. First of all, real estate is a very attractive asset class. Everybody thinks that their deal is special, their deal is better, their opportunity is better. The problem we have is that if you go public with a REIT in 1993 for $800 million and we did another one that year for $200 million and that time those were reasonable sized REITs. Today anything under a couple billion dollars is not relevant and doesn't have liquidity. And in the recent, the reason REITs exist is to provide capital to the real estate market. And you can't provide capital if you don't have liquidity.
Does the World Need Only 30 Public REITs? Or 300?
Currently the entire universe of publicly traded REITs is approximately 170 companies (includes mREITs). They're separated by sector or specialty. But they all abide by the same rules and regulations that General Motors, JP Morgan and all other publicly traded companies abide by: United States Securities Laws. The transparency of a public REIT is "clear as a bell."
Not so for privately held real estate companies whose details are shrouded in secrecy with financial information tough to get and difficult to discern.
Publicly traded REITs provide, among many attributes, one enormous benefit: they offer entree into the world of large-scale real estate investing for the middle class. Buying the stock in a public REIT - whether it's as an individual or for your 401(k) is simple and doesn't require millions. Without public REITs, middle class investors would be shut out of investing in professionally managed larger scale real estate projects.
For as little as $1000 you can own shares in virtually any public REIT - many of whom own billions of dollars in first class real estate. An investor gets the diversification of a large portfolio AND the ability to sell their shares if they need the capital back or any other reason. Plus these companies pay a handsome dividend - 3% on average - as well.
The truth of the matter is that the public REIT market is small. The market cap of Apple is larger than the entire sector - combined. That there are a dozen public REITs who specialize in office buildings certainly doesn't "corner the market." In fact public REITs own a de-minimus amount of the value of real estate nationally. They're all trying hard to own more but the reality is that there's a lot of real estate in the world.
Today there are a lot of REITs in the public realm that track sectors of the economy well beyond your "traditional" sectors (such as):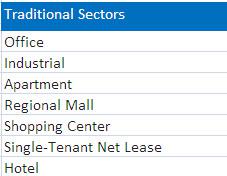 First tier beyond "traditional":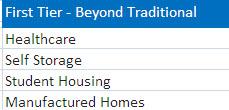 Second tier beyond "traditional":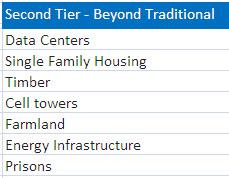 Today I asked Keven Lindemann, Director at SNL Financial, about the argument (posed by Zell) that the world would be a better place with "just 30 REITs" and he replied:
Understand that many of the companies in these "less mature" segments are small, but they are getting funding. If you wanted to ensure diversification, you need more than 30 big companies. Even within the office sector, do you want CBD office or suburban office? Do you want access to the Sunbelt or the coastal markets? And even within these, investors will want choices. What if there are two companies to choose from and you don't like the management teams? Doesn't make sense for investors. Makes complete sense if you happen to be one of the "chosen 30" because you have a better chance of getting investor capital - less competition!
As you may recall, many corporations in the 70's became conglomerates (like The Tribune Co. in 2008) so that they could ride the LBO wave. As I interpret the Zell interview last week, the billionaire is effectively saying that REIT-dom needs a small number of REIT (he said 30) conglomerates (like the 70's and The Tribune Co.) and the others "aren't relevant."
It seems to me that some smaller "specialty" REITs are potentially better off maintaining their current format rather than merging into larger aggregation REITs for two reasons: 1) They contain specialized commercial real estate expertise that presumably produces higher returns on capital that would be diluted in a broader platform, and 2) specialized REITs may not necessarily carry higher costs of capital in running their business. On the former, Simon Property Group (NYSE:SPG) was a specialized REIT years ago and has done exceptionally well on its own without having to merge into a larger company.
It was not too long ago that the Health Care REITs were a specialty REIT sector and now that category has evolved into a top performer with aggregated market values in excess of $75 billion: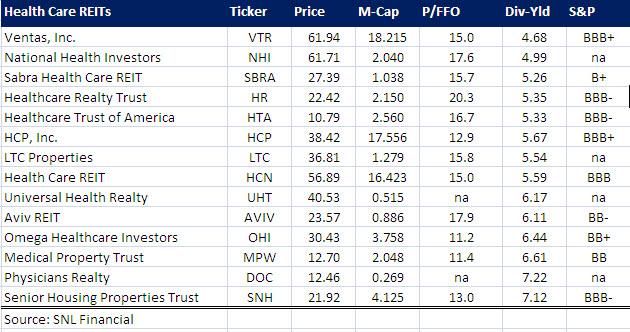 Clearly Congress created and intended for the REIT Law in 1960 as a means for the "average" investor to access a broad spectrum of commercial real estate, not just 30 large companies. That evolution (over 50 years) has created an exceptionally diverse business model that offers all of the founder-crafted characteristics including transparency, liquidity, and diversification (among others). Notably, diversification is one primary attribute and one explained (on a phone call today) by Brad Case, VP and Director of Research with NAREIT:
The different segments offer REIT investors very substantial diversification benefits even within the listed REIT market-never mind the benefits of diversification between listed REITs and non-REIT stocks. Part of that is because the companies are in different property types, but another part of the diversification benefit comes from different business strategies within any given segment.

For example, the apartment segment isn't just a collection of identical companies that own apartment properties: some are focused in the East, some in the Midwest, some in the West; some focus on Class A properties in the biggest metro areas, others on Class B properties in smaller cities.

What the REITs have found-and demonstrated-is that they can achieve better returns by focusing on a particular set of properties in which they know better than anybody else how to create value for investors. And to take advantage of those focused property management skills, investors need access to a range of REITs covering all the different possible business strategies.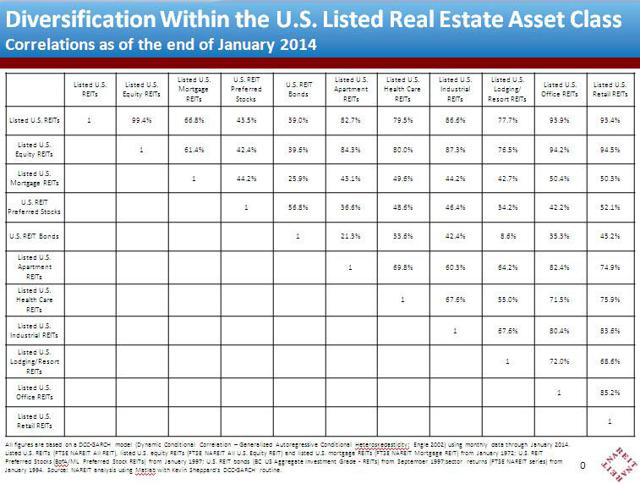 Who Is The Most Intelligent REIT Investor?
Before you answer that question, let me show you a few charts.
First, let's take a look at Zell's prized REITs, Equity Residential and Equity Lifestyle. More specifically, let's take a look at the dividend history of these REITs owned by Zell.

Ouch! Both REITs cut their dividend and although they are both included in Zell's list of 30, the track record of both of these REITs (owned by Zell) is not impressive. After all, the dividend payment is the ultimate source of corporate strength and clearly Zell and his management team were not committed to maintaining and increasing the sacred income stream.
Now remember, Zell has an estimated net worth of over $4 billion and a fraction of his nest egg is allocated to these two REITs. In EQR, Zell owns an estimated $200 million in shares (source: Yahoo Finance):

In ELS, Zell owns an estimated $38 million (source: Yahoo Finance).

EQR is trading at $57.60 with a dividend yield of 4.51%. As evidenced by the FAST Graph below, the company has moved the needle and is now paying out substantial cash flow. With a market capitalization of over $20 billion, EQR is definitely a "big time" REIT that appears to be trading at fair value (18.6x P/FFO).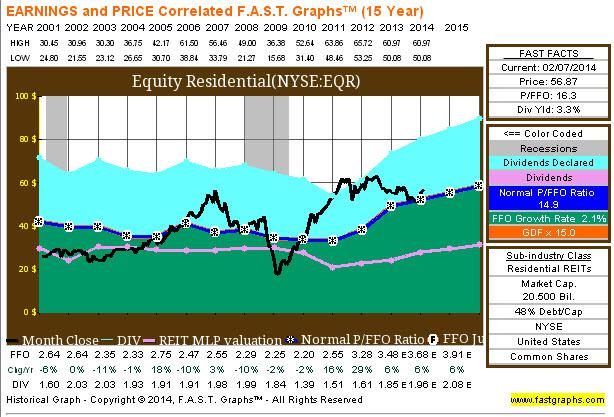 Conversely, ELS is a much smaller REIT that I would deem to be a mid-cap player. At $3.3 billion (market cap) I'm not sure why Zell would include this REIT in the "best 30" list but I'm sure it's the same reason that I think all of my kids are wonderful and gifted. In other words, nobody's gonna call their kid ugly.
In fact, I'll give Zell credit. ELS is a decent REIT. Although the company did suffer the dividend cut (in 2010) the earnings history has been solid and although the dividend yield (of 2.52%) is extremely modest, the shares appear to be trading at a "sound value" (with a P/FFO of 14.7x). However, I wouldn't call ELS a "Top 30" REIT and I would classify this REIT in my "Top 75+" bucket.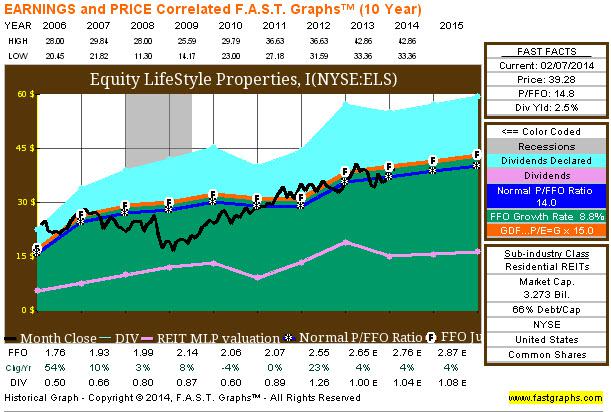 Finally, I think Zell left out the most important dialogue of the interview last week. In his words, clearly minced, he seemed to be directing the argument toward the premise that a REIT gets a slice of every dollar that is invested in the Index. In other words, the larger the REIT, the more investable the platform. In Zell's words, "the reason REITs exist is to provide capital to the real estate market."
But remember, REITs exist for the individual investor, a growing minority in REIT-dom. Conclusively; the growing demand in the REIT market has created potentially more (and better) opportunities for the average investor to create wealth. How?
By owning a quality basket of growing dividend stocks of course (not just the big 30 list). Would it make sense to own all of the Top REITs (based on market cap) whether or not the dividends are safe? Heck no. Instead I like to see REITs with good dividend records because that tells me that management is strongly committed to maintaining and increasing the dividend. Mr. Zell, take a look at these 3 REITs: National Retail Properties (NYSE:NNN), Ventas, Inc. (NYSE:VTR), and Realty Income (NYSE:O).

As you can see, none of these REITs ever cut a dividend. That's why we call them "sleep well at night" REITs. That's What's Relevant! (By the way, Ventas is run by Debra Cafaro who used to work for Zell).
In closing, I admire Zell for being a risk taker and demonstrating to all Americans that anyone can be successful by working hard. However, I believe it's important for all of us to learn the lessons of history and that includes NOT investing in the world of "conglomeration." In all due respect, Zell is wrong about the need for "30 REITs." It would seem that he would have learned a more valuable lesson with the enormous media conglomeration failure of The Tribune Co. Remember what my mentor Donald Trump said:
"Always try to learn from other peoples mistakes, not your own - It is much cheaper that way!"
By the way, I'm not the most "intelligent REIT investor." You are. By reading this article, conducting necessary due diligence, and by investing in safe dividend stocks with a "margin of safety," you can "acquire that necessary trace of wisdom" that we call "sleeping well at night." Make sure you check out my monthly newsletter HERE (includes my "sleep well at night" portfolio).
Other REITs mentioned: (NYSE:NHI), (NASDAQ:SBRA), (NYSE:HR), (NYSE:HTA), (NYSE:LTC), (NYSE:UHT), (NYSE:AVIV), (NYSE:MPW), (NYSE:DOC), (HTC), (NYSE:HCP), and (NYSE:OHI).
Sources: SNL Financial, FAST Graphs, Yahoo Finance, and Jonathan Morris (Professor at Georgetown University).
Disclaimer: This article is intended to provide information to interested parties. As I have no knowledge of individual investor circumstances, goals, and/or portfolio concentration or diversification, readers are expected to complete their own due diligence before purchasing any stocks mentioned or recommended.
Disclosure: I am long O, DLR, VTR, HTA, STAG, UMH, CSG, GPT, ARCP, ROIC, MPW, HCN, OHI, LXP, KIM. I wrote this article myself, and it expresses my own opinions. I am not receiving compensation for it (other than from Seeking Alpha). I have no business relationship with any company whose stock is mentioned in this article.