Editor's Note: This article covers a stock trading at less than $1 per share and/or with less than a $100 million market cap. Please be aware of the risks associated with these stocks.
I recently visited a friend's new home and I was surprised to see that the house had been designed to accommodate a home elevator. This was an ordinary 3 bedroom home in a subdivision, not a Beverley Hills style mansion. Having once lived with a handicapped person in a multi-level home I know first-hand how much difference such a device can make to a persons enjoyment of life and with an aging population, personal mobility is becoming a major issue for many elderly people.
Savaria (OTCPK:SISXF) is one of North America's leading manufacturers of products to help people gain personal mobility, including stairlifts, home and commercial elevators, platform lifts and wheelchair accessible vans.
Headquartered in Laval, Quebec, Savaria has five other facilities, including a 125,000-square-foot plant in Brampton, Ontario, a 70,000-square-foot plant in Montreal, Quebec, and a 75,000-square-foot plant in Huizhou, China, into which, in May 2013, it transferred its China operations, following the signing of a new lease. The Chinese factory produces components for assembly at the Canadian operations, as well as finished products for the Asian and European markets.
Sales during the first nine months of 2013, were recorded in the United States (51%), Canada (39%) and, to a lesser extent, outside North America (10%). The Corporation has some 360 employees and its shares are traded on the Toronto Stock Exchange under the symbol SIS and over the counter in the USA under the symbol SISXF.
Although the company has been operating since 1989, it is only recently that revenues and earnings have shown consistent growth. Over the past ten years or so, many small Canadian based manufacturers have struggled to compete because of the rapid appreciation of the Canadian dollar. Some of those companies have fallen by the wayside, others have found ways of cutting costs and improving efficiency. Savaria is one of the latter, and is now poised to profit from a lower dollar and a general improvement in economic conditions. For the past four quarters, Savaria has produced record revenue and earnings, when compared to year earlier quarters.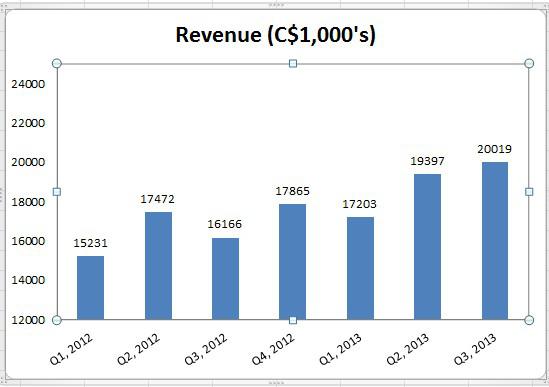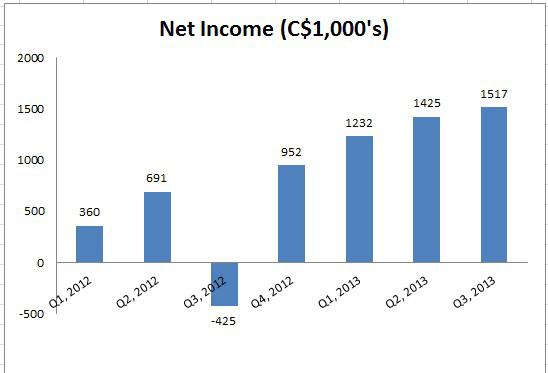 Data source: Savaria management report Q3, 2013
Revenue and earnings figures are in $1,000s, Canadian. I have presented the data in the company's reporting currency to best illustrate the growth trends, without the distortive effects of currency fluctuations.
Readers should note that Q3, 2012 revenue and earnings were negatively affected by a temporary shutdown of manufacturing in Brampton, Ontario to move the plant into a new facility. This reduced revenue by approximately $1million according to company estimates.
Adjusting for the revenue shortfall in Q3 of 2012, and assuming that the Q4, 2013 results will be at least equal to Q3,2013 indicates a revenue growth rate of approximately 13% and a net income growth rate of more than 100% for 2013 compared to 2012.
Drivers for revenue and income growth have included:
Acquisitions - including Concord elevators in 2005, Freedom and Liberty van conversions in 2010 and retail operations Concord London, also in 2010.
New products such as the recently introduced stairlift for curved staircases
Cost reductions from manufacturing in China
Efficiency improvements resulting from moving into a new facility in Ontario at the end of 2012
Closure of a major North American competitor at the end of 2012.
Growth in the share price has reflected the improved performance. Although the trading price is off a little from recent highs, it has still more than doubled since April of last year.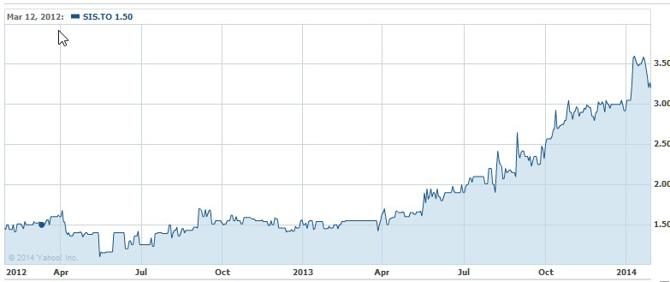 Price/earnings for the trailing 12 months is a reasonable 14.55.
Gross margins are about 30%, and other costs have been more or less constant during the past two years. My forecast revenue and expenses for 2014 are given in the table below (all figures are in thousands, and are given in Canadian and US dollars):
| | | |
| --- | --- | --- |
| | Can $ | US $ |
| Revenue | $86,000 | $77,400 |
| Gross margin % | 30% | 30% |
| Gross margin | $25,800 | $23,220 |
| Selling, Admin and R&D | $14,000 | $12,600 |
| EBITDA | $11,800 | $10,620 |
| EBITDA/share | $0.50 | $0.45 |
| Depreciation | $1,600 | $1,440 |
| Interest | $700 | $630 |
| Income before taxes | $9,500 | $8,550 |
| Net Income | $6,945 | $6,250 |
| Net Income/Share | $0.30 | $0.27 |
Over the long term, industry growth in North America is expected to exceed GDP growth because of the aging population and the increase in the number of persons with mobility issues.
The U.S. Census Bureau expects the number of disabled people to grow twice as fast as the country's population overall. In fact, it forecasts that an additional 500,000 Americans annually will suffer from a disability, bringing their total to 35.4 million by 2030. For many elderly people, installing a home elevator or stairlift is an attractive and less costly option when compared to moving to a single story house or apartment.
These fundamentals will definitely have a major impact on the demand for accessibility products.
My forecast revenue for 2014 is an increase of 12% over 2013 (assuming Q4, 2013 is the same as Q3). I believe it is a conservative assumption given the rate of growth expected in the industry, and the recent drop in value of the Canadian dollar, which itself will increase revenue by about 4% if it remains at current levels for 2014.
That gives me a forward P/E of 10.7 and a 12 month target price of C$4.20 (US$3.78), based on a trailing P/E of 14.
As of September 2013, total debt was $16 million and debt/equity was 0.8. That ratio is higher than I like to see in a small corporation, but is not a major concern. $6 million of the debt is related to the purchase of the new building in Brampton, Ontario and the company has negotiated interest rate swaps to hedge against rising rates.
Up until this year, Savaria paid an annual dividend in the first quarter of the new year, equal to approximately 50% of EBITDA. For 2013, they moved to a quarterly dividend of 2 cents, with the intent of topping up that dividend annually to achieve the same payout of 50% of EBITDA. If that policy stays in place, the dividend for Q1, 2013 should be in the region of 16 cents (22 cents for the full year), giving a yield of 6.8% on today's share price.
If my forecasts are correct, total return should be around 30% for 2014.
Risks include:
Competition - Although Savaria claims to be the market leader in North America, competition in the industry comes from a number of small private companies in North America and Europe.
Currency fluctuations - Savaria reports its results in Canadian dollars. For US based investors this presents an additional risk because fluctuations in the relative value of the two currencies can materially affect gains or losses.
Liquidity - The shares are thinly traded, and could fall sharply if the company does not meet expectations.
Even though the share price has more than doubled over the last six months, I believe the risk/reward possibilities for this stock are still heavily weighted towards the upside.
Disclosure: I am long SISXF. I wrote this article myself, and it expresses my own opinions. I am not receiving compensation for it (other than from Seeking Alpha). I have no business relationship with any company whose stock is mentioned in this article.