Executive summary:
In its Q4 report, AGNC disclosed that it now owns $400M of its mREIT peer's stock
Since then, the value of this investment has likely gone up well over 15%
Coupled with its own surging share price, AGNC's BV is now likely well above Q4's $23.93
However, falling rates may have an impact on AGNC's future dividends
_________________________________
One of the more interesting aspects of American Capital Agency Corp (NASDAQ:AGNC) in Q4 2013 was its large $400M purchase of stock in other agency mREITs. To put it mildly, this came as quite a shock to both ordinary investors and even most analysts. However, in hindsight, these purchases were a genius move by American Capital as it essentially increases its exposure to MBS at a large discount to current prices while also making its shareholders a bunch of money.
American Capital's rationale for purchasing stock in its peers
As I noted in my Q4 earnings review article, American Capital's reasoning for buying its peers was explained in the conference call.
In addition to buying our own shares, in December and January when mortgage REIT stocks were near their lows we purchased approximately 400 million of other agency REIT stocks. While it may seem very strange that we would support the stocks of our peers, our actions are indicative of our desire to generate value for our shareholders by extracting value from the agency MBS market both directly and in this instance indirectly.

You can think about the investment decision in this way, regardless of how much stock we buyback we will own significant quantities of agency MBS in our portfolio. Does it make sense only to hold agency mortgage securities directly or should we sell some and buy similar MBS assets in REIT equity form at around 20% discount.

In asset price terms, that is like buying a highly liquid agency MBS 2.5 points in price lower than where you can sell them. To us the choice was straight forward as the almost 20% discount more than compensates us for the incremental fees and reduced transparency into this subset of the portfolio.
While the above does a good job explaining American Capital's reasoning, let us read between the lines a bit to really get to the bottom of this.
Basically, American Capital would much rather buy stock in its peers trading at a largish discount to BV than purchase MBS in the open market. While this does allow certain inefficiencies to sneak in, such as duplicate costs and somewhat elevated risk, it actually saves the company money in the long run.
To put it more simply, via its peers, American Capital is purchasing the underlying MBS at a discount, thus allowing it benefit from their leverage and resultant dividend income. In addition, American Capital and its shareholders will benefit from any subsequent increase in share price.
Below is an example of this process in work from American Capital's Q4 2013 investor presentation: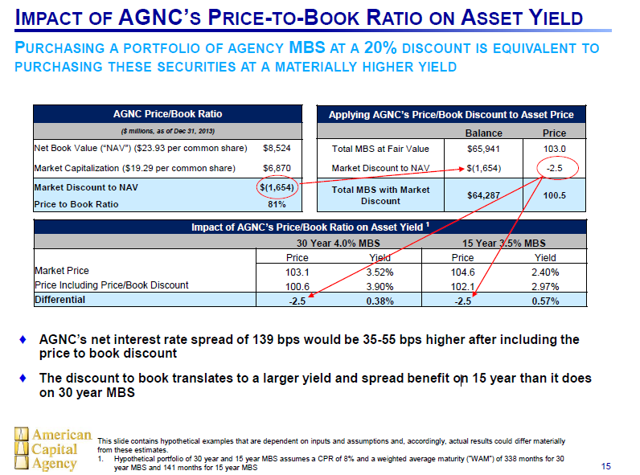 As can be seen, buying stocks with a large portfolio of MBS at a 20% discount to BV has the net effect of lowering the overall price of these same MBS to the tune of 2.5%. In addition, due to the lower price, the effective yield is also 35 to 55 basis points higher. Surprisingly, this increased yield has a larger impact on 15 year securities compared to the standard vanilla 30 year MBS.
Who has American Capital been purchasing?
Do note that this section is pure speculation on my part. However, the question as to which mREIT's stock American Capital has been buying up is a very interesting one.
We already know that American Capital and its sister stock American Capital Mortgage Investment Corp (NASDAQ:MTGE) already own a large chunk (8.2M shares, or 8.5%) of Hatteras Financial Corp (NYSE:HTS). However, this stake only accounts for about an estimated $125M investment. What other mREITs has American Capital been buying?
To figure this out, we need to make a few assumptions. Basically, American Capital would have needed to buy up mREITs with the following characteristics:
A) Trading at a large discount to BV in Q4
B) Have a similar asset profile of either agency MBS and/or non-agency MBS
C) Have a highly liquid stock
For point A, this eliminates some mREITs such as Western Asset Mortgage Capital Corp (NYSE:WMC), Ellington Residential Mortgage REIT (NYSE:EARN), and Ellington Financial LLC (NYSE:EFC).
For point B and C, this eliminates some of the larger mREITs such as Annaly Capital Management (NYSE:NLY) and many of the smaller, more exotic names such as Capstead Mortgage Corp. (NYSE:CMO).
Below are two other mREITs which I believe American Capital may have been buying up during Q4.
CYS Investments (CYS)
This stock was trading in the low $7 range in Q4 2013. Given that its BV as of Q3 2013 was $10.10 per share, this implies a discount to BV of as much as 30%. In addition, CYS has a very similar portfolio to American Capital, basically being a pure-play agency mREIT.
Anworth Mortgage Asset (ANH)
This stock was trading as low as $4.02 during Q4 2013. Given that its BV as of Q3 2013 was $5.89 per share, this implies a discount of as much as 32%. Much like CYS, Anworth is basically a pure-play agency MBS mREIT, though with a larger focus on adjustable rate mortgages.
American Capital is likely in the money with its mREIT buys
Since Q4 2013, MBS prices have rebounded due to lower rates and a sluggish economy. This will likely mean that American Capital's investments into the mREITs have likely gone up in value since then.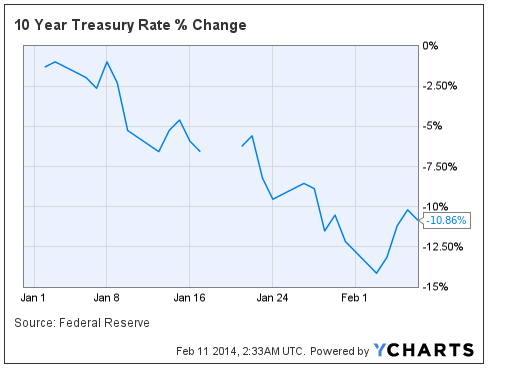 As an example, Hatteras' stock is up nearly 16% YTD, CYS is up 13%, while Anworth is up over 16%. Meanwhile, American Capital has also rallied 15%.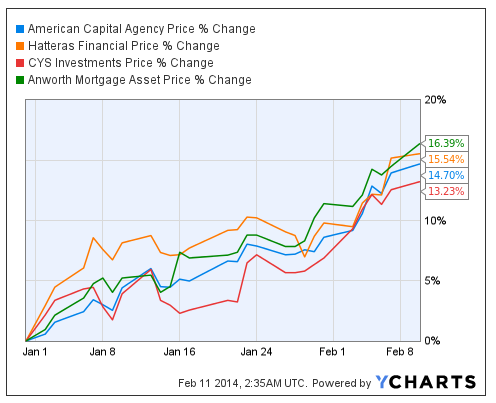 Conclusion
Remember that the Q4 2013 BV report is merely a snapshot in time. Year end 2013 seemed to have been the peak in the interest rate cycle short-term.
When combining the accretive effect of American Capital buying back its own stock, its ownership of greatly appreciated stock of its peers, and the recent fall in interest rates, it is very likely that American Capital has seen its BV increase sharply since it reported earnings.
However, as with many good things, there is a downside. With rates falling, American Capital will likely see its NIM contract in Q1 2014. This may lead to a further reduction in net interest income and thus the dividend may come under pressure later on in 2014. However, we will need to see rates stay at current levels for months for this to really have a negative impact.
Disclaimer: The opinions in this article are for informational purposes only and should not be construed as a recommendation to buy or sell the stocks mentioned. Please do your own due diligence before making any investment decision.
Disclosure: I am long AGNC, MTGE, CYS, EFC. I wrote this article myself, and it expresses my own opinions. I am not receiving compensation for it (other than from Seeking Alpha). I have no business relationship with any company whose stock is mentioned in this article.