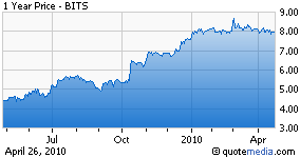 Columbia Pacific Advisors changed the filing status of its Columbia Pacific Opportunity Fund's position in Bitstream Inc (NASDAQ:BITS) from "passive" investor to "active" investor last week. Columbia Pacific, which holds 1,207,856 shares or 12.1% of Bitstream's shares outstanding, joins Trent Stedman's Millennium Group LLC and Bill Martin's Raging Capital as 13D filers in Bitstream.
Hedge fund manager, Raging Capital Management, holds 840,412 shares or 8.4% of Bitstream's stock, and has been attempting to get up to three of its own representatives added to the company's board. At first, it suggested that its founder, Bill Martin, be added to the board, but after resistance from the company, the hedge fund nominated: Raul K. Martynek (a director of Broadview Networks Holdings, Inc. and former senior advisor of Plainfield Asset Management, Kenneth H. Traub (CEO of Ethos Management, and former CEO of American Bank Note Holographics, Inc. and James A. Waskovich (Managing Partner of Princeton Ventures Management LLC).
On February 22nd, shortly after Raging's representatives were revealed, Bitstream issued a press release announcing the appointment of Jonathan Kagan to the Board as an independent director. In response to his appointment Mr. Kagan commented:
The Bitstream management team and Board are clearly committed to capitalizing on their significant technology offering as they pursue a strategy to maximize shareholder value. I am very excited about working with this team and contributing my skills to helping this organization transform into a market leader as we build upon a great foundation in technology to emerge as an innovator in the global marketing automation and mobile browsing.
According to the HFS Catalyst Research Reports, Millennium Group's NV North American Fund (16.0%) announced on March 12th its intention to propose a candidate for appointment or election to BITS's board. In addition, NV indicated their support for greater shareholder representation on the board.
Disclosure: No positions