Most shoppers in the US have no option but to shop at Wal-Mart (NYSE:WMT) because of its low prices that most other competitors can't afford to offer.
It is a leader in generating ingenious ideas for cost-cutting by improving efficiencies and removing unnecessary frills. The bargaining power of Wal-Mart allows it to keep its low price edge and makes its suppliers reduce costs by shedding off any inefficiency. Wal-Mart even makes its suppliers redesign their products to allow it to make the products better value for money.
Wal-Mart's business model recognizes the fact that real value addition is the money that customers save, and shoppers love this idea. Its business model allowed it to become the largest retailer in the world with around 8,500 stores in 15 countries, and the largest private employer with two million employees on its payroll.
There is a Big World to Cater To
Emerging economies are the places where Wal-Mart still has to grow. The company is strategically targeting China. Wal-Mart is focusing on Supercenters and Sam's Club stores, planning to open two Sam's Club locations each year from 2014 onwards. Wal-Mart plans to open over 100 outlets in China between 2014 and 2016. There is still a large part of the world that is still developing that will become future target market for Wal-Mart, and this developing world will fuel the growth of this giant in the future.
Wal-Mart: Slowly gaining in China
Wal-Mart is focusing to expand in China after saturating the home market of US. According to the Institute of Grocery Distribution, a food industry research firm, retail market of China is expected to grow at 11% to around $1.5 trillion by 2015, whereas US retail market is expected to rise at a lower rate of 4.2% in the same period.
Hence, China represents a huge opportunity for Wal-Mart's future growth, but it's not easy to gain a foothold in a new market with different dynamics. Even after 15 years in China, Wal-Mart is still working to gain success that it enjoys in many other countries. Wal-Mart is facing intense competition from local chains like Sun Art, Chinese largest hypermarket operator with 14% market share.
According to managing director of the China Market Research Group, Wal-Mart lacks the scale that is important to offer lower prices than big Chinese competitors. He further says that Wal-Mart is slow to react to competition and local players are better able to cater to the preference of Chinese customers.
Tesco, the largest UK retailer, is teaming up in a joint venture with Hong Kong-listed China Resource in order to compete with the large domestic players. This kind of consolidation of course makes competition stiffer for Wal-Mart.
Wal-Mart has a small share of 3% in China's gigantic retail market. China's retail industry revenue is growing at a healthy rate of 10.8%. This high growth rate is what allured Wal-Mart to invest in China. However, at present, Wal-Mart's revenue is growing at a meager 3.6% and is lagging well behind the industry in revenue. New stores are opening in China at the rate of 8% per annum, whereas for Wal-Mart, this rate stands at 6.8% per annum.
It may take several years for Wal-Mart to gain a strong position and growth in China that Wal-Mart wished for, but this investment is likely to open doors of fortune for Wal-Mart in the future.
Wal-Mart is Sturdy like a Mountain

Exhibit 1 (Source: morningstar.com)
The gross margins and operating margins of Wal-Mart are truly resilient. Exhibit 1 above shows us that the gross margins of Wal-Mart remained within a narrow range of 23.2%-25.4% over the last eleven years. It endured the economic slowdown without any decline in its gross margins. The operating margins also remained within a narrow range of 5.6%-6.1%. This is concrete evidence showcasing the fact that Wal-Mart is a stable retailer with a loyal consumer base that is almost unaffected by the fluctuations of the economic cycle.
Wal-Mart is now close to a $500-billion revenue level. Revenue for Wal-Mart has been consistently growing, over the last eleven years. Wal-Mart's revenue increased at a CAGR of 5.68% per year over the last ten years.
The company's net income also increased over the past eleven years, with the exception of 2012. Its net income grew at a CAGR of 6% per year over the past eleven years.

Exhibit 2 (Source: morningstar.com)
With regard to the dividends, we see that Wal-Mart has rewarded its shareholders with ever-increasing dividends. Its dividend per share grew from $0.36 to $1.81 over the past eleven years, at a healthy rate of 15.81%. Wal-Mart is an ever-expanding company that has opened hundred of stores each year, and despite this growth, it has also increased its dividend payout ratio from 17.7% in 2004 to the current TTM payout ratio of 34.8%.
Looking at the number of Wal-Mart's shares over the last eleven years in Exhibit 2 above, we see that Wal-Mart repurchased its shares, reflecting the company's confidence that its shares are a good investment opportunity. A company with such stability and consistent performance is indeed a very good, long-term, and stable investment.
Relative Valuation

Exhibit 3 (Data source: Reuters)
I valued Wal-Mart based on its multiples using a peer group comprised of Costco (NASDAQ:COST), Target (NYSE:TGT), and Dollar General (NYSE:DG), as shown in Exhibit 3 above. I am using this peer group based on the fact that the business of this group relates more closely to Wal-Mart. The valuation shows a fair value of $93.42, reflecting the fact that the current price of Wal-Mart is undervalued by 25.53%. Equal weights were given to P/E, P/B, P/S, and P/CF on the assumption that earnings, valuation of assets in company books, sales, and cash flow equally help determine the value of a company like Wal-Mart.
I am quite optimistic about the upward price potential of Wal-Mart. Now, I will try to make my valuation of Wal-Mart a little more conservative. I decided to optimize my estimate by averaging it with the highest and lowest valuation estimates made by other analysts.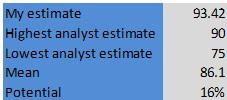 The table above shows the way I averaged my estimate, with the highest estimate of $90 and the lowest estimate of $75. I gave equal weights to the three estimates. This calculation reaps a fair value of $86.1 with a 16% upside potential.
Conclusion
My analysis of Wal-Mart shows that this stable company has a strong foothold in the markets in which it operates. Although it has not yet achieved the status of market leader in China, however, this fact will change over the coming years. Wal-Mart's ability to minimize costs and operate in a cost-effective manner is unmatched. It has wide scale barriers that would allow it to remain a cost and volume leader in the future. Its consistent performance makes it a valuable investment. Its growth is not expected to reduce, since it has the potential to tap into many emerging economies. Its valuation based on price multiples shows that it is undervalued. Therefore, I conclude my analysis by giving Wal-Mart's stock a buy rating.
Disclosure: I have no positions in any stocks mentioned, and no plans to initiate any positions within the next 72 hours. I wrote this article myself, and it expresses my own opinions. I am not receiving compensation for it (other than from Seeking Alpha). I have no business relationship with any company whose stock is mentioned in this article.