By now, everyone who follows the market has realized that 2014 is no 2013. That can be good news for income investors and for those looking at adding bargains and values. This article presents a few reasons why investors should be following the market closely for bargains over the next few weeks. Let us get into the details.
The Debt Ceiling Drama: Yes, we are staring at this again. Of course, everyone knew it was coming sooner than later, but the U.S. has only until February 27th to increase the debt limit, as Seeking Alpha has covered here. Anyone who has followed stocks over the past 3 to 4 years knows that there are wild swings on both sides as and when news leaks out about the closed door meetings between Democrats and GOP.
Yes, No, Yes, No Tapering: Tapering news has been public for quite some time, but each time there is a Fed meeting, the market still continues to swing wildly. With Janet Yellen slowly getting into the groove, expect some tension in the market. Ms. Yellen will be up against the U.S. lawmakers today. Meanwhile, it is speculated that the Fed will continue its tapering despite disappointing jobs numbers last week. But, we've seen such statements being negated by actions.
Earnings: With the earnings season in full swing, expect that to contribute to the market volatility as well. Recently, a lot of big names like Apple (AAPL), Chevron (CVX), and Amazon (AMZN) reported weak numbers. The "next-gen" companies like Twitter (TWTR) did no better either, though Facebook (FB) did well.
Automakers like Ford (F) and General Motors (GM) are in a storm of their own, thanks to the weather. Though most of the market moving stocks have reported already, next week does have a few big names reporting like: Loews Corporation (L), Reynolds American, Inc. (RAI), Cisco Systems (CSCO), and Lorillard Inc. (LO). The point being, continuing weaker earnings will likely present opportunities in individual stocks as well as the market overall.
General Mood: As January has come to an end, we are seeing more and more reports that are not in favor of stocks. This report says people are rushing into bonds and selling out of stocks (no wonder). This report asks if the bears can be beaten. The bull was way too strong in 2013, and with this slight opening, expect the bears to have the stronghold this year. The takeaway from here is that, contrarian investors who like to go against the crowd have plenty of bargains out there.
Fundamental Reasons and Actionable Takeaways: With all the external reasons mentioned above, this section talks about a few fundamental reasons in specific why this is a great time to look for bargains from an income perspective:
AT&T (T) is yielding 5.70% at the time of this writing, further widening the gap between itself and the rest of the Dow 30 stocks. Verizon (VZ) is the 2nd-highest yielding stock in the Dow 30, at 4.60%. This has rightly attracted the attention of Barron's, as can be seen here.
To long-term income investors, buying a stock when it is yielding its recent high versus buying when it yields its lowest can be significant. No, this is not hindsight bias, as investors can easily find out what has been the historical average, minimum, and maximum yields for a stock.
The table below shows the yield on cost for someone who bought AT&T at $39 versus buying today at its lows of $32. The table assumes an average dividend growth of 2% per year in both scenarios. To put that into context, for every $1000 invested at these prices respectively, there is a minimum difference (not accounting for dividend reinvestment) of $13 in income. This can sound trivial on the surface, but retirees and people with tens of thousands of dollars invested would say otherwise.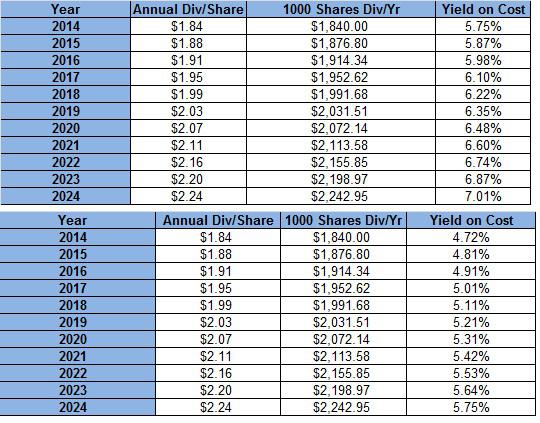 (Source: Table compiled by author with dividend and share price data from Yahoo Finance)
In another clear indication that there are bargains out there among big names, Apple's management was busy buying back $14 billion worth of stock in two weeks. The reason it is important to the whole market is that Apple is still a direction-defining stock at least for Nasdaq, if not for the whole market.
We've already written about a few stocks that were looking like bargains over the past few weeks due to general market mood as well as weak earnings. Stocks like AT&T, Chevron, Altria Group (MO), Johnson & Johnson (JNJ), and Philip Morris (PM) were and are still on sale.
Some of them are yielding their highest over the past 5 years, and they all are highly likely to increase their dividends in 2014 too.
As Regarded Solutions has covered here, buying on dips has been a good strategy with well-known stocks. Here is another article from a well-respected SA author about buying on dips. Of course, over a short period of time any strategy can fail, but over the long term these big names are unlikely to disappoint. The points presented above should also give investors more chances to pick up bargains over the next few weeks and months. Watch out!
Bonus: This is not directly about income or even investing, as this is more of a trading technique. If you are net long, you may want to take a look at some inverse tickers like TZA. But please be warned that these are extremely volatile as well as risky if you are not quick.
Disclosure: I am long T, CVX, LO, PM, MO. I wrote this article myself, and it expresses my own opinions. I am not receiving compensation for it (other than from Seeking Alpha). I have no business relationship with any company whose stock is mentioned in this article.
Additional disclosure: May initiate a position in F in the next 72 hours.