(Editor's Note: Investors should note that trading of LNDNF is very illiquid. Improved liquidity is available on the Stockholm Exchange under LUPE.ST)
Investment Summary
Lundin Petroleum AB (OTCPK:LNDNF), an oil and gas company with exploration and production assets focused upon two core areas, Norway and South East Asia, is a "Strong Buy" at current levels with a 2-year time horizon. This initiation on the company will discuss some of the interesting developments in the company, their impact on growth and the company's prized asset, which is potentially a long-term money spinner. I believe that the 10% rally in the stock price on Friday (February 7, 2014) is just the beginning of a sustained upside and the initiating coverage will back my conviction on a value creator for investors.
Company and Asset Overview
Lundin Petroleum is an exploration company with assets focused upon two core areas, Norway and South East Asia. The company is the most successful exploration company in Norway in the last ten years with an average finding cost of $0.5 per barrel. Besides the core areas, the company also has assets in France, Netherlands and Russia. For 2013, Lundin had a production of 32,700boepd with 73% of the production coming from Norway. The company is targeting to ramp-up production to 75,000boepd by the end of 2015 with the help of its existing 2P reserves of 194mmboe (76% in Norway). The company's existing reserves have an attractive mix of 92% oil & NGL and 8% gas. Lundin's contingent resources (2C) as of 2013 were 342mmboe and this excludes Johan Sverdrup, an asset to be discussed in detail later.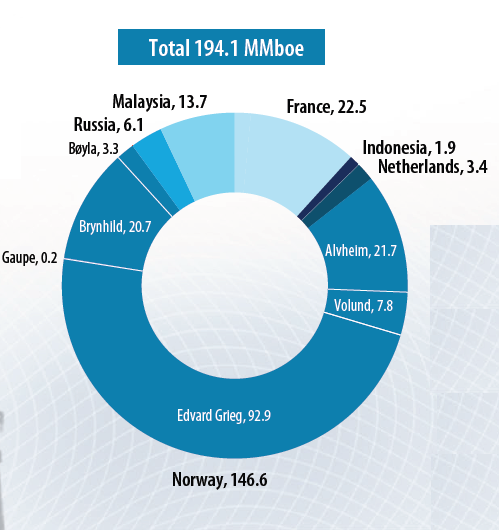 Lundin had a broad asset portfolio as given in the licenses summary below. The key point here is that Norway remains the focus area with some of the biggest revenue generating assets of the company in the country. The link provides a detailed license summary with Lundin's share of assets.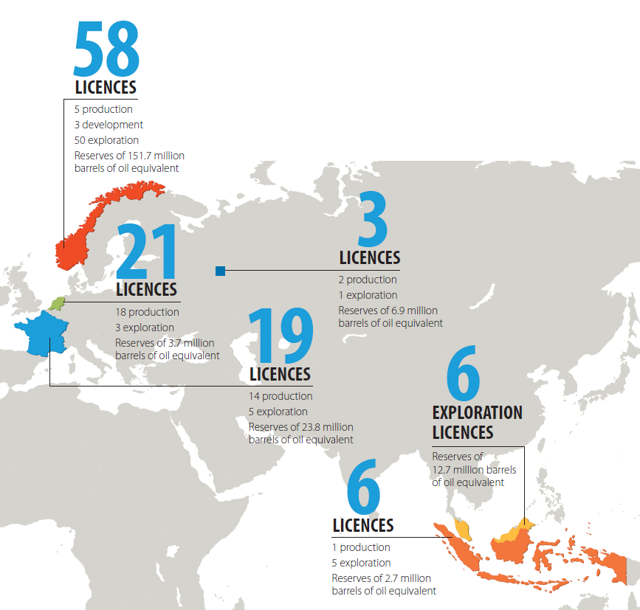 Looking at some of the current producing assets, the Alvheim field with 2P reserves of 21.7mmboe had a net production of 10,500boepd in 2013. The Volund field, another Norway asset, had 2P reserves of 7.8mmboe and a net production of 12,200boepd for 2013. These two assets constitute the Greater Alvheim Area and accounted for 22,700boepd of production in 2013. For 2014, the Greater Alvheim Area will continue to add to production and the Brynhild asset will produce first oil in the second quarter. There will be further asset monetization activity in 2015 when Bertam and Edvard Grieg assets will start production. It will primarily be Edvard Grieg, which will help Lundin to exit 2015 with a production of 75,000boepd. What I intend to provide here is just a brief summary of assets that will impact valuations for the next 2 years. The key growth drivers will be discussed in greater detail later.
Why Initiate Lundin Petroleum Now
Reason One - Lundin petroleum (in their 4Q presentation) has announced that the company has increased its existing credit facility from $2.5 billion to $4 billion. For the full year 2013, the company also generated operating cash flow in excess of $1 billion. As I discuss the revenue forecast below, Lundin is expected to generate operating cash flow in excess of $1 billion in 2014. These factors ensure that Lundin is completely funded for 2014 as well as 2015. This provides for a good entry point as the risk of equity dilution is minimal.
Reason Two - Lundin's production profile was relatively stagnant for 2012 and 2013. While a new field comes into production in 2014, the significant inflection point is coming in 2015 and 2016. Going into 2014, the stock will start discounting the positives. A 10% rally in the stock after the company's capital market day, which reiterated the guidance for 2014-2016 is in all probability, the starting point of a sustained upside.
Reason Three - Johan Sverdrup was the biggest oil discovery in the world in 2011. Lundin has a 40% stake in PL501 licence and a 10% stake in the PL265 licence for Johan Sverdrup. On December 20, 2013, Statoil (NYSE:STO) announced that the resource estimate in the field has been lowered to 1.8 to 2.9 billion barrels of oil equivalent from an earlier estimate of 1.8 to 3.6 billion barrels of oil equivalent. After the news was released, Lundin has declined by nearly 16%. A part of the decline has been reversed by the recent upside of 10% in the stock. I believe, and will prove later in the article, that the decline was an overreaction and the field's value provides room for upside in Lundin's stock. The negative reaction is therefore a good buy opportunity.
Reason Four - I mentioned earlier that 2015 and 2016 will be the game changer in terms of production growth. The current year can be a potential game changer when it comes to 2P reserves growth. For 2014, Lundin has an exploration, development and appraisal budget of $2.1 billion and this involves exploration and appraisal of over 20 licence prospects. In addition, Statoil has announced that concept selection for Johan Sverdrup field will be in early 2014. The field alone has the potential to more than triple Lundin's current 2P reserves of 194mmboe. In other words, 2014 can be a year of big positive surprises and can translate into strong stock upside. It makes sense to remain positioned in such a prospect.
Revenue, EBITDA and Cash Flow Outlook 2014
I intend to discuss the revenue, EBITDA and cash flow outlook for 2014-16 to assess the valuation and also focus on individual assets, which will trigger growth in the period. It would be fair to consider the company's guidance for production as Lundin has historically met their guidance as shown below.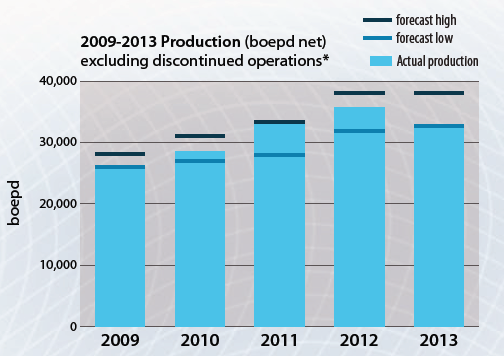 While the company has given a guidance of 30,000-35,000boepd production for 2014, I have assumed the higher end of the guidance considering the exploration and appraisal activity for 2014. With the per barrel cost estimates coming from the company's capital market day presentation, Lundin is in line to clock a turnover of $1.2 billion in 2014 and an EBITDA of $986 million.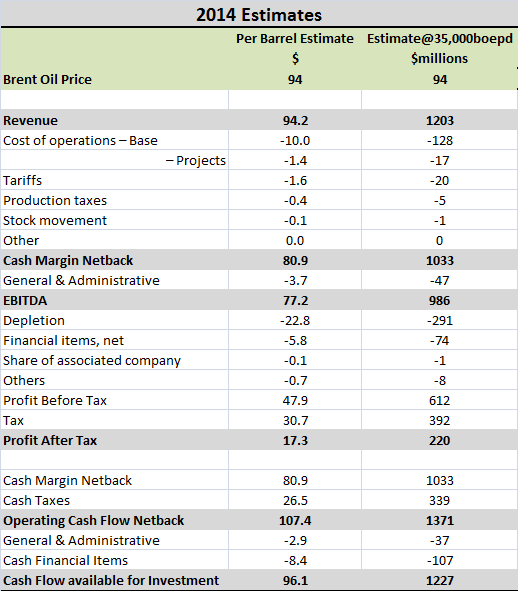 Very importantly, the cash flow available for investments will be marginally over $1 billion (same as 2013). This provides ample financial flexibility to fund the high impact exploration program for 2014. As I mentioned earlier, 2014 will not be significant for revenue growth, it will be more significant in terms of reserves growth. With the Brynhild asset expected to start production in the second quarter of 2014, there will be a question on why production will remain nearly at 2013 levels. The reason is that there will be a planned shut-in for Alvheim and Volund in the third quarter. This will offset the growth in production from Brynhild. Elaborating a bit on the Brynhild asset, I must mention here that Lundin has a 90% stake in the asset with a gross reserve base of 23mmboe. The initial production estimate from Brynhild is pegged at 12,000boepd.
Revenue, EBITDA and Cash Flow Outlook 2015
The growth outlook for 2015 is more exciting as the extensive capital expenditure activity in 2014 brings in increased production from Brynhild and new oil from Boyla, Bertam and Edvard Grieg assets. As per Lundin's guidance, the expected production level in 2015 will be significantly higher at 50,000boepd. I have earlier discussed Brynhild including the production rate from the field of 12,000boepd.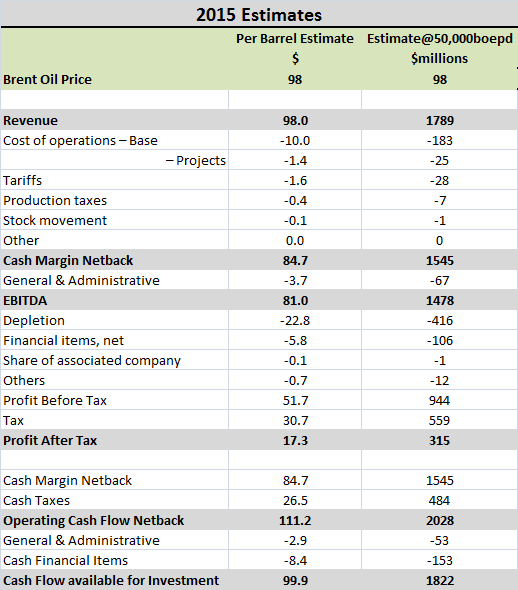 Boyla, which is expected to get into production stage in 1Q15, has a plateau rate of 20,000boepd. The asset has gross 2P reserves of 22mmboe and Lundin has a 15% interest in the asset where Marathon Oil (NYSE:MRO) is the operator with a 65% stake. The second new asset lined for production in 2015 is Bertam, in peninsular Malaysia. Lundin has a 75% stake in the asset with gross 2P reserves of 18.2mmboe. The asset is expected to deliver gross plateau production of 15,000boepd in 2015 with first oil coming in the second quarter of 2015.
The third asset, which is another money spinner for Lundin, is expected to start production in the fourth quarter of 2015. Lundin has a 50% stake in the Edvard Grieg project with gross 2P reserves at 186mmboe. The asset will trigger production levels of 75,000boepd in 2016 for Lundin. As of December 2013, the peak production estimate from the asset was pegged at 100,000boepd. The chart below gives the schedule for the Edvard Grieg project and the positive point to note is that the project is on schedule. The pre-drilling phase for the project is expected to commence by the end of 2014.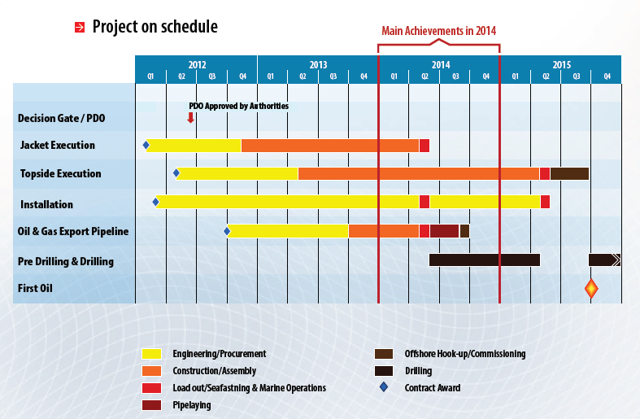 With these projects lined up, the estimated production of 50,000boepd is entirely likely in 2015 and the table below gives the estimates.
A 50% bump-up in revenue and EBITDA can be expected in 2015 along with strong operational cash flows. What is also important to note is that Lundin will be trading at an EV/EBITDA of 4.6 considering the 2015 EBITDA levels. Forward multiples therefore look very attractive and I will discuss this separately in the peer valuation section.
Revenue, EBITDA and Cash Flow Outlook 2016
While the revenue, EBITDA and valuation multiples for 2016 will not have an immediate impact on the stock price, it will be still interesting to look at the numbers if the production target of 75,000boepd is achieved. Revenue of nearly $2.7 billion with an EBITDA of $2.2 billion is likely with production levels of 75,000boepd.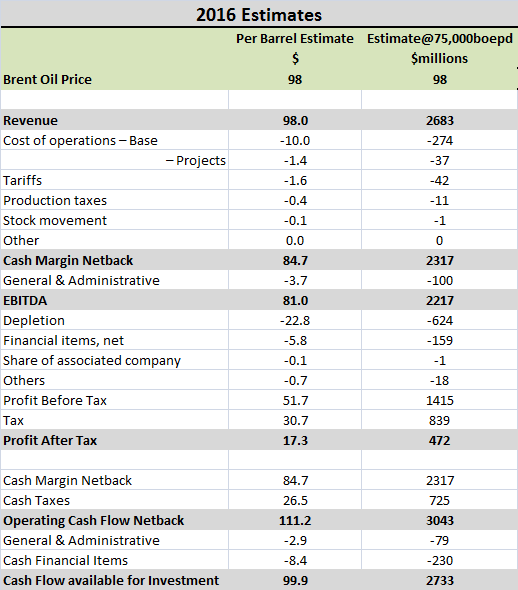 Lundin therefore has 3 big years ahead in terms of exploration activity and also in terms of revenue growth. These numbers should start translating into meaningfully higher stock price in over the next 2 years. I have considered a two-year time horizon as it will test the production levels for 2015 as well as early 2016 (when peak production of 75,000boepd is expected).
Johan Sverdrup - The Elephant Field
The Johan Sverdrup discovery is one of the largest oil discoveries ever made on the Norwegian shelf extending over an area of approximately 180 km². Following an extensive appraisal programme over the last two years Statoil Petroleum AS, as the pre-unit operator of Johan Sverdrup announced an updated full field gross recoverable contingent resource range of 1,800 - 2,900 million barrels of oil equivalent. Lundin has a 40% (operator) stake in PL501 and a 10% stake in PL265.
In the capital markets day presentation for the year, Lundin has clearly stated that Johan Sverdrup will more than triple the company's reserves in 2014. If this is considered as an initial estimate of Lundin's share of reserves, the potential is close to 400-500mmboe.
In the third quarter conference call, Ashley Heppenstall, the CEO of Lundin had responded in a open way to the question on selling of Johan Sverdrup asset. According to Ashley, the company might be open to selling its stake if the price is good and can create shareholder value. This statement makes me tempted to analyze the valuation of the field's stake. In the same conference call, Ashley had also mentioned that a possible valuation of the field stake will be above the sell side valuation. If we consider the transaction below of OMV's acquisition of PL338, the transaction value was $8.7/boe. I believe that sell side analysts would value the company's resources in this range.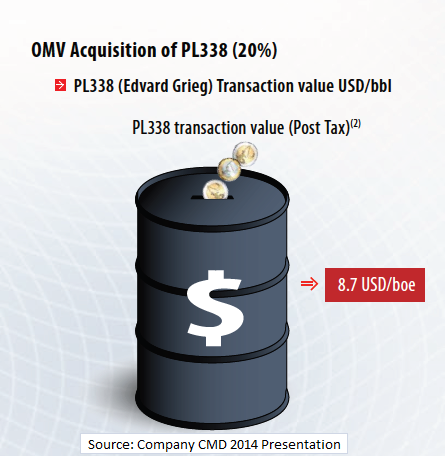 It would be therefore fair to consider a transaction value of $10/boe in-line with Ashley's comments. A 500mmboe resource of the company would be valued at $5 billion. This is the kind of value the field can generate on an immediate basis. A possible question would be why Lundin's market capitalization is only $5.9 billion if one giant field has a value of $5 billion. It is important to understand here that the first oil from Johan Sverdrup will come in 2019 and that is certainly not discounted in the stock price. If the company announces a sale of their stake, the story can be different with the stock surging on a potential $5 billion cash inflow.
However, as developments start in Johan Sverdrup, the field's valuation will gradually be discounted in the stock price. In late 2013, Statoil and partners have already awarded a contract to Aker Solutions for engineering framework. The concept selection for the asset is expected in the first quarter of 2014 and the PDO approval in the second quarter of 2015. Over the long term, the field has an estimated peak production level of 500,000boepd with an estimated life of 30 years. Lundin and partners therefore have a money spinner in their hands and it is a matter of holding on patiently to this value creator.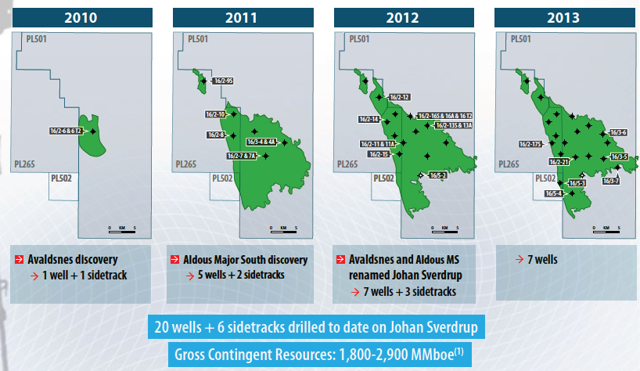 The Luno II, Gohta and Tembakau Assets
While looking at the big assets, it is easy to ignore the relatively small assets, which can bring in stock upside and value in the immediate term. The Luno II, Gohta and Tembakau assets can also spring surprises in 2014 and result in significant stock upside.
Coming to the Luno II asset in Norway, Lundin has a 40% stake in the PL359 licence. The asset has already tested for 2,000boepd of good quality oil and the Luno II discovery has gross contingent resources in the range of 26-121mmboe. Further, Luno II North is expected to have gross prospective resources of 24mmboe and fignon gross prospective resources are estimated at 23mmboe. With scheduled appraisal activity in 2014, the asset can meaningfully add to existing 2P resources.
The Gohta discovery is even more prominent and Lundin has a 40% stake in PL492 licence. For the field, the gross contingent resources are in the range of 111-232mmboe and the field has tested at 4,300boepd. The Gohta appraisal is expected in the third quarter of 2014 and can potentially be a surprise in 2014 in terms of 2P resources addition.
The third appraisal activity is in a Malaysian asset, Tembakau. Lundin has a 75% stake in the PM307 licence where gross 2C gas resources are expected to be in the region of 306Bcf. The objective of the appraisal is to move the gas resources to over 500Bcf. With a gas hungry Peninsular Malaysia, the asset has good prospects once it completely develops.
Valuation
Lundin currently trades at an EV/EBITDA (trailing twelve month) valuation of 7.5. What is more important is to look at the forward valuation, when major earnings bump-up will be witnessed. For 2015, considering an estimated EBITDA of nearly $1.5 billion, Lundin is trading at a very attractive forward EV/EBITDA multiple (2015) of 4.6. The EV/EBITDA multiple for 2016 based on current EV and 2016 EBITDA is 3.0. I would however consider the 2015 multiple as that will impact valuations in the near term and help fill the valuation gap compared to peers. It would not make sense to take some of the larger oil & gas companies such as Statoil or Marathon Oil for peer comparison. A smaller Norwegian name, DNO International (OTCPK:DTNOF) is currently trading at an EV/EBITDA valuation of 7.2 with assets in a riskier region of Middle-East. Similarly, Genel Energy (OTCPK:GEGYF) is trading at an EV/EBITDA multiple of 11.0. However, even if we consider the current EV/EBITDA valuation of Lundin and DNO as fair, the average EV/EBITDA multiple of 7.4 imply an upside of 60% for Lundin considering the 2015 EV/EBITDA level of 4.6. An upside of 50-60% over the next two years is therefore very likely.
Risk Factors
1) Risk One - One of the reasons for relatively depressed stock price of Lundin in 2013 was the delay in first oil from Brynhild. Oil production delays in the future can negatively impact the stock. That said, the most important project, Edvard Grieg is on schedule and the delay risk is minimal in terms of production upside
Risk Two - primarily relates to the macro-economic environment and any potential weakness in oil prices. I believe that China has bottomed out in all probability in terms of growth and the developed markets will continue to witness marginal growth. In other words, there might not be a case of significant oil price decline unless something completely unforeseen happens
Conclusion
Lundin has some great assets and the company is tending to a point where maximum monetization of the assets is on the cards. The current year will be big for Lundin in terms of drilling and appraisal (hence 2P growth). The year 2015 and 2016 will be big for Lundin in terms of significant ramp-up in production. As mentioned earlier, a recent rally of 10% might just be the beginning of a significant upside in the stock. The time horizon of two years has been carefully chosen to test the growth in production and revenue. Given the current scenario, Lundin is a Strong Buy with a potential 60% upside in two years.
Disclosure: I have no positions in any stocks mentioned, and no plans to initiate any positions within the next 72 hours. I wrote this article myself, and it expresses my own opinions. I am not receiving compensation for it (other than from Seeking Alpha). I have no business relationship with any company whose stock is mentioned in this article.