One more Buy List stock reported earnings this morning. Wright Express (WXS) said it earned 61 cents per share for its first quarter which was four cents better than Wall Street's expectations. In February, Wright said to expect Q1 earnings between 53 and 58 cent per share so they're doing even better than their own forecasts. The company's revenues rose 22.3% to $83.8 million which was just shy of expectations.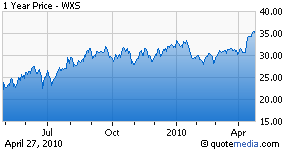 Wright said that Q2 earnings should range between 61 and 66 cents per share. For all of 2010, Wright sees earnings-per-share coming in between $2.39 and $2.54. This is a big increase from the earlier range of $2.26 to $2.46.
Bottom line: This was a very good report. The strange thing about Wright is why its shares didn't do anything for the first few months of the year. Going back to last September to up until a few weeks ago, WXS mostly bounced between $28 and $32. Then two weeks ago, out of the blue, WXS started to break out. Who knows what traders are thinking? The shares are down again this morning. That's OK, I can deal with folks who don't see a bargain. Wright Express continues to be an excellent buy.
After the closing bell, AFLAC (NYSE:AFL) is due to report. This is one of my favorite Buy List stocks. The consensus estimate is that AFLAC will earn $1.32 a share.
Disclosure: None in personal portfolio.