ConnectOne Bancorp (NASDAQ:CNOB) has not attracted a great deal of investor interest. Only 43 readers at SeekingAlpha have requested ConnectOne Email alerts. From the lack of interest, you'd think ConnectOne was located deep in the backcountry. Yet, this New Jersey bank is headquartered half an hour outside New York City and serves some of the wealthiest communities in the United States.
In fact, ConnectOne is one of the fastest growing banks in the nation, having increased its loan portfolio a breath-taking 440% increase in 6 years - even faster than the supercharged BofI Holding (NASDAQ:BOFI). Moreover, all that growth was done organically and was accomplished during the most challenging economic period in the last 70 years. And, if that is not all, ConnectOne has not sacrificed either quality, efficiency, or yield in making this avalanche of loans (more on that later). What's more, through its merger with Center Bancorp, ConnectOne is about to vault to $3.2 billion in assets and $2.2 billion in loans. Not bad for a bank that began in 2005 with $12 million.
Before going further, let's quickly review some of the eye-popping stats.
- Revenues grew at an 18% CAGR over the last 5 years.
- Earnings grew at a 36% CAGR over the last 5 years.
- The loan portfolio has continued its blistering growth, tacking on another 36% last year.
And all of this was accomplished without a single acquisition. To put this remarkable performance in perspective, most banks have managed lackluster revenue and earnings growth and loan production has been at a standstill. Many loan books have actually shrunk over the last 6 years: Consider First Horizon (NYSE:FHN) (-2%), KeyCorp (NYSE:KEY) (-31%), and Zions (NASDAQ:ZION) (-39%).
I'm sure there are faster organic growing public banks out there than ConnectOne. I just can't find them.
Why Wall Street Isn't Looking Across The Hudson River
And yet, ConnectOne is virtually unknown outside of Northern New Jersey. Despite being only 30 minutes from NYC, most Wall Streeters are unaware of this banking gem for the following reasons:
1. ConnectOne only came public in 2013 so there is not an easily viewed track record. You have to dig into the S1 to see the company's startling growth.
2. The bank changed its name in 2013. It used to be North Jersey Bank, a move that obscures its 8 year history (reminiscent of a married woman losing her identity when she takes on a new surname).
3. It's a $200 million bank - too small to attract much attention.
4. Believe it or not, only 2 analysts cover this bank.
5. And, if that weren't enough, it looks like ConnectOne is going to disappear from the face of the earth. Last month Center Bancorp announced it is taking over the bank. However, for accounting reasons only, Center Bancorp (NASDAQ:CNBC) is named as the acquiring bank. In actuality, ConnectOne is the real acquirer. ConnectOne's CEO and CFO will head the new company. Center's United branches will convert to the ConnectOne brand. And the new company will be called ConnectOne and trade under the symbol CNOB.
In a nutshell, it's easy to see why the Street has lost track of perhaps the fastest growing bank in the United States. And that is your opportunity. The new ConnectOne will be run using the same growth strategy that increased earnings over 350%, revenue over 130%, and loan book over 180% in the last 4 years.

Background
ConnectOne lends to small- and mid-sized businesses in Northern New Jersey through 8 offices. The bank is extremely efficient, posting stellar efficiency ratios for the last 8 quarters ranging from 47% to 51%. This is remarkable efficiency because, unlike most other banks, ConnectOne holds no real security portfolio instead focusing solely on inherently less efficient lending.
The Center merger is expected to complete in the second or third quarter. ConnectOne shareholders will receive 2.6 shares of Center stock. As said, ConnectOne's CEO and CFO will head the combined company. Center branches will use the ConnectOne name and shares will trade as CNOB. The merger gives ConnectOne more New Jersey territory and importantly a deposit-rich bank to fuel its muscular loan growth. Remarkably, 9-year-old ConnectOne is taking over the well-run and larger 90-year-old financial, a testament to its banking prowess.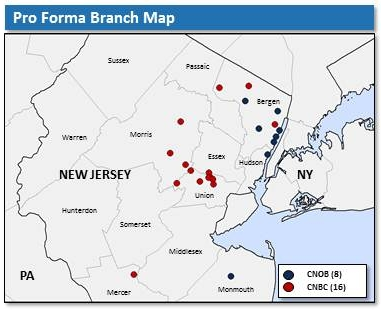 The Growth Strategy
Per my conversations with their CFO, ConnectOne moves heaven-and-earth to get loan deals done. The bank has been pursuing market share in the hot Greater New York market - and getting more than its share. ConnectOne does not nickel-and-dime customers with fees. It purposely avoids service charges to promote growth and retention - fees represent a mere 1% of its revenue. Apparently, the strategy is resonating with customers.
As CEO Frank Sorrentino III notes:
The largest institutions are the gift that keeps on giving. More often than not, our new clients walk into our doors without being called on, saying, 'Please get us out of the bank we're in.'
Naturally, my first reaction - and perhaps yours: ConnectOne must be loaning out money at under market rates to risky borrowers to bring in business. That is not the case. Credit quality is superb. Net charge-offs are 0.03% and nonperforming loans are 0.8% with a Texas ratio of 9. And those figures are representative of the last 12 quarters. Moreover, the loan portfolio is seasoned as the bank has operated since 2005. In addition, the average yield on the loan portfolio is 4.5%, 50 basis points better than its peer group. ConnectOne is gaining share without giving away the bank.
Valuation
ConnectOne trades at 1.7X TBV, cheap considering the bank's dynamic growth potential. Other fast growing banks are far more expensive - BofI and Eagle Bancorp (NASDAQ:EGBN) trade at a 3.7X TBV and 2.6X TBV respectively. Plenty of subpar banks trade at 1.7X TBV. Not many banks manage extraordinary loan and earnings growth while maintaining superb credit quality, yield, and operating efficiency. ConnectOne deserves to trade at 2.2X TBV - or $56 a share - on par with its brilliant execution.
Risks
- The ConnectOne and Center integration might prove difficult. Response: Both banks have similar cultures. Center has been involved in previous successful acquisitions.
- ConnectOne depends on the dynamic leadership of its visionary CEO. Response: CEO has been involved with ConnectOne since 2005. At age 51, he's likely to manage the firm for many more years.
- The New Jersey-New York markets are highly competitive. Response: ConnectOne brings superior customer service to its customer base, winning market share.
Catalysts
- Loan growth
Since 2007, the bank loan portfolio has increased by 33% CAGR. With the Center merger, management models a 20% to 25% annual loan growth rate.
- Revenue and earnings growth
Consensus estimates expect revenue to increase by 89% in 2014 and 57% in 2015. The merger is expected to be accretive to earnings.
- Center acquisition synergies and efficiencies with expected savings of 14% noninterest expenses.
While Center has been very efficient, its growth has been slow. The merger will likely lead to accelerated loan and revenue growth from the Center acquisition.
- Larger footprint to grow from after merger.
The merger adds 16 branches with 4 affluent counties to ConnectOne's service area.
All of these catalysts - loan, revenue, and earnings growth, merger synergies, as well as footprint expansion - should generate increasing excitement in the stock and lead to more analyst coverage.
Bottom Line
It might have been easy to pass over this high octane-grower when it was a $1 billion asset bank. Ignoring a $3 billion one postmerger - that's another story. Rest assured, Wall Street will finally notice the extraordinary growth taking place across the Hudson River. The bank has 30% upside as the market properly revalues the growth story. BUY.
Disclosure: I am long CNOB. I wrote this article myself, and it expresses my own opinions. I am not receiving compensation for it (other than from Seeking Alpha). I have no business relationship with any company whose stock is mentioned in this article.
Additional disclosure: The opinions in this document are for informational and educational purposes only and should not be construed as a recommendation to buy or sell the stocks mentioned. Past performance of the companies discussed may not continue and the companies may not achieve the earnings growth as predicted. The information in this document is believed to be accurate, but under no circumstances should a person act upon the information contained within. We do not recommend that anyone act upon any investment information without first consulting an investment advisor as to the suitability of such investments for his specific situation.