Destination Maternity Corp. (NASDAQ: DEST) is a designer and retailer of maternity apparel in the U.S. through a network of nearly 2,000 specialty retail stores across all 50 states, as well as through partners like Kohl's Corporation (NYSE: KSS). Recently, management began closing underperforming stores, focusing on improving profitability, and returning value to shareholders in the form of dividends and buybacks.
Despite these efforts, the stock has underperformed the S&P 500 over the past 52 weeks by about 5% and has fallen more than 10% over the past month alone. In this article, I'll take a look at why the market may be underestimating the impact of management's changes and why the stock might be trading at a discount.
Look at Comp Sales, Not Revenue
Destination Maternity reported first quarter 2014 sales that fell 0.3% to $134.8 million but the drop was largely due to the closure of underperforming stores. Comparable sales substantially offset the impact of store closures by rising 0.7% or 1.1% on a calendar adjusted basis. While this growth was slower than last year's calendar adjusted 3.6% growth rate, gross and net margins both increased significantly with adjusted net income increasing 17% year over year to $0.33 per share.
According to CEO Edward Krell on the Q1 2014 conference call:
"We continue to make meaningful progress and make many changes to drive improvements on our merchandize assortments, merchandize presentation, store environment and customer experience. Our progress here can be seen by our sixth consecutive quarters of comparable sales increases. We believe these continuing sales driving initiatives have positioned us well to continue to improve our sales performance during the current year and beyond."
Underneath these sales, the company generates strong free cash flow that it used to pay off debt and return to shareholders via a rising dividend yield. Fiscal year 2013 free cash flow amounted to $26,131,000 which represents a very healthy free cash flow yield of 7.3%. With shares trading at around $26.00, the firm also offers an attractive and growing 3% dividend yield that's well-supported by these cash flows.
Mr. Krell added on the same conference call:
"We see significant opportunity to continue to increase shareholder value, based on our ability to meaningfully grow EBITDA in the future and generate strong free cash flow, the potential for valuation multiple expansion and the ability to continue our ongoing return of capital to our stockholders by a regular quarterly cash dividend and potential stock repurchases."
The takeaway from an operational perspective is that management continues to generate strong EBITDA growth. Despite weak top-line growth on the surface, efforts to close underperforming stores have resulted in improvements to the bottom-line. Marketing efforts and ongoing improvements in the U.S. economy should help the top-line recover over time but near-term multiple expansion and a higher share price could be realized through higher dividend yields and buybacks.
Capital Improvements, No Added Value
Destination Maternity has made great strides improving its balance sheet over the past few quarters. In fiscal 2013, the company repaid the remaining $15.3 million principal amount of their debt, completing a dramatic 7-year decrease in debt from $118 million to zero. As of Q1 2014, its current and quick ratios were 2.3x and 2.5x, respectively, reflecting a dramatic decrease in credit/default risk over the years.
Despite the reduced risks and improving cash flow, the company's valuation in terms of price-earnings ratios has remained at roughly the same level as it was during the middle of 2012: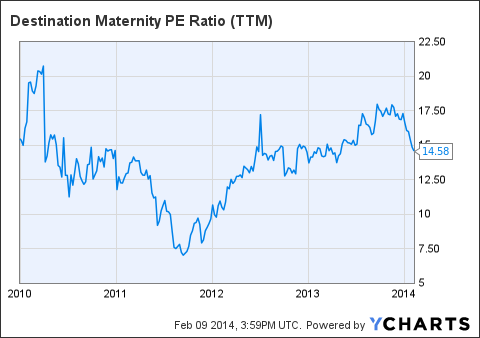 DEST PE Ratio ('TTM') data by YCharts
Potentially Trading at a Discount
Destination Maternity could be trading at a discount given its improving bottom line, efforts to unlock shareholder value, and low valuation multiples that have barely expanded despite these improvements. The company's price-earnings, price-book, price-sales and dividend yield are all significantly lower than the industry average, and in some cases, the wider S&P 500. While some of these values are higher than its 5-year historical average, these gains are more than justified by its reduction in debt and improving profitability.

Looking ahead, the company's forward price-earnings multiple is just 8.5x and its price-earnings to growth ("PEG") ratio stands at just 0.6x. These metrics suggest that the market isn't taking into account its growth rates, particularly on the bottom-line. For instance, a P/S ratio of 0.7x - below the industry's 1.3x and S&P 500's 1.6x - is even more undervalued by the fact that sales are under-represented from the store closing and don't reflect comparable sales growth.
To further put these figures into perspective, here are some of the potential share prices assuming that these valuation multiples were more in-line with its industry peers or growth rates (assuming a $26.00 share price and current EPS for the calculations):
PEG Ratio of 1.0x - typically considered to be a fair value - would yield a share price of $43.33.
P/S Ratio of 1.3x - the lower of industry and S&P 500 - would yield a share price of $48.29.
P/E Ratio of 18x - the lower of industry and S&P 500 - would yield a share price of $31.62.
Risks & Other Concerns
Destination Maternity has some key risks that investors should consider before investing, including both secular industry risks and company-specific risks.
The largest concern among investors is likely slowing end markets and slowing top-line growth from ongoing store closures:
Slowing End Markets - The U.S. Census Bureau and U.S. Centers for Disease Control estimated that births declined 8.4% between 2007 and 2012 in the U.S. While some of this is due to the poor economy, the company will certainly face long-term headwinds from lower birth rates in the U.S. and has already started to diversify with initiatives in other developed markets like Canada and emerging markets like India.
Store Closures - While 43 to 48 store closures planned for FY 2014, management plans to open 19 to 21 new stores, including 7 to 8 new multi-brand nameplate stores. FY 2014 sales are expected to range from a 0.2% decrease to a 1.8% increase year over year with projected comparable sales increasing between 1% and 3%. On the bottom-line, management is targeting a 7% to 14% increase in adjusted EBITDA before certain charges, suggesting the efforts will pay off.
Additional concerns may stem from the company's move to a new headquarters and general risks associated with the retail space:
Headquarters Move - The company is moving from its Philadelphia offices to a new location in New Jersey between Fall 2014 and mid-2015 which could disrupt operations. However, this move could improve the company's long-term prospects by uniting its operations in a tax-friendly jurisdiction.
General Retail Risks - The retail apparel space is notoriously fickle when it comes to design trends and competition.
Conclusions
Destination Maternity recently reported slower sales but a look under the surface reveals that the slowdown was largely due to management's efforts to close underperforming stores and improve its bottom-line. Despite these bottom-line improvements, the stock price has dropped significantly below its peers and trades with a PEG ratio of just 0.6x.
A reasonable price-earnings ratio of 19x - below its industry and above the S&P 500 - would yield a stock price of $33.82 using its trailing 12-month diluted EPS of $1.78, which represents a 30% premium to its current share price. Concerns regarding slow revenues from store closures may be overblown given management's projected 1% to 3% increase in comparable sales and 7% to 14% improvement in adjusted EBITDA projected for FY 2014.
Disclosure: I have no positions in any stocks mentioned, and no plans to initiate any positions within the next 72 hours. I wrote this article myself, and it expresses my own opinions. I am not receiving compensation for it (other than from Seeking Alpha). I have no business relationship with any company whose stock is mentioned in this article.