In my November article on the Singapore dollar (NYSEARCA:FXSG), I predicted "a Fed taper in January putting USD/SGD at 1.27 or 1.28" - not a good prediction of the taper, but an excellent prediction on USD/SGD which peaked at 1.282 on January 22. The PMI news gave SGD a 100bps boost and we are now sitting at just under 1.27.

The Monetary Authority of Singapore (MAS - the Singapore central bank) does not target domestic interest rates; instead it targets a drifting range for the SGD exchange rate against a basket of currencies. Thus predicting USD/SGD is essentially an exercise in putting numbers to MAS's targeted rates. In attempting to work out the impact of movements in emerging market currencies compared to movements against the US dollar, I put together a model of MAS's policy band.
MAS states that it targets a trade-weighted basket of currencies in computing its nominal effective exchange rate index, referred to as the NEER. Singapore's volume of trade with its major partners is readily available. I modified that in two ways - first, I removed or reduced the weighting of small or unstable currencies such as the Indian rupee (NYSEARCA:ICN), Vietnamese dong, Myanmar, etc.; second, based on the oil states' and Hong Kong's pegs to the US dollar I added their weightings into the US dollar weighting. From there only minimal adjustments were needed to get weightings which fit the published historical NEER index within 0.1%. The weightings are: USD 22.5%, Malaysian ringgit 12%, yen and renminbi each 11%, euro 10.5%, Taiwanese dollar and baht each 6%, pound sterling and Indonesian Rupiah each 5%, Korean won 4%, Philippines and Aussie at 3% and finally rupees at 1%. Below is a graph showing the model (in grey) against the published NEER (in blue):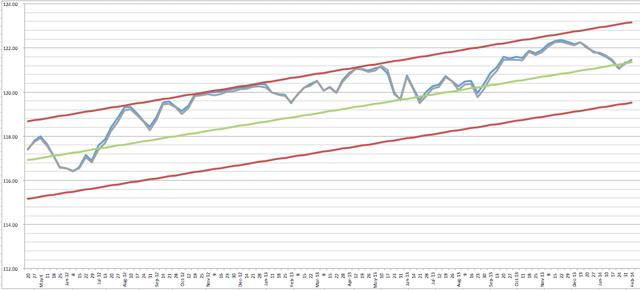 The green line above specifies my estimate of the center of the band. This can be estimated from comments in previous monetary policy statements. The red lines show my estimate of the limits of the band based on statements and limits of the NEER movement over the last few years. This gives a current slope of approximately 2.5% per year. Based on current wage pressures and moderate economic growth both domestically (in Singapore) and globally, I expect that this slope will be maintained at the April policy review.
Immediately obvious from the graph is that the SGD is right in the middle of the band. While USD/SGD is higher than past middle values, the SGD is unusually strong against other Asian currencies - Aussie, yen, rupee, rupiah, and baht.
Using the recent correlations I've estimated that USD/SGD has a range of approximately ±350bps, or a range of approximately 1.235 to 1.305. However, I think this overstates a rise in USD/SGD. First, the drift rate of the band works out to USD/SGD dropping 2-3 pips per day, or approximately 1.25 by April, all else equal. Second, I think that most of the weakness in Asian currencies is done which will put the Singapore dollar appreciation back primarily on USD/SGD movements. Third, the recent weakness in US economic reports may signal renewed sluggishness in recovery in the near term. The market has already priced in Fed tapering and US growth, so there is more risk towards a USD drop.
I have low confidence in predicting when the Singapore dollar is in the middle of the band, but I'll venture anyway. I think USD/SGD will hit 1.24 by end of May, possibly sooner.
However, I see the possibility of an even better move in EUR/SGD. Given euro-zone unemployment and weak growth, euro interest rates are likely to be stuck just above zero for some time to come while the US Fed will exit taper and head closer to rate increases. Singapore rates will follow US rates and three month rates are already up slightly. Eventually this will lift the US dollar against the euro and SGD will follow. EUR/SGD recently dropped from 1.75 to 1.72, and I'd take an entry in the region of 1.75 if it happens again.
For investors in Singapore stocks (NYSEARCA:EWS) and small caps (NYSEARCA:EWSS), now is a reasonable entry time. The worst of the indiscriminate exit from foreign markets is over, Singapore's economy is stable, and currency appreciation is more likely than not.
Disclosure: I am long EWS, EWSS. I wrote this article myself, and it expresses my own opinions. I am not receiving compensation for it (other than from Seeking Alpha). I have no business relationship with any company whose stock is mentioned in this article.
Additional disclosure: I'm net-neutral USD/SGD but may go long SGD at any time.