Executive summary:
ORCL's intrinsic value estimate is $46.16/share, which is ~ 23% above the current share price.
The 5-year growth forecast is for 8-12% growth on increased Software and Services revenues.
The technicals are bullish with the estimated next resistance zone at $40-42 per share.

_________________________________
Oracle Corporation (NYSE:ORCL) sells a wide range of enterprise IT solutions, including databases middleware, applications, and hardware. Software license and product support, the most profitable segment of the company's operations, accounts for about 70% of total revenues. An active acquisitions program is a fundamental component of the company's overall strategy.
The forecast is for revenues growth at a CAGR of 7% over the next five years with Software and Services leading the charge. Hardware Systems could surprise to the upside as the legacy Sun operations unwind and Oracle's engineered systems ramp. The subscription software model is sticky as corporation's switching costs are high, and alternative offerings aren't attractive enough to justify incurring the costs of switching.
Consequently, Oracle remains well positioned to gain share, at a slower pace, of software expenditure for the foreseeable future. Based on the forecasts, growth could be marginally higher than the current market price indicates. Also, the intrinsic value estimate assumes conservative returns. Consequently, the downside could be limited with the upside intrinsic value estimate being $46.16/share.
Recent Developments
Oracle Human Capital Management Cloud was updated, which helps organizations maximize the potential of their global talent.
Oracle's PeopleSoft In-Memory Labor Rules and Monitoring empowers organizations to effectively manage labor costs and policy rules in real-time. This is a new Oracle in-memory application for Oracle's PeopleSoft.
Supported by Oracle Eloqua, Semantria grew revenues 600 percent.
NTT Communications is using Oracle's engineered systems and in-memory products to provide its customers with real time predictive monitoring of network services.
Oracle announced the availability of Oracle Utilities Analytics 2.5, which helps utilities improve storm response, and manage smart devices.
Oracle acquired Corente, a leading provider of software-defined networking technology for wide area networks.
Business Summary
Oracle Corporation is the world's largest provider of enterprise software and a leading provider of computer hardware products and services that are engineered to work together in the cloud and in the data center. The company is a leader in the core technologies of cloud computing, including database and middleware, as well as web-based applications, virtualization, clustering, and large-scale systems management.
During the fiscal first quarter, there was a $2.7B cash inflow from trade receivables, which turned to a $718M subtraction from net income during the second quarter. The company paid out $994M to accounts payable during the first quarter and increased accounts payable $461 during the second quarter. Deferred revenue represented a $1.44B cash inflow during the first quarter and a $1.88B subtraction from net income during the second quarter. Cash provided by operating activities was $6.29B during the first quarter and $1.15B during the second quarter. Second quarter earnings were relatively low quality, as earnings didn't result in substantial cash inflow; earnings were largely comprised of an increase in accounts receivable and deferred revenue.
During both quarters, Oracle used over $3B of cash in investing activities. Most of the cash was used to purchase marketable securities and to make acquisitions. Just under $3B of shares were repurchased during the first and second quarters. And just over $500M was used for dividends during both quarters. Oracle borrowed $5.57B during the first quarter. At the end of the second quarter, Oracle had just under $15B of cash and cash equivalents.
Since fiscal 2010, cash flow from operations increased at a CAGR of 17.9% and free cash flow to the firm increased at a 16.3% CAGR. Free cash flow to equity increased at an 8.87% CAGR. For fiscal 2014, I'm forecasting FCFF of $16B and FCFE of $16.5B.
Oracle has ample liquidity and a solid financial position. Recently, management has changed the capital structure to include more debt financing; total debt to equity increased from 0.27 at the end of fiscal 2012 to 0.36 at the end of the fiscal second quarter. The change in the capital structure decreases Oracle's weighted average cost of capital. The financial leverage ratio was 1.93 at the end of the fiscal second quarter. More interestingly, tangible book value, book value adjusted for goodwill, is trending lower; TBV was $19B at the end of fiscal 2012 and was $15.8B at the end of the fiscal second quarter. Part of the decline in TBV is attributable to capital distributions to equity and debt investors. The TBV decline is also attributable to an active acquisitions pipeline.
The EPS forecast is for 10% growth during fiscal 2014 through fiscal 2017, which would put fiscal 2017 EPS at $3.31. The dividend per share is viewed as growing at a 10% CAGR. Thus, the dividend payout ratio would be 19% in fiscal 2014 and 21% from fiscal 2015 through fiscal 2017.
Oracle generates returns in the 20% range. This is a reflection of the firm's competitive advantage. In fiscal 2013, the ROE and ROTC were 24%. Oracle should be able to sustain its competitive advantage and grow in 8-12% CAGR range over the next five years. The book value of shareholders' equity could be $66B in fiscal 2017, which could mean $13B to $16B of net income.
The components of total revenues were used to forecast 2018 revenues. Software revenues is forecasted to be $44.25B with Hardware Systems revenues of $3B and Services revenues of $5.27B, which represents 7.16% total revenues growth relative to fiscal 2013. Total revenues for fiscal 2018 are forecasted to be $52.53B. Hardware Systems revenues could outperform the forecast and Software revenues could underperform the forecast.
Risks
The share price is likely to remain volatile and investors could lose a portion or all of their investment.
Investors should judge the suitability of an investment in ORCL in light of their own unique circumstances.
A decline in the global economic growth rate and/or a decline in the pace of economic growth in the United States could adversely impact the results of operations and the share price.
The technology industry is characterized by rapid technological change, which could materially adversely impact the results of operations.
Competition in product development and pricing could adversely impact performance.
Incorrect forecasts of customer demand could adversely impact the results of operations.
Higher interest rates may reduce demand for ORCL's offerings and negatively impact the results of operations and the share price.
This section does not discuss all risks related to an investment in ORCL.
Portfolio & Valuation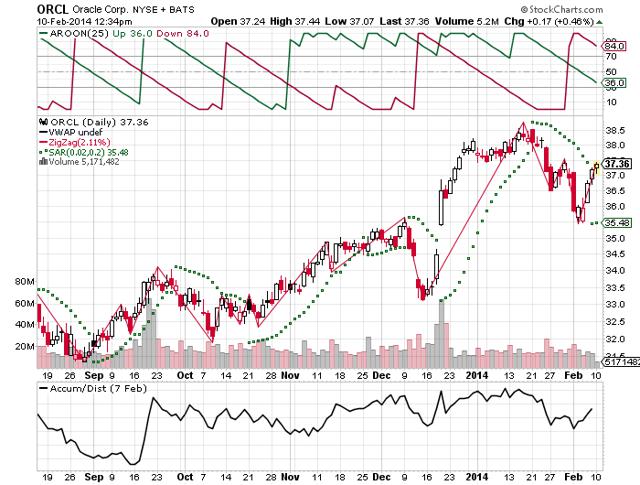 Oracle is in a bull market of primary, intermediate, and minor degree. Right now, Oracle is re-testing the $38.50 per share level with a 25%-40% subjective probability of failure. Simply stated, the market for shares of Oracle is bullish, and the $40-$42 per share level is the next potential resistance zone, in my opinion. Additionally, the latest minor low was formed at $35.50.
ORCL is strongly correlated with the S&P 500, but the correlation declined in recent periods. Since 2009, the correlation is 0.90. But since 2013, the correlation is 0.58. Eventually, the correlation will increase.
Variations in the share price of the S&P 500 explain a substantial portion (82%) of the variations in the share price of ORCL, since 2009. But since 2011, the S&P 500 explained 49% of the variations in the share price of ORCL. It is probably best to include forecasts for the broader market into forecasts for Oracle.
The linear trend produced 3-months, 6-months, and 12-months price targets. The targets are $37.15, $38, and $39.65 per share. So, ORCL is trading near its forecasted linear trend, which is prone to error.
Given the fundamentals of the company, Oracle should trade at a premium to the market on a price/book value basis; currently, ORCL trades at a 52% premium to the market. Also, the intrinsic value estimate is $46.16/share with the pessimistic valuation being $34/share. That's 23.6% upside from the current share price, under the intrinsic value assumption.
Disclosure: I have no positions in any stocks mentioned, and no plans to initiate any positions within the next 72 hours. I wrote this article myself, and it expresses my own opinions. I am not receiving compensation for it (other than from Seeking Alpha). I have no business relationship with any company whose stock is mentioned in this article.