In Today's Financial World, The Oxen Group will provide you with analysis and news about what's happening around the world in economies and markets. By understanding the daily world of financial markets, we can better assess action domestically and abroad.
What's In The News Today?
- Today is Yellen's day as the new Fed Chair Janet Yellen takes center stage with testimony and Q&A with the House Financial Services Committee in her bi-annual duty as Fed chair. The testimony will be released at 8:30AM with Q&A at 10AM. Her comments on monetary policy are the key to today's movement.
- On the data front, we have two minor reports at 10AM in JOLTS and Wholesale Inventories. The prior will be interesting to see in the context of weak employment data as of late. JOLTS has shown around 4M job openings as of late, and the news there can provide an interesting intraday headline.
- In earnings, Sprint (NYSE:S) reported better earnings (- 0.26 EPS versus -0.32 expectations) and narrowing losses in their latest earnings report, but the company did not mention details about its potential merge with T-Mobile USA (NASDAQ:TMUS).
Where Are We Headed Today?
The movement of the market today is completely up to the comments from Yellen. The expectations are that she remains dovish and supportive of the market while also commanding that taper will continue. If she strays from that on the hawkish side, that would surprise and reverse recent strength. On the flip side, any note that she wants to delay taper or be more dovish than expected would lead to interesting upside. We will be watching for her announcement at 8:30.
Today's Financial World
The markets have been strong heading into the Yellen testimony today, which is a good sign but we have been also discussing the fact that a lot of economic issues that are out there in the market are still fairly worrisome. We broke down NFP yesterday and noted that it was not just weather leading to weakness, and we have seen other reports like ISM Index that show all is not trending up. So, Yellen's comments come at almost the perfect time.
We have started to recommend to clients a bit more risk-on positioning by adding smart, strong bullish plays in only the best performers. Yet, we are also aware of the above situation, and it will remain important to try to assess the situation in the context of the marketplace mechanisms as well as balance day-to-day volatility. With that said, let's get into today's financial world.
The Fed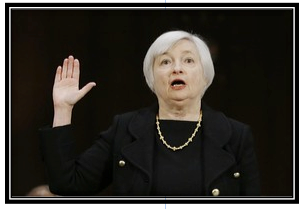 Yellen's comments were just released, and she did not provide much shock and awe to the marketplace. Here are some of the highlights from her speech:
- Yellen noted that she would continue to back current policy with taper improving at the rate of economic expansion.
- She noted that recent volatility in global markets has been noted but it's not a "substantial risk to the US economic outlook."
- She also noted that the Fed will maintain 0% interest rates well beyond the 6.5% unemployment rate as it is not sufficient employment, and she noted that the "labor market is far from complete."
- Yellen is also aware of the many Americans that are out of work for more than 6 months as well as high percentage that prefer a full-time job but can only find something part-time.
The speech is coming in about as we expected. She is remaining dovish, but she is also following Fed policy line to a T. Some analysts were hoping Yellen might break a bit more dovish, but she seems to be sticking with what the Fed has been saying all along. Her comments about understanding that the unemployment rate is not a good indicator of employment levels that are satisfactory is a nice win for the markets.
Futures trimmed gains slightly as some bulls likely saw the report as not quite dovish enough, but in reality, this testimony is about what most were expecting. The Fed will continue to support, but they want to turn off the printing presses as well.
The fun part that will likely move headlines a bit more is the Q&A that comes after the market opens, so look for those headlines to develop mostly around jobs, taper, and interest rates.
Earnings Analysis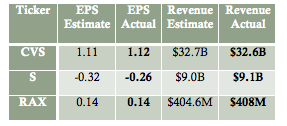 This morning and last night, we had several key companies report earnings. None are market makers, but some can be very important to their sector/industry. Key companies reporting this morning or last evening were CVS Caremark (NYSE:CVS), Sprint Nextel (S), and Rackspace Hosting (NYSE:RAX).
Winners:
Sprint had a strong report, and that is leading to its more than 5% growth in pre-market trading. The company reported a better than expected loss in earnings that narrowed year/year. The company increased EBITDA by over $300M, and they saw revenue grow 1.5%.
Takeaway - The company put together a nice report, highlighted by the largest revenue and subscriber totals ever. The company had just under 54M subscribers with 682K net additions. The bigger news, though, is that Sprint is reconsidering the TMUS deal and now may end up scrapping it altogether. Shares are pretty cheap with a large pullback, as the TMUS deal appears unlikely to go through cleanly.
Mixed:
CVS beat EPS just slightly and missed slightly on revenue, but the company saw pharmacy same-store sales rise 4% as well as overall revenue jump 5%. The company reaffirmed their previous 2014 outlook at 4.36 - 4.50 EPS, which is slightly below the estimates from analysts at 4.47. The company noted they will complete their $4B share repurchase program and raised its 2014 FCF guidance.
Takeaway - The company is being cautious with their overall guidance, but they raised their Q1 guidance to 1.03 - 1.06 versus consensus at 0.98. To us, this signals a company that is doing quite well. The company has not lost their Walgreen (WAG) acquired clients during the Express-Scripts debacle, and they are doing well to reinvigorate their brand.
Losers:
Rackspace appears to be today's main earnings loser after the company reported EPS at estimates with only a slight beat in EPS. The drop may be mostly tied to the company's CEO Lanham Napier retiring, but the lack of significant sales growth and outperformance hurt the name.
Takeaway - The pullback of more than 10% in pre-market action is probably overdone. Despite soft guidance, the company is in a growing market, they are growing with it, and are replacing their CEO with a person very familiar with the business. This pullback looks like an opportunity.
Foreign Markets/Data
Europe and Asia are eerily quiet this morning with the only major data from a foreign market coming from Australia. Despite little news, we are seeing green in nearly every foreign market this morning with Japan and Hong Kong leading the way.
An interesting story developing in England this morning is the news that Barclays (NYSE:BCS) will cut up to 12K jobs to help clear some of their balance sheet and improve profitability. Yet amidst other scandals and issues, the news was tainted by the fact that the company also reported that bonuses were lifted for their top-level staff despite a drop in their full-year profits.
That news is troubling to us, and the company's turnaround efforts are definitely more questionable. Even the evil of Goldman Sachs (NYSE:GS) knew they had to cut some bonuses during the Recession when things were just so-so there. A lot of analysts are questioning CEO Antony Jenkins this morning.
At the same time, during the rebound in the financial world here in the USA, we heard many CEOs and executives saying they needed the top talent to turn their businesses around, and they wanted to pay them top dollar to get the best to help the rest. That "top-down" strategy may work in reality, but it does not resonate as well with Main St.
It also does not appear to be resonating well with Wall St. as shares are down around 5% in pre-market trading.
Economic Data

The main report we are interested in this morning is the JOLTS - Job Openings report. In the last report, for November, JOLTS noted 4M jobs were open/available in the marketplace. Expectations are that the number just slightly decreased to 3.98M in the latest month, December. The report is later than the rest, but it's the only report that discusses job openings, and for that reason, we find it interesting to watch.
Job openings have been moving higher consistently since December of 2010, but over 2013 the number was unchanged. Jobs increased in the private sector but dropped in the public sector, while the West region saw a spike in jobs as well. There were 4.5M hires in November 2013, which was little changed from October and not much improvement in the total year numbers. There were 4.3M turnovers in jobs in November as well. The report has said much to the same conclusion as the rest of the reports - we are seeing slow, sluggish growth with a lot of churn in hires and separations.
Overall, we will be watching this report today to see how these numbers move, and we will report back tomorrow a bit more about our findings.
Charting The Markets
Important market charts on the S&P (NYSEARCA:SPY), Dow Jones (NYSEARCA:DIA), Nasdaq (NASDAQ:QQQ), Russell 2000 (RUT), NYMO, and Gold (NYSEARCA:GLD).
Disclosure: I have no positions in any stocks mentioned, and no plans to initiate any positions within the next 72 hours.
Business relationship disclosure: Business relationship disclosure: I have no business relationship with any company whose stock is mentioned in this article. The Oxen Group is a team of analysts. This article was written by David Ristau, one of our writers. We did not receive compensation for this article (other than from Seeking Alpha), and we have no business relationship with any company whose stock is mentioned in this article.