Executive summary:
PG's 10% pullback since reaching its 52-week high in November 2013 creates a buying opportunity.
Share price appears to have bottomed out as downside is limited by the current reasonable valuation, dividend growth prospect, share buyback and technical support.
Cost savings program continues to progress well and is ahead of plan.
New product launches and incoming supply chain improvement initiative should drive price upside.
_________________________________
Since reaching its 52-week high of $85.82 in November 2013, the share price for Procter & Gamble (NYSE:PG) has gone off by 10%, compared to a flattish performance for the S&P 500 Index. Into February, the price appears to have stabilized as it rebounded by 2% in the last week. I encourage investors to buy on the recent price weakness given the reasons discussed.
Relative valuation is very reasonable and inexpensive…
Owing to the recent dip, the stock's 2015E P/E multiple has dropped to 16.0x, which is now at a 6% premium over the same multiple for the S&P 500 Index (see chart below).

I view PG's current relative valuation to be very favorable as a higher valuation premium should be warranted given that 1) the valuation premium over the market in the past 12 months averaged at 22%; 2) PG's current consensus long-term earnings growth estimate of 8.6% is fairly in line with average estimate of S&P 500 companies; 3) the stock now offers a 3.1% dividend yield, which exceeds S&P 500's average yield at just 1.9%, and its dividend has been growing at a CAGR of 8.5% since 2009, which is better than the growth for many large-cap dividend-paying companies; 4) the company has budgeted an approximately $6B share buyback for fiscal 2014 and managed to reduce its share count by 7% over the past 5 fiscal years; and 5) despite the rising competition, PG remains a global leading player in the consumer and personal care sector with solid market share in each category.
Price downside appears to be limited from the current level…
I am of the view that a material price downside is very unlikely at the current level primarily because of PG's dividend growth prospects, future share repurchases and technical price support.
The recent price weakness has helped boost PG's dividend yield from 2.8% in November 2013 to the current 3.1% level. In the past 5 years, the dividend yield rarely exceeded the 3.5% level. According to the charts shown below, the yield ceiling broke through in 2009 as share price was weighed by the global financial crisis. There have been two breakouts since then but strong buying volumes (partially owing to the attractive dividend yield) drove down the yield fairly quickly. As such, assuming a bear case where a continued price weakness boosts the dividend yield to 3.5% in approximately a year and management raises the current quarterly dividend by just 6% (compared to the CAGR of 8.5% since 2009 and recent growth of 7.1% in early 2013) from $0.60 to $0.64 in the period, this scenario would imply a 1-year share price of $73, which represents only slightly more than a 2% loss in 1 year if considering the dividend income (3% to 3.5%) throughout the holding period. It is noted that the above analysis did not even factor in the support from ongoing share buybacks.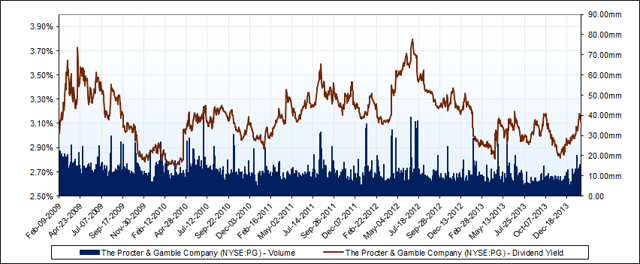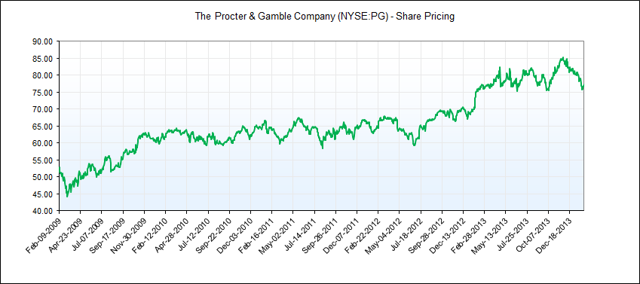 Since early 2013, there has been a solid technical price support at around $75.50, which is only slightly below PG's current price at $77.30. Given the current dividend yield, solid support from dividend growth and share repurchases, as well as the company's healthy prospects (discussed later), it is unlikely that the stock price will break through this support level at least in the near term.

Cost savings continue to build momentum…
PG's execution on its savings program announced in February 2012, which aims to improve overall productivity and slash costs by $2B annually, has exceeded the original plan (e.g. ahead of plan on staff reduction). The company now expects the savings on cost of goods sold in fiscal 2014 to achieve $1.6B, which is above management's prior outlook of $1.4B, and expenses on manufacturing activity to reduce by at least 6%. Based on Societe Generale's estimate, if half of the $2B annual savings under the current plan flow to the bottom line, this would mean approximately 15% to 20% of annual EPS, representing a significant driver for PG's future EPS growth and providing a meaningful buffer for any headwinds. Management has mentioned that there remains a huge opportunity to redesign the company's supply chain management in developed markets by shutting down facilities, reducing costs and slashing inventories. On the Q2 2014 earnings call, management indicated that the supply chain improvement will likely kick in the later stage of the current cost savings program, which is expected to end in fiscal 2016. I expect the announcement of further details to be a primary upside catalyst.
New product launches are likely to support top line performance…
PG is ready to launch Tide Simply and Gain Flings for the laundry category. For oral care, the company is launching Crest 3D White Brilliance, 3D White Lux and 3D White Lux Whitestrips in February. Hence, I expect a likely accelerated top line growth in the second half of fiscal 2014.
In summary, I believe PG is well positioned to revive the company's organic growth through a strong pipeline of new products and management's continued efforts to evaluate cost saving and supply chain improvement opportunities, which have demonstrated better-than-expected results. As the shares' valuation premium has gone down largely and a further price downside is limited by dividend, share buyback and technical price support, the stock is a buy.
All charts are created by the author except for the consensus estimate tables, which are sourced from S&P Capital IQ, and all financial data used in the article and the charts are sourced from S&P Capital IQ unless otherwise specified.
Disclosure: I am long PG. I wrote this article myself, and it expresses my own opinions. I am not receiving compensation for it (other than from Seeking Alpha). I have no business relationship with any company whose stock is mentioned in this article.