Hatteras Financial (NYSE:HTS) has been struggling to maintain a high share price due to the volatility in the REIT industry. It proved to be the worst performing mREIT in the industry during 2013 and reported a 36% decline in share price. However, the company has been giving a high dividend yield and trying to decrease leverage indicating that it is heading in the right direction. With interest rate conditions improving as the US Treasury bond rate has started to decrease, the company has the potential to give capital gains as well as maintain its current dividend yield.
Introduction
Hatteras Financial Corp. is a US based mortgage real estate investment trust (mREIT) that focuses on single-family residential mortgage pass-through securities which are backed or guaranteed by a US government agency. The government sponsored agency assures the default risk of mortgage which means that while the dividend yield will not be higher than non-agency mREITs, it will give sound dividends at a low investment risk. Like many other mREITs, Hatteras Financial Corp. also pays out high dividends to meet the requirement of paying 90% of its earnings as dividends for tax exemption. Although the entire REIT industry has suffered during 2013, Hatteras has been the worst performing company in the industry. The company closed its 2013 financial year with a 36% decrease in share price due to panic in the REIT market caused by Fed tapering. However, the company has started to recover at the start of 2014 by showing a 12% increase in share price year to date.

Balance Sheet Changes
During the last few years the company has been able to improve its balance sheet position with solid numbers while maintaining a high net income. This has been due to low interest rates after the US recession which helped REITs in appreciating their assets. The company reported $0.7 billion as total equity with $5 billion as total investments at the end of 2008 and this increased to almost $2.4 billion in total equity with $20.5 billion in total investment on 30 September 2013. Although the situation regarding investment looks attractive, debt has also increased during this time period. At the end of 2008, Hatteras had $4.5 billion in total debt which gradually increased to $18.8 billion by 30 September 2013. The company has managed to decrease its debt level by 18.6% but at the expense of investment which also declined by 19%. This shows that majority of the investment being made by the company is financed by debt. This is the reason behind such a high total debt to equity ratio of 7.9 compared to the industry average of 4.2
| | | | |
| --- | --- | --- | --- |
| | Company | Industry | Sector |
| Total Debt to Equity (MRQ) | 7.9 | 4.2 | 0.4 |
For now interest rates will be kept at the levels promised by the Fed until a certain level of unemployment and inflation is reached which means Hatteras has a window of opportunity to control its debt level. On the other hand when the interest rate starts to increase, it will result in fewer returns for the investors in the form of dividends; which is the basic attraction of any REIT.
Dividend Yield and Interest Spread
During the first half of 2013, the dividend yield decreased due to poor market performance as there were rumors following the announcement of Fed tapering. With the nervousness due to expected increase in the interest rates, share price and dividend yield fell with the dividend per share decreasing from $0.70 per share during the first quarter of 2013 to $0.50 per share in the fourth quarter; which is 40% less compared to the fourth quarter of 2012. The company also reported a loss of $267.6 million during the third quarter of 2013 while still managing to pay dividends of $53.9 million at $0.55 per share. For the fourth quarter of 2013, Hatteras has announced a dividend of $0.50 per share paid as at 24th Jan 2014.
The company's interest rate spread has also declined greatly over the year, sitting at 0.86% which is 29% less than the same quarter of 2012, and is expected to decrease further in the future.
| | | | |
| --- | --- | --- | --- |
| | 2013 (Q3) | 2013 (Q2) | 2013 (Q1) |
| Interest Rate Spread | 0.86 | 0.93 | 1.11 |
Net Interest Rate Spread is similar to profit margin for companies that deal in borrowing and lending at the same time, such as mREITs. It is the difference between the yield a company receives from lending and the interest paid on borrowings. A Higher ratio shows a profitable company while a low ratio shows the opposite. Hatteras' interest rate spread is decreasing which shows that its performance over the year has not been good and this is being reflected in the share price. The reason behind the decreasing interest rate spread has been the decrease in assets yield due to deteriorating market conditions while borrowing costs have been going up, although this was a small change as shown below.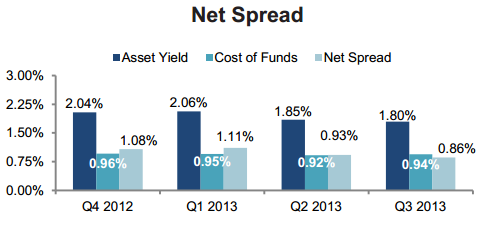 Source: HTS Fact Sheet
Investment Risks
Hatterasis is exposed to 2 major risks which should be considered before investing in the company.
1. Interest Rate Risk: When interest rate rises, the value of the bond or mortgage decrease. As the company is engaged in borrowing and lending and earns through the difference between the interest rate of borrowed and lent amounts, it is highly exposed to interest rate risk. The company is hedging interest rate risk through long term repurchase agreements, Euro Dollar Future contracts and short term interest rate swaps of weighted average remaining term maturity of approx. 28 months to 36 months. Though Hatteras is hedging to avoid this risk, interest rate risk cannot be avoided completely as it found out in the second quarter of 2013 when the value of its Agency ARMs decreased as US Treasury 10-year bond yield and mortgage rate rose due to their higher holdings in ARM (Adjustable-Rate Mortgage).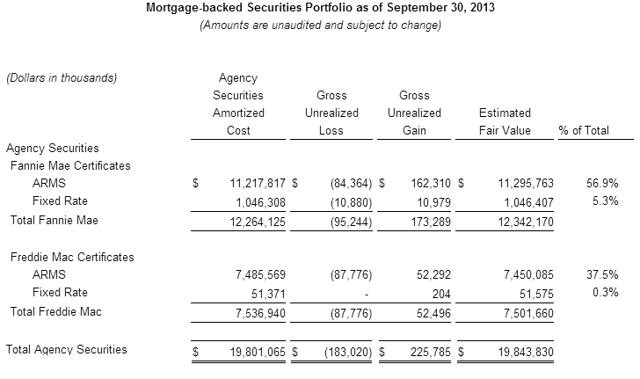 Source: Yahoo Finance
2. High Leverage: The company's debt over the period has increased along with investment which shows that it is financing its operations mainly from debt. This can pose a problem as the interest rate spread is decreasing which will create financial problems for the company in paying back the debt. Although Hatteras is moving in the right direction and has reduced its debt from the second quarter of 2013 to the third quarter of 2013, it still needs to do a lot more as its debt to equity ratio is still very high compared with the industry average which shows that dividends might decrease in the future.
Conclusion
The US Treasury 10-year bond rate has been increasing alongside mortgage rates since May 2013 and this has greatly affected Hatteras' performance and share price. But with the start of 2014 US treasury 10-year yield fell from 3.03 to 2.75 YTD while mortgage rates have also followed a downward trend since August 2013. The Fed also announced that market interest rate will not be increased until a specific unemployment rate is achieved which means that the market conditions are changing in favor of the company, but it remains to be seen how much it will be able to capitalize on these somewhat favorable conditions. At current valuations the company is a safe and rewarding dividend investment.
Disclosure: I have no positions in any stocks mentioned, and no plans to initiate any positions within the next 72 hours. I wrote this article myself, and it expresses my own opinions. I am not receiving compensation for it (other than from Seeking Alpha). I have no business relationship with any company whose stock is mentioned in this article.
Additional disclosure: Equity Flux is a team of analysts. This article was written by our Basic Material and Financial analyst. We did not receive compensation for this article (other than from Seeking Alpha), and we have no business relationship with any company whose stock is mentioned in this article.