"Going forward, it's a mobile-first, cloud-first world," said Satya Nadella, the newly appointed CEO of Microsoft (NASDAQ:MSFT), last week. Nadella who was just announced as CEO on February 4th has been working for Microsoft since 1992. Inheriting this position now is remarkably different than when Ballmer took over in 2000. At the turn of the century Amazon (NASDAQ:AMZN) only sold books, the iPod wasn't even released, Facebook (NASDAQ:FB) did not exist, and "Google it" was not a normal phrase. Microsoft has let other companies surpass them over the past decade running away with one business after another. Nadella is taking control of the company when competition is fiercer than ever before. I Know First has tracked Microsoft against others in the industry with an advanced self-learning algorithm and currently the system has a bullish forecast for the conglomerate. Some reasons for this forecast include figures from the 2Q14 earnings report that stated a 3% increase in net income with devices and consumer revenue up 13% and commercial revenue growth at 10%. Bing search share grew 18.2% and search-advertising revenue grew 34%. "We significantly outpaced enterprise IT spend as we continue to take share from our competitors by delivering the devices and services our customers need as they transition to the cloud," stated Kevin Turner, chief operating officer at Microsoft. "Our commercial cloud services revenue grew more than 100% year-over-year, as customers are embracing Office 365, Azure, and Dynamics CRM Online, and making long-term commitments to the Microsoft platform."
Credentials For The Job
What gives Microsoft an advantage is that not only is he an insider but he also has pretty impressive track record within the company. Being an insider for over 20 years, Satya has overseen some of Microsoft's most profitable and growing businesses, including Office. Nadella recently served as the executive vice-president of Microsoft's cloud computing offerings since July 2013. Although cloud computing remains one of the smaller parts of Microsoft's current business, the cloud computing enterprise group more than doubled customers in the latest quarter. Nadella also clearly understands the culture and knows the business from the bottom to the top as he has had experience over the years.
Satya Nadella has served as President, Server and Tools from 2011-13, Senior Vice President, Online Services Division from 2009-11, and Senior Vice President, Search, Portal and Advertising from 2008-09, plus several other leadership positions before then. Mary Jo Foley, editor of ZDNet's All about Microsoft blog, has tracked Microsoft for the past 25 years stated, "Nadella was the strongest internal candidate in terms of his multi-divisional experience and technical chops. Nadella has made it clear that they need to be both in consumer and enterprise, hardware and software. I think he will rely on other executive vice-presidents for consumer expertise."
New Direction
While he has been CEO for only a few weeks, Nadella has been bombarded with advice and many expect a new direction for the company. Will Bill Gates, technology advisor, give room to Satya to make independent decisions? When Ballmer took over as CEO in 2000, Gates remained as chief software architect until 2008, allowing Microsoft to miss one market opportunity after another during that time. While the media has repeatedly reported that the company was run inadequately under Ballmer, Microsoft has remained very profitable.
In the most recent fiscal year, Microsoft had $78 billion dollars in sales with a net income of $21.8 billion. The price-to-earnings ratio for Microsoft is only 13.3, similar to Apple's (NASDAQ:AAPL) at 12.6. Google (NASDAQ:GOOG) on the other hand has an impressive P/E of 31.5. Chart 1 shows Microsoft's revenue by segment in 2013.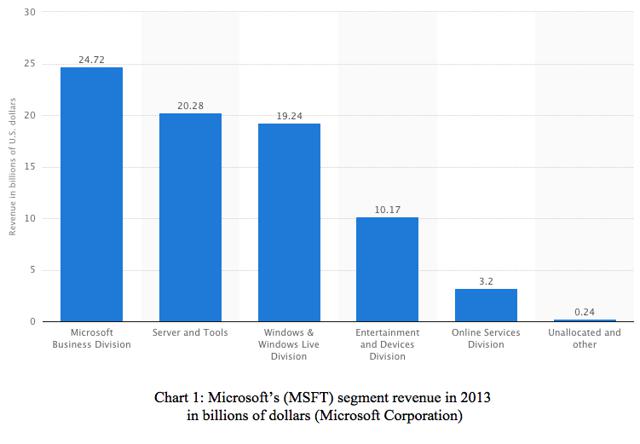 Nadella not only has to have a well-founded direction in mind, but he also must be able to get investors to buy into the transformation he chooses to make, as well as sell it to an incredulous computing world. The direction Nadella will focus on is cloud infrastructure. In order to do so, Nadella must convince the board to invest much more heavily in cloud infrastructure now, while the market values cloud computing highly, or lose ground permanently to rivals. Azure, the company's cloud effort has been adamantly cutting prices on cloud services to gain market share. Chart 2 shows an increase in expenditure on research and development from 2002 until 2013 according to Microsoft's own financial year.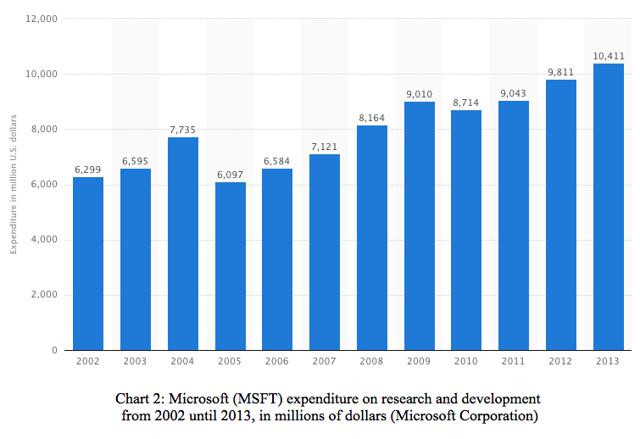 Nadella will make the necessary investment on cloud infrastructure, as they want to be controlling and defining the landscape instead of playing catch up. They can either spend capital at a rival's data center or work from their own. While having the lowest possible costs is generally the best route, Nadella knows that making the investment in being a pioneer now is the direction Microsoft must take.
I Know First Forecast
I Know First utilizes a self-learning algorithm that analyzes the flow of money from one market to another by following over 1,400 different assets including stocks, ETFs, currencies, world indexes, interest rates, and commodities including gold, oil, and many more. The machine utilizes fifteen years of data and is updated daily as new information is presented generating stock market forecasts from 3 days to 1-year for algorithmic trading. Basic instructions explaining how to read the forecast are available in my earlier article 2014 Market Forecast and Gold Prediction Based On Algorithms. There are also multiple strategies that can be utilized together or individually as an algorithmic trader employing daily forecasts. Chart 3 shows the 1-month and 3-month algorithmic forecast for Microsoft. This chart is taken from our Top 10 Stock picks from Monday, February 10th, 2013.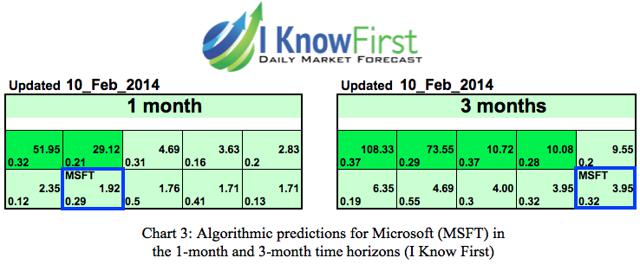 The ticker symbols for the other assets in this forecast have been removed however you can still see their signal and level of predictability. The signal, the number flush right in the middle of the box and the predicted direction (not a specific number or target price), is 1.92 for the 1-month time-horizon and 3.95 for the 3-month time-horizon. Neither of these signals are very strong, so this can be interpreted as that the stock will only marginally rise over these time frames. The predictability indicator for this asset is fairly strong and in fact is tied for the fourth strongest predictability in the 3-month time horizon. For Microsoft, it grows from .29 for 1-month to .32 for 3 months. This is very typical for the algorithm as it tends to be much more accurate for longer-term time frames. The 1-year time horizon was not included in this chart because Microsoft was not in the Top 10 recommended stocks for that time frame. However, MSFT still has a positive forecast for this time frame.
Conclusion
Around 20 years ago, Microsoft had about 90% market share in the computing market and other companies, most notably Apple, were fighting for relevance. The tables have turned and now Microsoft while still a market giant must be able innovate and adapt in order to remain at the forefront of technology years down the road. Don't get it wrong; Microsoft has consistently increased global revenue over the past 10 years from $32.19 billion in 2003 to $77.85 billion in 2013. Net income has also been in the multi-billion dollar range for some time as well. This is a great company but it is time for Microsoft to not allow other companies to lead the way of our technological society and capitalize on emerging market opportunities.
The algorithm is currently bullish in the 1-month and 3-month time horizons. When it becomes more apparent how well Nadella is able to lead Microsoft, I will update you how the algorithm responds to his performance. Nadella was the best choice as a successor for this position. He has the experience and breadth of knowledge about the different aspects of this huge company. With what we know currently, Microsoft should be heading in the right direction.
Business disclosure: I Know First Research is the analytic branch of I Know First, a financial startup company that specializes in quantitatively predicting the stock market. This article was written by Joshua Pastore one of our interns. We did not receive compensation for this article (other than from Seeking Alpha), and we have no business relationship with any company whose stock is mentioned in this article.
Disclosure: I have no positions in any stocks mentioned, and no plans to initiate any positions within the next 72 hours. I wrote this article myself, and it expresses my own opinions. I am not receiving compensation for it (other than from Seeking Alpha). I have no business relationship with any company whose stock is mentioned in this article.