Executive summary:
PD-Rx Pharmaceuticals available for sale at dirt cheap 2.1x EV/EBIT, 6.7x PE and 1.0x P/B multiples.
Exit of McKesson from the dispensing market - its biggest competitor - provides meaningful growth opportunity.
PD-Rx has a long history of growth, and is profitable since 1993.
_________________________________
PD-Rx Pharmaceuticals (OTCPK:PDRX) is a distributor of medication to primary care physicians. The medications are delivered prepacked from the company's warehouse so patients don't have to see a pharmacist. PD-Rx owns and operates a secure production and warehouse facility with multiple clean rooms to package the medication, and it has its own IT-staff to maintain the web app that physicians use to prescribe and dispense a large assortment of medications. The company has shown strong growth since its inception in 1987, and I expect that it will continue to grow in the near future because its biggest competitor has just exited the dispensing business.
McKesson Corporation (NYSE:MCK) bought PSS World Medical (NASDAQ:PSSI) for $2.1 billion one year ago. A very small part of PSS World Medical was the dispensing segment that generated $90 million in revenue in the TTM before the acquisition; just 4% of PSS World Medical's revenue of $2.2 billion. Compared to McKesson's annual revenue of $130 billion, the dispensing segment is truly insignificant, and because its pharmacy customers don't like a drug repackaging operation that competes with them, it decided to shut down this segment. The dispensing segment might not have been significant for McKesson, but it represents a huge opportunity for PD-Rx Pharmaceuticals. It had revenues of $26 million in FY2013, so if it manages to capture just a small part of the $90 million pie that McKesson abandoned, it could see a huge jump in revenues and profitability.
Even without this exceptional one-time opportunity for PD-Rx to grab market share, we probably should expect that we are looking at a company that can grow revenues and earnings. Since a picture can say more than a thousand words, please see a graph of the earnings of PD-Rx from inception to today. It's not a smooth line that goes up every year, but I think it's clear that the long-term trend has been upwards: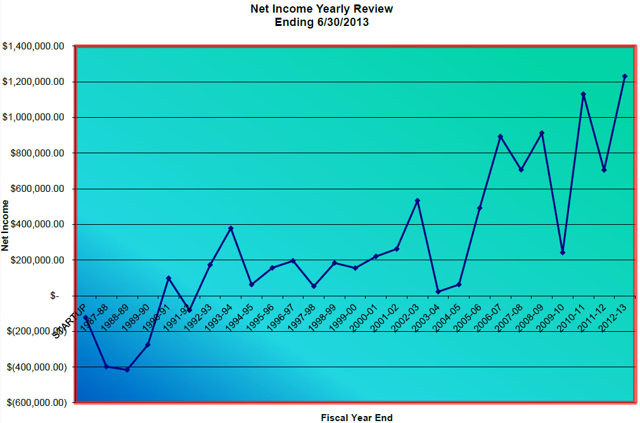 Note that McKesson exited the dispensing segment after the fiscal year end of PD-Rx, so presumably none of the potential impact of this change in the competitive landscape is reflected in the current financial results.
Valuation
We have seen the solid historical profitability in the graph above, but we need a bit more information to start estimating what the fair value of PD-Rx Pharmaceuticals is. To help with that, I have compiled an overview of the most important historical financial data in the table below.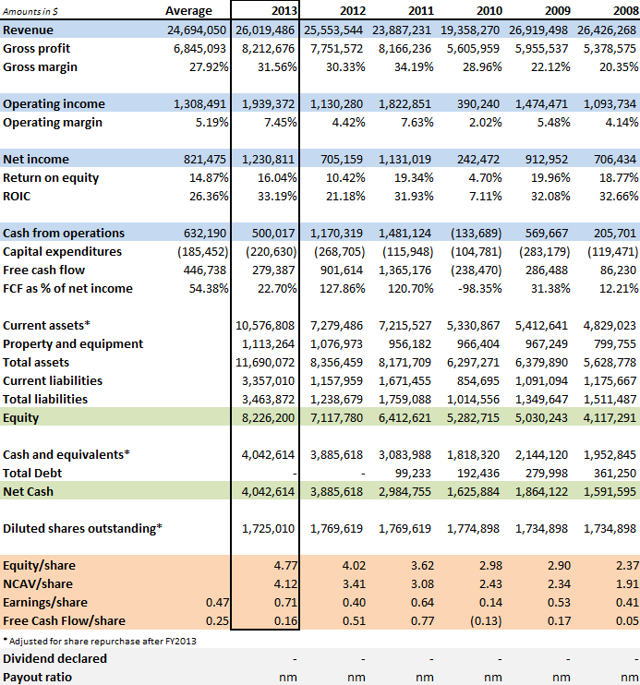 As is visible from the chart, PD-Rx Pharmaceuticals managed to grow book value at a 15% rate from FY2008 till FY2013 (the fiscal year ends on June 30), an excellent result considering that this period includes the recession that followed the general financial crisis. The average return on invested capital was even higher at 26%, because the company managed to achieve these results while carrying a relative large net cash balance and since 2012 PD-Rx has been completely debt-free.
At the time of writing this article, the market cap of the company is just $8.2 million, meaning that 50% of it can be attributed to the company's cash balance and that the ex-cash PE-ratio is just 3.4x. This translates to an EV/EBIT ratio of just 2.1x or an EV/EBITDA ratio of 2.0x. The fact that company is trading barely above net current asset value is another indication of undervaluation.
You don't need a fancy valuation model to recognize that PD-Rx is cheap: effectively paying a 3.4x PE-multiple for a stock that should have a solid growth potential is obviously a great deal. A 10x PE-multiple, in my opinion still conservative given the growth opportunity that it has, would imply a stock price of $9.50: already 100% upside from the current price level.
Insiders
Because PD-Rx Pharmaceuticals stopped reporting with the SEC in 2004, it's unclear how much equity insiders exactly own because this is no longer reported by the company. Insiders owned approximately 30% of the company's equity before deregistering with the SEC, and since there hasn't been a change in CEO or CFO, this most likely remains the case.
What is positive is that insiders used a part of the cash balance to repurchase shares after the end of FY2013. They bought back 44,609 shares at an average price of $2.74/share. It's not a big repurchase since it represents just 2.5% of the share capital, but it's better than nothing, and the repurchase was done at a favorable price. The financials in the table above have been adjusted to reflect the impact of the share repurchase.
The fact that PD-Rx Pharmaceuticals doesn't report to the SEC is a risk factor, but since the company still provides a good amount of disclosure to investors, I don't think this warrants a significant discount. The latest annual report is actually the longest one it has available online and includes a shareholder letter from the CEO, multiple graphs and a good overview of what it does. Audited financial statements are available as a separate document. The company doesn't release quarterly or semi-annual reports, so investors will need to have some patience to see how the thesis will play out.
Conclusion
PD-Rx Pharmaceuticals shows that a cheap company doesn't have to be in an ugly business with no growth and/or weak returns on invested capital. Sometimes, being small and underfollowed is really all that is required to be cheap. Thanks to the exit of its biggest competitor from the dispensing market, PD-Rx should have a good opportunity to meaningfully grow its business, and with a rock solid balance sheet with plenty of excess cash, it is in a good position to capitalize on the opportunity.
The market doesn't appear to give PD-Rx any credit for its growth potential. Even when we are not making any adjustment for the cash on the balance sheet, the company is trading at a 6.7x PE-ratio. That's what I call obvious cheap, and I believe that PD-Rx easily has the potential to be a double.
Disclosure: I am long PDRX. I wrote this article myself, and it expresses my own opinions. I am not receiving compensation for it (other than from Seeking Alpha). I have no business relationship with any company whose stock is mentioned in this article.