By Kenny Fisher
The Australian dollar continues to gain ground, as AUD/USD has pushed above the key 0.90 level on Tuesday. The Aussie has jumped almost 300 points in just over a week. In economic news, Australian Business Confidence and HPI gained in January, while Home Loans dipped to a four-month low. In the US, Federal Reserve Chair Janet Yellen will testify about the Fed's Semiannual Monetary Policy Report before the House Financial Services Committee. We'll also get a look at JOLT Job Openings. The key employment release has been moving higher in recent readings, and the markets are expecting the upward trend to continue in the January release
On Friday, the markets were treated to another dismal Nonfarm Payrolls release. The key employment indicator improved to 113 thousand, but this was well of the estimate of 185 thousand. The fact that the Aussie was unable to post gains against the dollar on Friday point to the high regard the markets have for the strength of the US economy. There was some good news as well on the US employment front, as the Unemployment Rate dipped to 6.6%, its lowest level in over five years.
Incoming Federal Reserve Chair Janet Yellen took over the reins of the Fed last week, and heads to Congress on Tuesday to present her first semi-annual testimony in front of the House Financial Services Committee. She is expected to reiterate the Fed's plan to continue its taper of QE and wind up the stimulus program by the end of the year, despite recent weakness in the economy and some worrying NFP numbers. Traders should be prepared for some fluctuation from EUR/USD following Yellen's remarks.
The Aussie continues to roll and received some help from strong business confidence and inflation numbers. NAB Business Confidence rose to 8 points, a four-month best. House Price Index jumped 3.4%, beating the estimate of 3.2%. This was the strongest gain in almost four years, pointing to stronger activity in the housing sector. Home Loans failed to keep pace, and declined 1.9% in January, well of the estimate of a gain of 0.5%.
Last week, the Reserve Bank of Australia maintained the benchmark interest rate at 2.50%, where it has been pegged since August. This didn't grab much attention from the markets, but the Rate Statement did and the Aussie shot higher in response. Governor Glenn Stevens noted that interest rates are at an appropriate level, indicating a shift in stance from easing to neutral. He also made a point of noting the Australian dollar's recent slide, stating that the lower value of the currency will "assist in achieving balanced growth" for the Australian economy. Importantly, Stevens refrained from saying that the Australian dollar was "uncomfortably high" as he has done in the past. The RBA has room to be pleased, as the Aussie has shed 8% of its value in the past three months. However, if the Aussie rebounds and rises into the low-90s, we could see the RBA again attempt to "talk down" the currency.
AUD/USD for Tuesday, February 11, 2014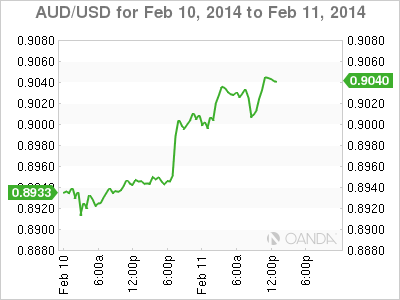 AUD/USD February 11 at 14:10 GMT
AUD/USD 0.9012 H: 0.9038 L: 0.8945
AUD/USD Technical
| | | | | | |
| --- | --- | --- | --- | --- | --- |
| S3 | S2 | S1 | R1 | R2 | R3 |
| 0.8735 | 0.8893 | 0.9000 | 0.9119 | 0.9229 | 0.9361 |
AUD/USD has posted gains in Tuesday trading. The pair pushed above the 0.90 line during the Asian session.
0.9000, a key line, has reverted to a support role. It is a weak line and could break during the day if the Aussie loses ground. This is followed by strong support at 0.8893.
On the upside, 0.9119 is the next line of resistance. It is followed by resistance at 0.9229.
Current range: 0.9000 to 0.9119
Further levels in both directions:
Below: 0.9000, 0.8893, 0.8735 and 0.8658
Above: 0.9119, 0.9229, 0.9361 and 0.9466
OANDA's Open Positions Ratio
AUD/USD ratio is almost unchanged in Tuesday trading. This is not consistent with what we are seeing from the pair, as the Australian dollar has posted gains. AUD/USD ratio is made up of a substantial majority of long positions, reflecting a trader bias towards the Aussie continuing its impressive rally.
The Australian dollar has moved across the key 0.90 line on Tuesday. With Fed chair Janet Yellen testifying before Congress and the US releasing key employment data later in the day, we could see some stronger activity from the pair later in the North American session.
AUD/USD Fundamentals
00:30 Australian NAB Business Confidence. Actual 8 points.
00:30 Australian House Price Index. Estimate 3.2%. Actual 3.4%.
00:30 Australian Home Loans. Estimate +0.5%. Actual -1.9%.
12:30 US NFIB Small Business Index. Exp. 93.6 points. Actual 94.1 points.
14:00 US FOMC Member Charles Plosser Speaks.
15:00 US Fed Chair Janet Yellen testifies before the House Financial Services Committee.
15:00 US JOLTS JOB Openings. Exp. 4.04M.
15:00 US Wholesale Inventories. Exp. 0.5%.
*Key releases are highlighted in bold
*All release times are GMT
This article is for general information purposes only. It is not investment advice or a solution to buy or sell securities. Opinions are the authors; not necessarily that of OANDA Corporation or any of its affiliates, subsidiaries, officers or directors. Leveraged trading is high risk and not suitable for all. You could lose all of your deposited funds.