During the fast pace of the technology development in the recent years, the mobile chip manufacturer and wireless patent giant Qualcomm Inc. (NASDAQ:QCOM) powered to a new 52-week high. Its market capitalization of $128.18 billion is now ahead of Intel's (NASDAQ:INTC), making it the world's most valuable semiconductor company.
Qualcomm is a major supplier to Apple (NASDAQ:AAPL) and Samsung (OTC:SSNGY) who are leaders in the smartphone industry. Qualcomm's business model works because of its almost inexhaustible source of income from its patent licensing business that allows company to invest in other areas of growth. Around two-third of Qualcomm's profits come from the wireless technology licensing business and the remaining profits are generated from the mobile chips business. Thus far Qualcomm's strategy has been quite successful as its holds thousands of wireless intellectual property patents that allow the company to receive a royalty for every 3G and 4G device sold. The risk attached to revenues from royalty fee depends on the pricing of device and that is the factor that Qualcomm cannot control.
Growing Adaptation of 4G Technology in Developing Countries
China's largest telecommunication company China Mobile Ltd (NYSE:CHL) recently launched its next generation TD-LTE service under the 4G brand in China. China Mobile has the largest lead among its rivals in developing its TD-LTE network that is expected to reach 100 cities covering 500 million people this year and this expansion is expected to enhance the company's revenues. China Mobile Ltd has also started the sale of the Apple smartphone and as Apple's supplier Qualcomm will receive higher royalty fees. Qualcomm has no 2G exposure so the company will benefit from the conversion to 3G and 4G services in the developing countries like China and India where the demand for 3G and 4G smartphones is continuously increasing.
Qualcomm may continue to benefit from the continuing global adaptation of 4G LTE as just 3% of total worldwide subscribers were using LTE network by the end of 2013. These numbers are expected to rise to 40% by the end of 2018. According to Ericsson (NASDAQ:ERIC), LTE subscribers should grow at a staggering CAGR of 55% through 2019 and 3G subscribers are expected to increase to 52% from the current figure of 24%.
Financial Review of Qualcomm
Revenues for fiscal year 2013 were $24.9 billion reflecting an increase of 30% from previous year with the net income of $6.9 billion reflecting an increase of 13%. The key drivers for the significant growth were the 21% increase in the sales volume of Mobile Station Modem integrated circuits, the 6% growth in the worldwide cellular connections and the fact that 3G connections grew to approximately18% which led to an increase in royalty fees and mobile chipset sales.
The net profit margin declined to 27.5% from 32% of previous year. The profit margins fluctuate depending on the product mix and competitive pricing strategy. The rapid adaptation of 3G/4G and increasing competition, royalty percentages, and average selling prices might be pressured, but the company still has long term growth potentials. Profit margins may also deviate depending on the sales in the developing countries and purchasing power as lower-priced devices lead to lower royalty fees and cheaper mobile chipset sales. To balance the profit margins with regards to pricing Qualcomm tried to maintain control over its selling, general and administration expenses.
Strong revenue growth helped Qualcomm's earnings per share to increase to $3.91, reflecting an increase of approximately 11%. Its annual dividend was $1.20 with a payout ratio 1.85%. This should make investors happy as Qualcomm significantly increased the annual dividend by 23%.
Qualcomm has a history of effectively utilizing its assets. The company reported a return on asset (ROA) of 15.46% in the fourth quarter and has maintained an average ROA of 12.21% over the last five years. The return to equity holders has increased from 15.77% in 2010 to 20.2% in 2012. In 2013, the company's ROE fell to 19.69%. This slight decline is due to a decrease in the profit margins from 32% in 2012 to 27.5% in 2013. These profit margins are slightly affected by the expansion in developing countries where profit margins are lower due to consumer's purchasing power and economic conditions.
The following graph shows the quarterly trend of the return on equity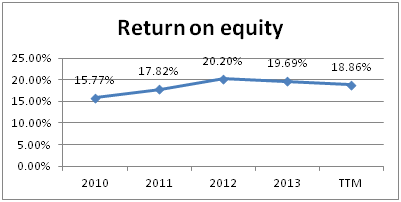 Data from Morningstar
Qualcomm has a strong balance sheet with cash and equivalent and short term investments worth $14.96 billion, with an impressive increase of approximately 21% from the previous year. The cash flows from operations were $8,763 million from $5,998 million, a tremendous increase of 46%. After allowing for capital expenditure, free cash flows were $7,730 million up by approximately 64%. These assets and cash flows figures reflect excellent growth prospects for the company and return wealth to investors in the form of growing dividends and share buybacks.
According to analysts' reports, Qualcomm led the cellular broadband processor market with a 66% revenue share by the end of the third quarter. According to the same report, in the smartphone application processor market Qualcomm, Apple and Media Tek (OTCPK:MDTKF) jointly captured around 80% of the market. Out of this 80% Qualcomm had a 53% revenue share. In the last four years Qualcomm spent around $14 billion for research and development. This has enabled the company to gain a 95% revenue share of overall LTE baseband segment. Qualcomm intends to continue investing significant resources in the advancement of 3G/4G, 4G LTE, wireless baseband chips and converged computing/communication chips. The company also plans to invest in different opportunities and a new business expertise to deploy a new business model and enter into new industry, such as IMOD and other display technologies. These initiatives will help Qualcomm to maintain its growth.
The following a graph of Qualcomm's historical share price

Source: ycharts
Conclusion
Qualcomm's long term investors have enjoyed solid returns as the shares are more than tripling from the $20 level at the start of 2004 to the current level. However the shares are trading at a lower level than the internet bubble period. Between 2009 and 2013 Qualcomm successfully increased its revenues by 139% to $24.9 billion. The company holds strong positions amongst its competitors and through the strength of its current balance sheet and cash flows it has the potential to grow with in the technology industry. I believe Qualcomm is a growth stock and investors should buy this stock.
Disclosure: I have no positions in any stocks mentioned, and no plans to initiate any positions within the next 72 hours.
Business relationship disclosure: The article has been written by a Blackstone Equity Research research analyst. Blackstone Equity Research is not receiving compensation for it (other than from Seeking Alpha). Blackstone Equity Research has no business relationship with any company whose stock is mentioned in this article