Ennis Inc. (NYSE:EBF) was founded in 1909 and is headquartered in Midlothian, Texas. (TD Ameritrade) The company operates in 2 segments, print and apparel. The print group is engaged in the print and manufacture of business forms and commercial print for the wholesale trade. The apparel group markets T-shirts, fleece and active-wear for men, women and youth. It also creates and markets other advertising specialties such as ribbons, awards and other things of this nature.

EBF has a stable of 23 companies and trademarks that start with Adams McClure to Witt Printing. It has offices and facilities in 22 states as well as in Canada and Mexico.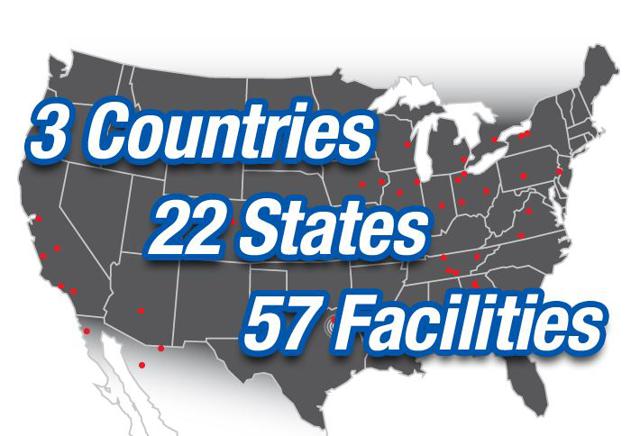 The valuations of the company are very attractive. It has a PE of 11, a dividend offering 4.7% and is currently selling close to book value. There are reasons for this low valuation of the stock. Since earnings per share have dropped 11% and revenues have declined nearly 3% over the past 5 years, some investors appear to be convinced that EBF's products are going the way of the buggy whip. This is really the only issue holding back the company. Its financials are solid and the company is well run.
There is no question that computers and computer printers have reduced the amount of specialized printing business available. In spite of this, EBF has held its own by becoming a consolidator of this highly fragmented business. It purchased Printegra and PrintXcel in 2012. It also purchased Folder Express and Custom Envelope Group in 2013. These last 2 purchases add another $60 million in sales for the company.
EBF in its Annual Report for 2013 states:
The M&A markets are the most active they have been in quite a few years. We are contacted by an increasing number of companies willing to sell. The market of financially viable acquirers in the print market has diminished significantly since 2008. Our company's balance sheet and debt structure make Ennis one of the few options currently available. We continue to believe that there is significant growth potential in this market through acquisitions at a reasonable price. Our prudence and expertise in handling these acquisitions will continue to allow for top line growth, without negatively impacting operating margins.
While EBF's market is not expanding, its ability to buy and merge other operations into its network allows it to grow sales by consolidating the industry. As each new company is added, the new additions are merged into the Ennis ERP IT platform and made a part of the company's financial and sales systems. While the company is maintaining the various manufacturing sites currently, I can see a future time when many of the manufacturing facilities will begin to be merged in order to reduce costs. Management looks at costs of manufacture and does what is necessary to keep costs in line. It recently moved its apparel manufacturing site from Anaheim California to a new factory in Mexico. This move has reduced costs and increased capacity.
Independent rating companies have a buy on EBF. The Street Ratings has a buy on EBF with a target price of $17.50. This ratings company sees better performance coming out of the company over the next several years. Ford Equity Research has a strong buy on Ennis. Ford predicts that Ennis will strongly outperform the market over the next 6 to 12 months. Its prediction is based upon an improving growth rate in earnings as well as a valuation that is low based on the stock's current performance.
A comparison year to date from last year shows that revenue has declined 2 quarters and increased in one. On the other hand, earnings per share have increased in all 3 quarters because gross margins have increased 19%. The numbers are shown below:


Conclusion:
While the market for the company's products may be diminishing, it is responding by increasing market share by purchasing other companies and consolidating operations while at the same time maintaining margins. This is a company that has been treating shareholders well for years and appears to be on track to increase sales and profits in the near future. Considering the 4.7% dividend and the current low valuation, this company looks to be a buy at today's stock price of $15.00 per share. Purchasers at this price will likely be rewarded with good dividends and reasonable capital gains over the next year or so.
Disclosure: I am long EBF. I wrote this article myself, and it expresses my own opinions. I am not receiving compensation for it (other than from Seeking Alpha). I have no business relationship with any company whose stock is mentioned in this article.