The past few years have been tough for Vale S.A. (NYSE:VALE), which is in the business of mining and selling minerals, especially iron ore for steel making. Due to the slowdown of economic activities in the emerging markets, especially in China where VALE derives more than half of its sales, demand for iron ore and its price have been dropping. As a result, VALE's operating income and earnings have suffered, as illustrated in the figure below, which plots VALE's annual earnings per share since 2009. The EPS data from 2009 to 2012 are from VALE's annual reports, that for 2013 is the average projection of the analysts complied by Yahoo Finance, and the EPS for 2014 is the analyst projection modified by including the most recent earnings trends, as will be discussed in more detail later in this article.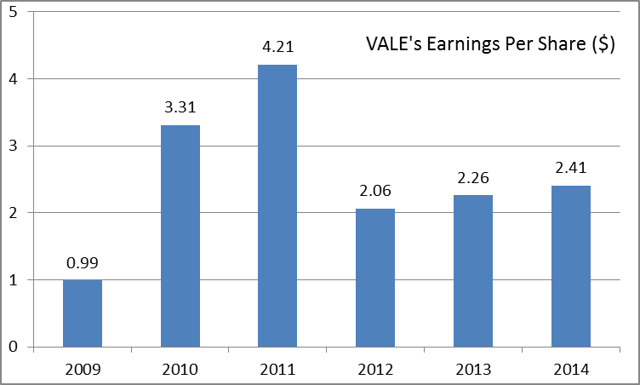 As is clear from this figure, VALE's earnings have dropped more than 50% from 2011 to the last couple of years. This has put significant pressure on its stock price; since 2011, it has been continuously decreasing, from above $30 at the beginning of 2011 to less than $15 recently, a drop of more than 50%.
These negative trends in the macro conditions of the iron ore market and the corresponding responses of VALE's stock price have all been sufficiently reported and recognized in the investment community, including articles in Seeking Alpha. The market conditions are also reflected in the view of analysts of whom only about half hold bullish opinions on VALE. In this article, I will present some bullish aspects for VALE, based on my analysis on its earnings growth potential, its attractive valuation, its improving cost structure, and the favorable trends in iron ore market.
Earnings Growth Potential
The discussions on the bullish aspects of VALE can start with the first figure of the article, the one plotting the EPS data. The most eye-catching feature of that figure is the huge drop of earnings from 2011 to 2012, but if we look at the latest three years, from 2012 to 2014, we can see a clear upward trend. These data are also listed in the table below, showing VALE's earnings growth potential of 9.7% for 2013 and 6.4% for 2014.
| | | | |
| --- | --- | --- | --- |
| | 2012 | 2013 | 2014 |
| Annual EPS ($) | 2.06 | 2.26 | 2.41 |
| EPS Growth (%) | | 9.7 | 6.4 |
The EPS for 2012 is from the results reported by VALE, but those for 2013 and 2014 are both projections. For 2013, since VALE has already reported three quarters of earnings, the projected number can be regarded as being close to what will be reported by the company. The projection of $2.41 earnings per share for 2014 is based on the average EPS estimate of $2.11 from all the analysts, but modified by 14%. This is because I think the analyst estimate is too conservative; in the recent quarters, VALE has been consistently beating analyst estimates by noticeable amounts. This is shown in the table below; in the past three quarters, the actual EPS has been consistently higher than the analyst estimates. Thus, it is reasonable to consider the analyst estimate as being conservative, and to derive a more realistic number for 2014, we can take the average of the differences between the estimates and the actuals in the past quarters, and apply it to the estimate from the analysts. To retain a margin of safety, I have also included the fourth quarter of 2012, in which VALE missed the estimated EPS. This brings down the average difference, but presents an easier target to achieve. The result is 14%, which leads to my projection of $2.41 EPS for 2014.
Dec-12

Mar-13

Jun-13

Sep-13

EPS Estimate ($)

0.44

0.57

0.42

0.64

EPS Actual ($)

0.38

0.6

0.64

0.72

Difference (%)

-13.6

5.3

52.4

12.5

Average Difference (%)

14.1
Attractive Valuation
The attractive valuation of VALE has been discussed recently in the investment community, including articles in Seeking Alpha and elsewhere. Thus, I will not repeat the details here. Just to summarize and to update these discussions, VALE seems to have attractive valuation in comparison with other mining companies, based on most of the metrics used in security analysis. In the figure below, comparisons are given for the price/earnings ratio, the price/sales ratio and the price/book value ratio, for a group of mining companies including VALE, Rio Tinto plc (NYSE:RIO), BHP Billiton Limited (NYSE:BHP), Freeport-McMoRan Copper & Gold Inc. (NYSE:FCX) and Potash Corp. (NYSE:POT). The ratios are computed based on the stock prices of the companies on February 6, 2014, and their projected earnings and sales for 2014, compiled by Yahoo Finance.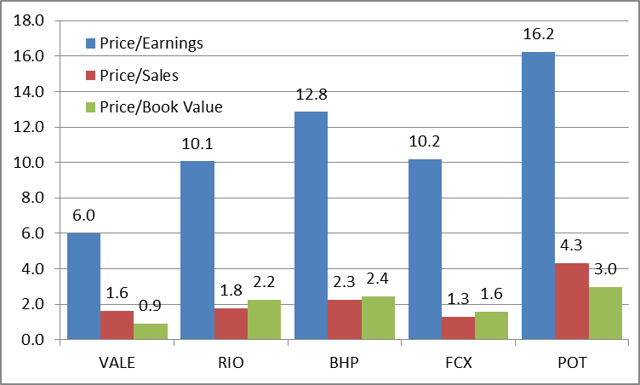 While the figure above clearly shows the attractiveness of VALE in comparison with other mining companies, it is also important to examine its valuation in the historical content, to avoid the situation where an entire industry sector is overvalued. To this end, the annual average price/earnings ratios of VALE are plotted in the figure below for the past five years. The ratios are computed by using the average stock price for each individual year and the annual earnings reported in the years, quoted from VALE's anuual reports. For comparison, VALE's P/E based on its stock price on February 6, 2014 is about 6, which is well below the average of the past few years.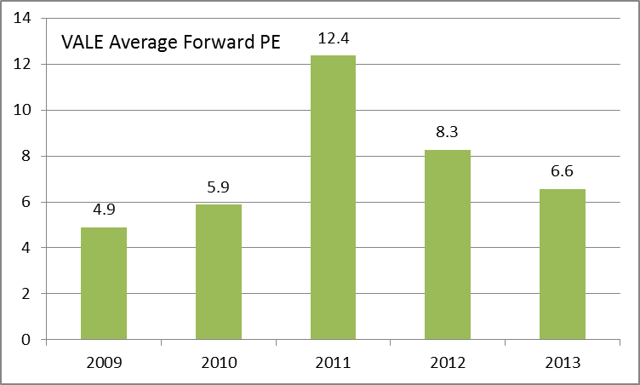 These two figures above show that VALE is attractive both in comparison with its peers and in view of its historical valuation range. This is further illustrated in the table below in terms of the discount percentages, both from its history and from its current peers. The averages are computed respectively from the data shown in the two figures above.
| | | |
| --- | --- | --- |
| | P/E Ratio | Difference (%) |
| VALE Current | 6.0 | |
| VALE 3-Year Average | 9.1 | 51.2 |
| VALE 5-Year Average | 7.6 | 26.6 |
| RIO & BHP Average | 11.5 | 91.0 |
In comparison with its own history, VALE is probably undervalued by as much as 30%, a number bracketed by the two numbers in the table corresponding to the cases of the 5-year and the 3-year average. To be more specific, the year of 2012 was a difficult one for VALE's business, as indicated by the more than 50% collapse of its earnings shown in the first figure of this article, and there is no reason to expect the year of 2014 will be worse than that year. Thus, VALE should at least achieve a comparable P/E ratio to that of 2012, which would imply a more than 30% discount for VALE's current stock price.
Similarly, VALE seems to be significantly undervalued in comparison with its peers, even though the quantitative percentage of more than 90% given in the table above should be taken with care because VALE has a focused business in iron ore mining, while the other companies in the group are more diversified, providing some cushion when the iron ore business is down. Thus, the latter deserves a somewhat higher P/E ratio than the former.
Improving Cost Structure
The improvement in VALE's cost structure can be discussed from two aspects, one being a series of cost-cutting and divest measures and the other the development of super tankers in transporting its iron roe to its Asian market.
In the past couple of years, in recognizing the slowdown of the iron ore market and the need to improve investor's return, VALE has gone through in a series of divest measures to shed non-core businesses. In 2013, Vale raised $6 billion from the sale of non-core assets, including those in logistic, energy and aluminum area. There are a multitude of benefits resulting from the divest, strengthening its balance sheet, improving its operation efficiency, focusing resources on its core business, enhancing investment return, to name a few. In addition to the divest of non-core businesses, VALE's cost cutting in capital spending budget is also expected to have a positive impact on its operation efficiency. In December 2013, Vale announced a $14.8B capital spending budget for 2014, a third straight year of reductions as the company focuses on boosting returns at existing operations. As a result, Morgan Stanley forecasts that Vale's return on equity will improve to 16% in 2014 from 10% in 2013, just to give an example of the expected positive impact on its operations.
The other aspect of VALE's improving cost structure is the reduction in its iron ore transportation expenses, which has historically been a disadvantage because VALE's iron ore needs to be shipped from Brazil to its Asian market at the cost of $17 per metric ton, compared with other iron ore producers located closer to that market, such as RIO and BHP, whose transportation cost is about $7 per metric ton. VALE's shipping cost, however, will be cut by one third from now on, due to its development of Valemax super vessels which have the capacity of 400,000 tons, about twice the size of its current fleet of vessels. VALE has signed an agreement with China's state-owned Shandong Shipping Corporation so that these super vessels can enter Chinese ports.
The reduction in transportation cost, together with the lower production cost, makes VALE's iron ore competitive in cost with other mining companies in the Asian market. This is shown in the table below.
| | | |
| --- | --- | --- |
| | VALE | Other Companies |
| Production Cost ($/mt) | 22 | 25 |
| Transportation Cost ($/mt) | 11 | 7 |
| Total Cost ($/mt) | 33 | 32 |
Favorable Trends in Iron Ore Market
The overall iron ore market has been in a depressed mode since 2011 when the general economy in China started to drastically slow down. This is not a surprise, because China has been the largest iron ore consumer for many years, in order to feed its steel making industry, and its economic slowdown has reduced the demand for steel in that country, correspondingly depressing the iron ore market. It is generally recognized that the price of iron ore will continue to drift downward in the next couple years, from the current price of about $130 per metric ton to maybe $110, and the reduced price has largely been accounted for in analyst forecasts and predictions for the iron ore companies.
Under these conditions, what are the favorable trends for VALE, then? The favorable trends result from China's drive for pollution control. In the past couple of years, air pollution in China has become a very serious problem, both in the pollution intensity and in the widespread affected areas. Both the central and the local governments are setting up and implementing various pollution control regulations, including reducing emission from steel mills. As a result, China will be buying more iron ore of higher quality, known in the industry as lump and pellets, that can be loaded directly into blast furnaces without the need for sintering, a dirty process that is a major source of pollution and sulphur dioxide.
Thus, premiums for lump and pellets over regular iron ore product will increase as tougher environmental standards force Chinese steel makers to use a different mix of raw materials in their furnaces. These trends are illustrated in the figure below, which plots the iron ore mix used in the Chinese steel industry, with the numbers for 2014 extrapolated from the previous two years. The mix is traditionally more than 85% of regular iron ore, but that percentage is decreasing. Correspondingly, the percentage of higher quality products, lump and pellets, is increasing. This bodes well with VALE, because pellets are its main iron ore product and it makes a large portion of its profit from pellets.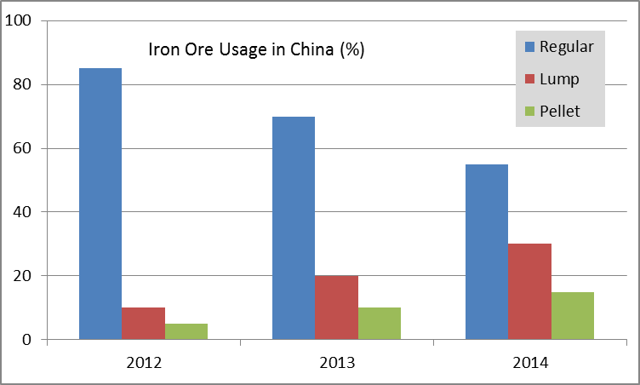 Target Price
From the valuation analysis, I will take the smallest difference between VALE's current stock price and its historical value, in order to retain a good margin of safety, as the amount by which VALE is undervalued, which is about 27%. In addition to this, I think VALE will have an earnings growth of about 6%, mostly due to the improvement in iron ore pellets demand. Thus, the total appreciation of VALE's stock price will probably be 33%. With a current price of $14.48, this leads to the target price of $19.26. This is close to the average target price of $19.94 from analysts compiled by Yahoo Finance.
Summary
By analyzing the valuation of VALE's stock, its cost structure, its earnings growth potential and the demand for its product, I presented some bullish aspects for VALE, and derived a target price of $19.26 for its stock in the next 12 months or so, corresponding to a gain of 33% from its recent price. VALE has also paid dividend in recent years, usually amounting to about 5% to 6% yield. Due to the strengthening of its balance sheet, there is no reason to expect any cut in the payout. Putting all these together, I think VALE is an attractive investment at its current price.
To end this article, it is appropriate to point out that VALE is in the business of natural resources, and thus, investment in VALE has the usual risks associated with natural commodities. In particular, investors should pay close attention in the second half of 2014, when companies such as RIO and BHP are scheduled to introduce extra production capabilities. The impact of this on the iron ore market in general, and on VALE in particular, will depend on various factors, including the economic conditions in China. Thus, a re-evaluation will be in order by then.
Disclosure: I am long VALE. I wrote this article myself, and it expresses my own opinions. I am not receiving compensation for it (other than from Seeking Alpha). I have no business relationship with any company whose stock is mentioned in this article.