As some of my previous articles demonstrate, I like to make investment decisions based on quantitative data, preferring to look at fundamental metrics over forward judgment and opinion. I believe a rules-based approach to investing is the best way to achieve a stable, solid portfolio, and the rules strategy that I use has been shown to produce steady gains over the last 14 years.
In this article, I run a screen based on some of these rules and come up with 13 compelling reasons to buy Intel (NASDAQ:INTC) at current market prices. When these quantitative factors are combined with qualitative ones, the results should be even more worthwhile.
Market Screen
For this analysis, I used the stock screener at Google Finance to set up my rules and scan the US stock universe for candidates. Below you can see the basic criteria that was set. I then dialed down into individual companies in order to analyze them further.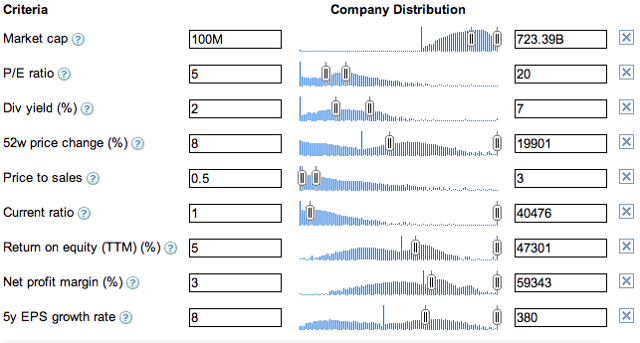 The screen delivered around 20 companies, 6 with market caps over $20bn, including Accenture (NYSE:ACN), Apple (NASDAQ:AAPL) and CSX (NYSE:CSX). I chose to focus on Intel because the stock has recently taken a decent tumble.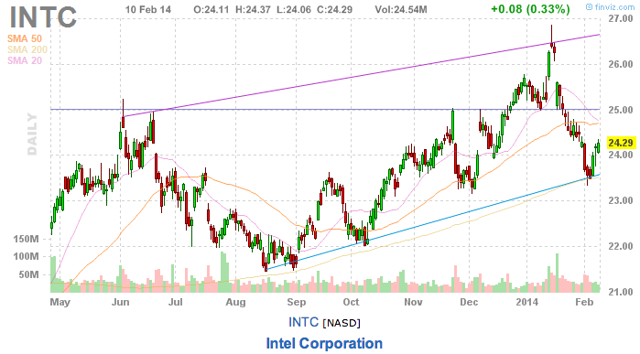 13 Reasons to buy Intel
I now list the reasons why Intel is a good investment according to the rules.
1. Market cap is over $100m
In order to weed out small cap stocks with high volatility and high spread, it is important to look at stocks over $100m. Intel has a market cap of $120bn.
2. PE ratio is between 5 and 20
PE ratios below 5 or above 20 can prove troublesome. Below 5 often finds stocks in stale industries while above 20 often finds over-hyped companies. Intel's PE is 12.92, which is below the historical average for any stock. Notably, 12.92 is significantly below the industry median of 25.11. It's also well below competitor Texas Instruments' (NYSE:TXN) PE of 22.18.
3. Dividend yield is between 2% and 7%
Companies that issue dividends tend to be better managed, more stable investments. However, dividend yields that are too high can sometimes act as a mask for deeper issues.
Intel's dividend yield is 3.71%, and the company has been issuing dividends since 1992.
4. 52 week price change is more than 8%
Some businesses may look good on paper, but for whatever reason, that quality can fail to materialize into share price gains. An upward sloping share price is preferable, and Intel is up 16.31% from a year earlier.
5. Price to sales is between 0.5 and 3
In order to find companies with a good balance between revenue and sales, it's important to set price to sales above 0.5 and below 3. Intel's price to sales ratio is a comfortable 2.29. This is favorable to both Texas Instruments' and Advanced Micro Devices' (NASDAQ:AMD) P/S ratio.
6. Current ratio is more than 1
Testing reveals that balance sheet health is a strong factor in finding solid investments. Intel currently has over $20bn in cash, and its current ratio is a healthy 2.37.
7. Return on equity [TTM] is more than 5%
Return on equity is 17.58%, which is impressive and indicates Intel may be benefiting from a good level of market share in a growing marketplace.
8. Net profit margin is more than 3%
Intel's net profit margin over the last 12 months is 18.25, which was the third highest in my screen for companies. Gross margin, at 0.60, is also well above the industry median of 0.42.
9. 5 year EPS growth is more than 8%
5 year EPS growth is an important factor in this screen, as leaving it out can reduce returns by as much as 4% per year. In this case, Intel's 5 year EPS growth is 15.44%, almost double the 8% criteria.
As a side note, trailing 12 month EPS is 1.89 whereas the industry average is 0.02.
10. We understand how the company makes a profit
It is also important to verify the quantitative data with some very basic questions as it is essential to understand what a company does before investing. In this case, it is easy since Intel is a household name in computer chip manufacture.
11. The company is operating in a sector that is expected to grow over the next 5 years
The computer chip and semiconductor market clearly has plenty of growth ahead with some forecasting 15% growth in 2014. Intel is at the forefront of providing chips to Apple and PC products.
Chips for tablets are another growth area and one which Intel CEO recently claimed would be offered with no sacrifice to margin.
12. The company is growing organically or taking over smaller companies
The ability to remain nimble is important for finding well-managed stocks. Intel has always been on the lookout for promising targets, such as the takeover of McAfee in 2010. The company is also ready to spin off areas of the business that are not performing, such as its app store.
13. Directors and managers hold shares in the company
As of February 2014, several high profile Intel officers held outstanding shares in the company.
Conclusion
The simplicity of the rules-based approach means that it is possible to find top companies at the right prices, criteria that have been shown to produce good returns over time.
At current prices, I believe Intel to be one of those household name stocks - the kind Warren Buffet likes to buy - that should perform admirably over the next year and beyond.
Disclosure: I have no positions in any stocks mentioned, but may initiate a long position in INTC over the next 72 hours. I wrote this article myself, and it expresses my own opinions. I am not receiving compensation for it (other than from Seeking Alpha). I have no business relationship with any company whose stock is mentioned in this article.