Executive summary:
McDonald's same store sales have been stagnating.
There is a need for a new catalyst to bring customers back.
Some new marketing efforts, particularly to children, should help drive same store sales and spark a new period of growth for the company.
_________________________________
McDonald's (NYSE:MCD) had a great run over the years as the company dotted the landscape with restaurants across the U.S. and around the world. However, the company has stagnated since the beginning of 2012 when the stock hit the $100 mark. The stock was richly valued at the time, and there weren't any strong catalysts to grow revenue, particularly same store sales [SSS] since then. As a result, the stock has spent most of the last two years under $100.
I remember McDonald's being a fun place as a child growing up in the 70s and 80s. Some kids had birthday parties there, and we would get to tour the kitchen before having our burgers, fries, and milkshakes. Ronald McDonald was a regular on the company's commercials at the time. Grimace, the Hamburglar, Mayor McCheese, Birdie the Early Bird, and the Fry Guys also got children's attention on commercials. Ronald McDonald appears to be the only character remaining, but he is not seen as often as in the past. Marketing to children is what helped drive McDonald's growth over the years.
There has been a movement from consumer's groups to pressure the company into stopping its marketing to children because of child obesity. This probably had an influence on McDonald's toning down its child marketing campaigns. However, obesity results from consuming more calories than you burn, not from solely eating at McDonald's. Everyone deserves a treat every now and then. With that in mind, I think that there is an opportunity for McDonald's to modernize a plan for marketing to children. Ultimately, McDonald's needs children to remain interested in going to its restaurants. When kids want to go to McDonald's, the experience becomes a family event, as parents are the ones that take them there. Perhaps a new set of mascots to promote McDonald's healthier items could help to increase SSS. Or, a focus on birthday parties could spark new interest again. Apparently, the company still offers birthday parties, but I don't think that they are as popular as in the past. Parties can bring in many customers in one shot. I think that the company needs a new concept or creative marketing plan for children to spark SSS. Ultimately, Mickey Dees needs to be fun and exciting again for children and their families.
Perhaps partnering with the Veggie Tales or introducing new characters of their own could increase sales. Perhaps it is time to upgrade the company's Playlands to promote fitness among children. Seasonal items were always a smart idea. Many families go to McDonald's to get their Shamrock Shakes in the limited time offering period. I think that there is an opportunity to introduce more seasonal items which could help to increase SSS without expanding the menu and using extra kitchen space. This would create ongoing excitement throughout the year for consumers. St. Patrick's Day creates a desire in consumers' minds that they have to go out and experience a Shamrock Shake.
Similar products could be developed and marketed to create similar wants for consumers. The McRib is another example of a seasonal item that is only sold for about one month in the fall. The Mighty Wings were an attempt to add a limited time offer, but sales have been disappointing. This was most likely due to the high price of the wings. McDonald's wing prices (about $1 per wing) were similar to those of Buffalo Wild Wings (BWLD), where the wings have a perceived higher quality. McDonald's probably should have priced them lower and made them closer to bar-style wings. They looked more like large McNuggets or breaded fried chicken. Since McDonald's has such large economies of scale, it could have offered the wings for less while maintaining profitability. I think that the company could try again later this year during football season with a new improved wing for less than what was charged this past year.
One new move that I think will work is McDonald's decision to sell a packaged version of its McCafe brand coffee in grocery stores. About 83% of U.S. adults consume coffee, up from 78% the previous year. This could help to boost sales in its restaurants, as the packaged coffee could bring more awareness to consumers of the McCafe line of products.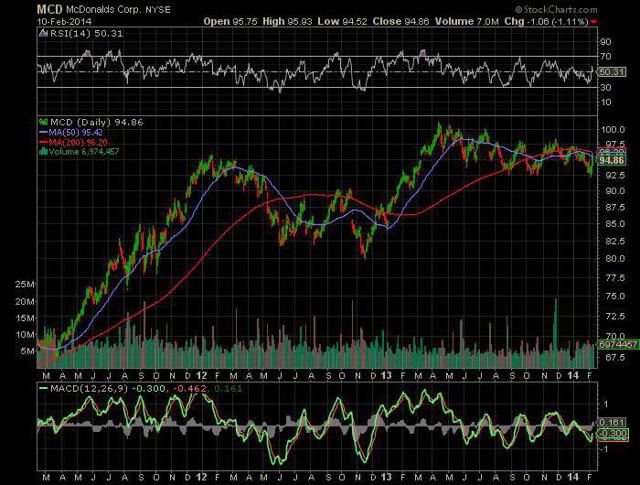 Overall, I like McDonald's as an investment. It's a stable cash-generating company that maintains a dividend of over 3%. I just think that the company has hit a temporary roadblock with stagnant same store sales. Same store sales fell 0.1% in Q4 2013. It needs to spark consumer's enthusiasm to frequent the restaurants on a regular basis. Once a positive trend in SSS forms again, I think that investors will be willing to give the stock a higher price.
McDonald's is now valued approximately in line with the S&P 500, as the company shares a trailing PE of 17 and a forward PE of 15 along with the index. McDonald's is valued lower than its competitors.
| | | | | |
| --- | --- | --- | --- | --- |
| | McDonald's | Yum! Brands (NYSE:YUM) | Wendy's (NYSE:WEN) | Burger King (BKW) |
| Trailing PE Ratio | 17 | 30.8 | 95.7 | 41.6 |
| Forward PE | 15 | 17 | 27.6 | 26.6 |
| EV/EBITDA | 10.6 | 12.6 | 12.5 | 17.3 |
McDonald's is in a good position valuation-wise in relation to its competitors. The company has fallen out of favor for the past two yearsm as it hasn't had much of a catalyst to drive the stock higher over that time period. However, with a few tweaks to marketing and the menu, McDonald's is likely to increase SSS again. This should be the catalyst that drives the stock higher over the long-term. Until then, investors will be paid to wait with a dividend of over 3%.
Disclosure: I am long MCD. I wrote this article myself, and it expresses my own opinions. I am not receiving compensation for it (other than from Seeking Alpha). I have no business relationship with any company whose stock is mentioned in this article.