In previous articles, I have spoken of an investment strategy based on 20 rules for buying and selling shares. In this article, I use a similar approach to scan and find 3 more stocks that fit the criteria.
The Search
To begin the search I used the simple stock screener found at Google Finance. I have recently tested a number of rules-based strategies and found that some metrics are more important than others. With this in mind I set the following stock selection criteria:
Rule 1: Market cap should be greater than $100m.
Rule 2: PE ratio must be greater than 5 and less than 25.
Rule 3: PEG must be less than 1.
Rule 4: Dividend yield must be between 2% and 7%.
Rule 5: 52 week price change must be over 10%.
Rule 6: Price to sales must be higher than 0.5 and less than 3.
Rule 7: Current ratio must be higher than 1.
Rule 8: Return on equity must be higher than 5%.
Rule 9: Net profit margin must be higher than 5%.
Rule 10: EPS growth must be greater than 10 over last 5 years.
After running the test over the entire universe of stocks on Google Finance, only 6 stocks were left.
Here are my favorite 3 from that list:
Seagate Technology (NASDAQ:STX)
Seagate are a leading provider of electronic data storage products including hard disk drives, solid state hybrid drives, solid state drives and more. Interestingly, Seagate is not the only data storage company in this list as it appears we could be entering a new phase for flash and NAND memory that could see these type of companies do well.
Most importantly, however, Seagate has performed extremely well on the rules based test. The company trades with a PE of just 11.16 and has a PEG less than 1. Both factors are low considering the high growth nature of the industry.
Indeed the industry median for PE comes in at a much higher 19.58 and one of Seagate's biggest competitors, Western Digital Corporation (NYSE:WDC), bears a PE of 19.59. As well as this, Seagate has a current ratio of 2.07 and a healthy price to sales ratio of 1.17. Dividend yield is respectable at 3.47% and the company has a return on equity of 59.9%.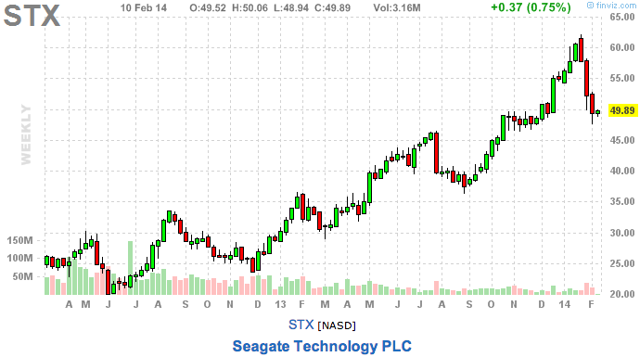 Copa Holdings (NYSE:CPA)
The airline industry was one of the best performing sectors in 2013 and legendary investor, Jim Rogers, has repeatedly stated he is somewhat bullish on airline stocks.
If you are bullish on the industry, you could do a lot worse than Copa Holdings, which offers airline passenger and cargo services in Latin America, providing around 337 flights across 67 destinations daily.
Take a look at the chart and you will see that Copa has been a good, consistent performer but last month, the stock took a dramatic nose-dive. The tumble has made the stock incredibly cheap on a valuation basis considering the quality of the fundamentals and the fact that the stock satisfied all of the rules.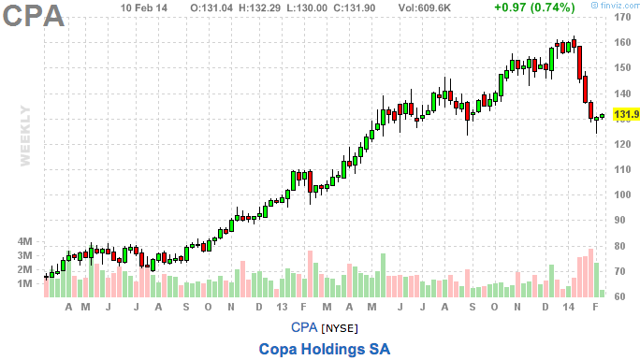 The PE ratio for Copa is 14.46 with a low PEG of 0.61 and ttm EPS of 9.03 - all 3 of which beat the industry median handily. Current ratio is 1.30, price to sales 2.33 and 5 year EPS growth is 14.75%.
All combined, Copa looks like a good opportunity. This has not gone unnoticed and analysts at Imperial Capital and Cowen & Co currently have the stock as 'outperform' and 'strong buy' respectively.

Silicon Motion Technology (NASDAQ:SIMO)
Silicon Motion is another foreign company and is based out of Taiwan. It's also the second stock on the list to deal in electronic storage solutions such as flash drives and SSD memory. As well, the company provides semiconductor solutions for low power applications on mobile phones, cameras, notebooks and other multimedia devices.
As you can see from the company's key statistics, SIMO, is fundamentally sound and well valued at current prices.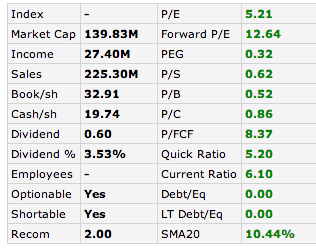 PE is 5.21, PEG just 0.32, Price to sales 0.62 and current ratio is a high 6.1 - owing to the fact Silicon has no debt on its balance sheet to speak of.
Dividend yield is 3.53 while 5 year EPS growth is 61.4.
SIMO is the smallest company on this list in terms of market cap ($552m) and buying it is not without risks. The company may not get the same sort of coverage as an equivalent U.S. based stock and the industry which SIMO operates is competitive.
However, there are not many companies around at the moment with such compelling fundamentals.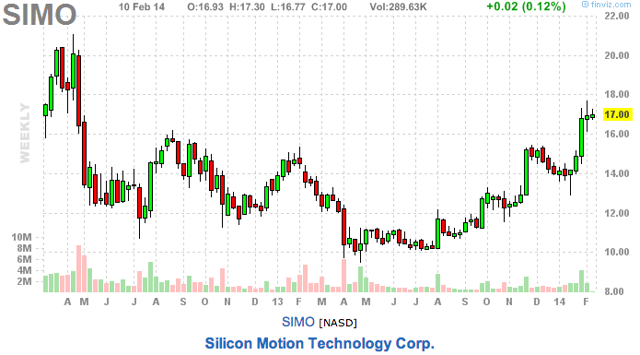 Conclusion
Investing with a rules-based approach is a professional and objective method for analyzing companies which has been shown to produce strong returns, above benchmark indexes.
From a universe of over 4000 stocks, these 3 companies satisfy all of my quantitative criteria and offer promising opportunities for investors.
Disclosure: I have no positions in any stocks mentioned, but may initiate a long position in CPA, SIMO over the next 72 hours. I wrote this article myself, and it expresses my own opinions. I am not receiving compensation for it (other than from Seeking Alpha). I have no business relationship with any company whose stock is mentioned in this article.