In early January I wrote a series of articles (here) describing market events that long-term investors could use to judge the "stage" of a bull market. Was it in an early, vibrant stage with many months or years to go? Or was it on its last legs, soon to surrender to a bear market and its cruel decimation of wealth?
One thing seasoned investors always look for is breadth: as the market rises the vast majority of issues should be advancing. Measured by the advance/decline line, the argument here is that a rising tide should lift all boats. If the economy is strong and business is truly doing well, we should see it show up in the prices of a great majority of stocks across a great variety of sectors.
There is an odd counterbalance to this thesis. Another thing you should look for in a durable bull market is leadership. Sure the vast majority of companies are doing well. But some companies step up to the front of the parade and lead the market higher.
Since November of 2012, when the most recent phase of our five-year bull market began, there has been one very clear leader: medical stocks (or, closely related, medical devices). Not only have they simply outperformed the S&P 500, but on a risk adjusted basis the performance is nothing short of astounding (here). This is not surprising, given the incredible breakthroughs in everything from robotic surgery to improved drugs to DNA assays. Compare the SPDR S&P 500 Trust (NYSEARCA:SPY) to its subsector health cousin, XLV: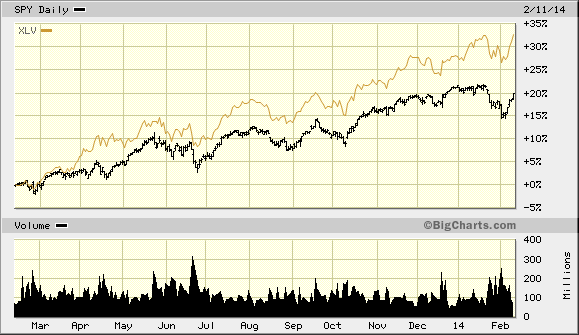 source: www.bigcharts.com
In the sharp selloff that the markets suffered in early 2014, these medical stocks took a hit with everyone else. But now that the market has found its footing again, are the leaders standing up or have they been bludgeoned into submission?
I am happy to say it is the former. We can focus on this more clearly by looking at just the last two months. Notice that SPY has not yet exceeded its January rally highs, but XLV has clearly done so!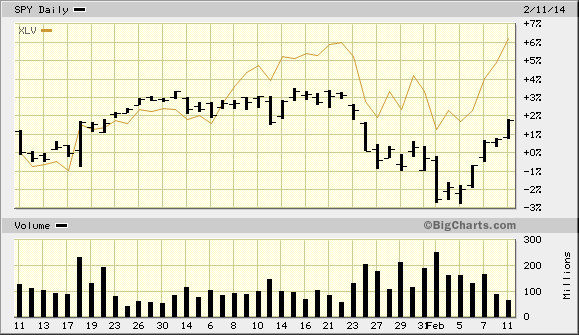 Within XLV itself, breadth is very strong. If you look at the A/D line for this ETF, it also has regained new highs in recent sessions.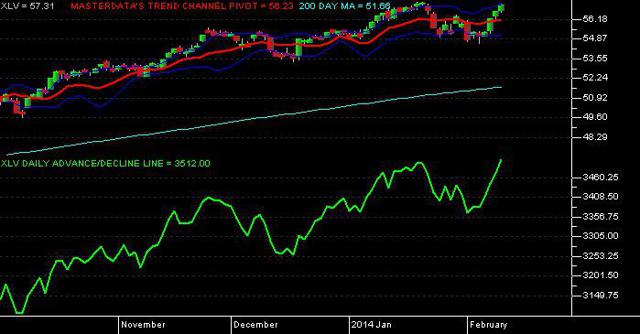 source: www.masterdata.com with bmp to jpg conversion.
I might add that the broadly defined technology sector, best represented by Powershares QQQTrust 1 (QQQ), shows a very nearly the same thing: the index is (almost) at a new high, and the breadth is (almost) above its January peak level.
Only one matter of concern should draw bulls' attention. There has not been as much share volume traded in either ETF during this rally compared to the heavy trading on the selloff. As technicians would say, on balance volume for these two portfolios is still a bit shaky. Investors should hope that some big volume days start coming in the very near future, or this rally, even were it to carry the broad market to new highs, would be suspect. For now it is not a serious discrepancy.
Disclosure: I am long XLK, XLV, IHI. I wrote this article myself, and it expresses my own opinions. I am not receiving compensation for it (other than from Seeking Alpha). I have no business relationship with any company whose stock is mentioned in this article.