When it comes to the oil and gas sector, long-term transport deals can certainly have the potential to enhance a company's long-term growth. With that being said, I wanted to not only take a closer a look at the long-term transport deal between NuStar Energy L.P. (NYSE:NS) and Occidental Petroleum (NYSE:OXY), but also highlight a number of reasons why I'm currently staying bullish on shares of NuStar Energy L.P.
An Overview of NuStar Energy
Headquartered in San Antonio, Texas, NuStar Energy L.P. has a total of 8,643 miles of pipeline, 87 terminal and storage facilities that store and distribute crude oil, refined products and specialty liquids, and 50% ownership in a joint venture that owns a terminal and an asphalt refinery with a throughput capacity of 74,000 barrels per day. The partnership's combined system has approximately 97 million barrels of storage capacity at its facilities around the world, and has operations in the United States, Canada, Mexico, The Netherlands (including St. Eustatius in the Caribbean), the United Kingdom and Turkey.
NuStar's Long-Term Agreement With Occidental Petroleum
NuStar Energy recently announced that it had signed a long-term agreement with Occidental Petroleum. The agreement would allow Occidental to ship natural gas liquids on NuStar's currently idled 200-mile pipeline between Mont Belvieu and Corpus Christi, Texas. It should be noted that the project is scheduled to be completed and in full operation by Q2 2015, although the pipeline may flow at reduced rates this year, it is expected to generate approximately $23M/year of incremental EBITDA for NuStar.
One of the key takeaways investors should consider is clearly the idea that this particular agreement will contribute quite nicely to the company's long-term EBIDTA growth. If the project can contribute the estimated $23 million per year to the company's annualized EBITDA beginning in H2 2015, there's a very good chance investors could see NuStar generate anywhere from $130 - $140 million per year in terms of EBITDA. If, for any reason, the project fails to meet that particular endpoint, NuStar's EBITDA could come in well below the 2013 full-year figure of $127.2 million.
NuStar's Recently Announced Q4 (Adjusted) Performance
On Wednesday, February 5, NuStar Energy also reported its adjusted quarterly results for the fourth quarter, and both its EPS and revenue performance missed the mark. Analysts had been expecting the company to earn $0.36/share on revenue of $842.5 million. However NuStar disappointed both investors and analysts when the company reported earnings of $0.21/share on revenue of $785.4 million.
Although the company's adjusted earnings missed estimates by a considerable margin there are a number of developments investors should be aware of. For example, the company's Corpus Dock Expansion is expected to be completed ahead of schedule and its plans to divest the remaining 50% interest in an asphalt joint venture should save the company a considerable amount on an annualized basis.
Recent Performance and Trend Behavior
Shares of NS, which currently possess a market cap of $3.99 billion, a forward P/E ratio of 21.04 and a dividend yield of 8.29% ($4.38) settled on Friday at a price of $52.82/share. Based on a closing price of $52.82/share, shares of NS are trading 9.39% above their 20-day simple moving average, 7.76% above their 50-day simple moving average, and 20.84% above their 200-day simple moving average.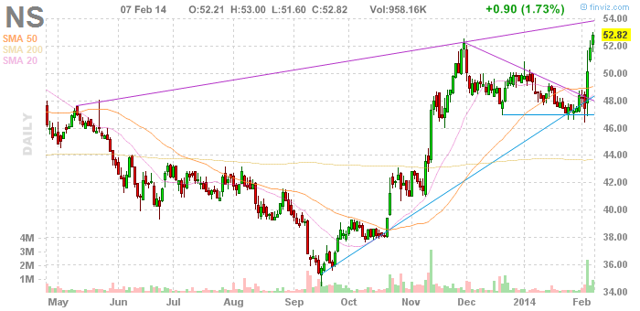 These numbers indicate a short-term, mid-term and long-term uptrend for the stock, which would normally signal a moderate buying mode for most traders and long-term investors. That being said, I think this creates somewhat of an opportunity for those who may be looking to establish a position in the company, especially since shares are trading at just over 21x forward earnings and yield 8.29% ($4.38) which is much better than the shares of Regency Energy Partners LP (NYSE:RGP) which were trading at 60x forward earnings and yield 7.06% ($1.88).
Risk Factors (Most Recent 10-K)
According to NuStar Energy's most recent 10-K, there are a number of risk factors investors should consider before establishing a position. These risk factors include but are not limited to:
#1 - The partnership may not be able to generate sufficient cash from its operations to enable it to pay distributions at current levels to its unitholders every quarter.
#2 - A decrease in lease renewals or throughputs in its assets would cause the company's revenues to decline and could adversely affect its ability to make cash distributions to the company's unitholders.
#3 - The price volatility of crude oil and refined products can reduce the company's revenues and its ability to make distributions to the unitholders.
Conclusion
For those of you who may be considering a position in NuStar Energy, I strongly recommend keeping a close eye on the company's trend performance, any continued developments with regard to its long-term agreement with Occidental Petroleum, and its ability to continue to enhance shareholder value over the next 12-24 months as each of these factors could play a role in the company's long-term growth.
Disclosure: I have no positions in any stocks mentioned, but may initiate a long position in NS over the next 72 hours. I wrote this article myself, and it expresses my own opinions. I am not receiving compensation for it (other than from Seeking Alpha). I have no business relationship with any company whose stock is mentioned in this article.