Bonterra Energy (OTC:BNEFF) is a conservatively financed mid-cap Canadian light oil and natural gas producer, with high field energy netbacks but no commodity hedges to limit participation in rising oil and natural gas prices. The company reports its 2013 reserves after the market close today and the stock goes "ex" its monthly dividend.
At current crude oil and natural gas strip prices, I estimate the company should earn 2014 cash flow of $7.21 per share, 15.4% higher than the average analyst estimate. The 2014 implied target price is $64.89, for a projected 26.3% total return including dividends.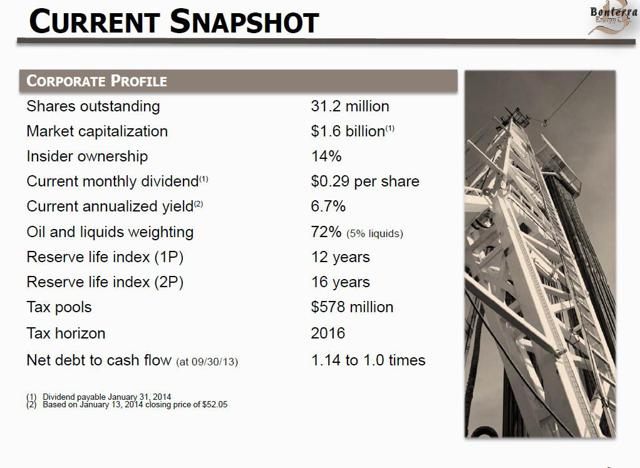 High and Growing Monthly Dividend
Bonterra was begun as an income trust in 1998, with a monthly distribution and income tax flow-through status. Unlike many energy trusts when they were forced to covert to corporations due to tax law changes in 2006, Bonterra continues to pay and even grow the monthly dividend. Bonterra currently pays 29 cents per month, an increase from 28 cents in December 2013, and yields an annualized 6.48% at the current price of $53.69.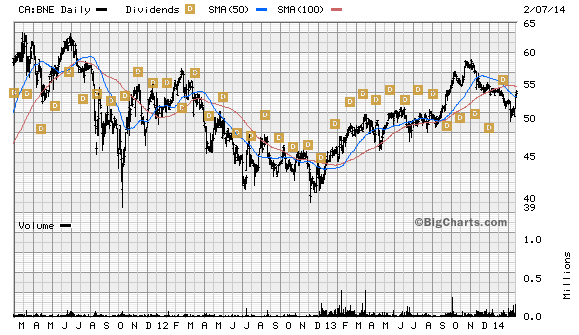 No Commodity Hedging
Bonterra is completely unhedged on oil and gas prices and is benefiting from the recent rise in Canadian priced WTI and the recent turnaround in natural gas prices. This lack of hedging makes Bonterra rather unique amongst most names in the sector. A recent Bank of Montreal Capital Markets industry survey showed only one other unhedged name in their coverage universe.
The policy of the Board is to use the strong balance sheet and high netback oil production to provide investors with commodity upside.
The company did slash the monthly dividend by two thirds during 2009, but over the past ten years, the monthly dividend has risen at a CAGR of 9.2%. The stock goes "ex" the second dividend of 2014 on February 12 (today), with payment on February 28.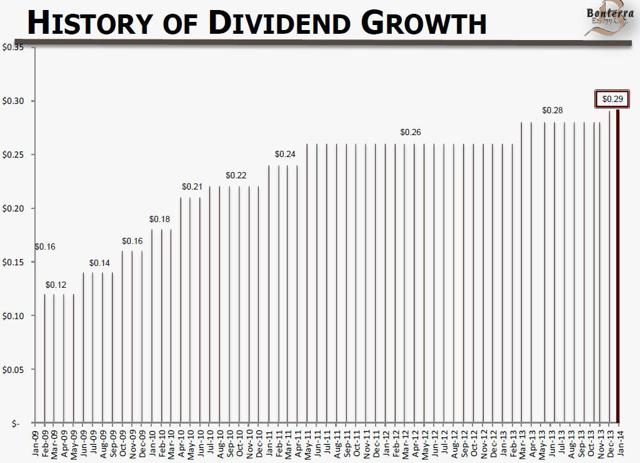 3rd Largest Cardium player
Bonterra operates in the Pembina Cardium field in Alberta west of Edmonton. The Pembina Cardium, named after the Pembina river that flows through it, was first drilled in 1953. The Alberta Energy Regulator estimated the field contained 10 billion barrels of crude oil, with only 1.7 billion barrels produced via conventional drilling.
Other important Cardium operators include Penn West Petroleum (NYSE:PWE), Bonavista Energy (OTCPK:BNPUF), Lightstream Resources (OTC:LSTMF) and Pengrowth Energy (NYSE:PGH).
With the onset of horizontal drilling and multi-stage fracking techniques, the Cardium has been given a new lease on life, with production rising steadily to circa 80,000 barrels/day.
The light oil deposits are in siltstone and relatively shallow at 1000-2000 meters in the East Pembina, where Bonterra is focused and is the 3rd largest landholder. With the new drilling techniques, the Cardium may hold 15 billion barrels with 20-30% recoverable.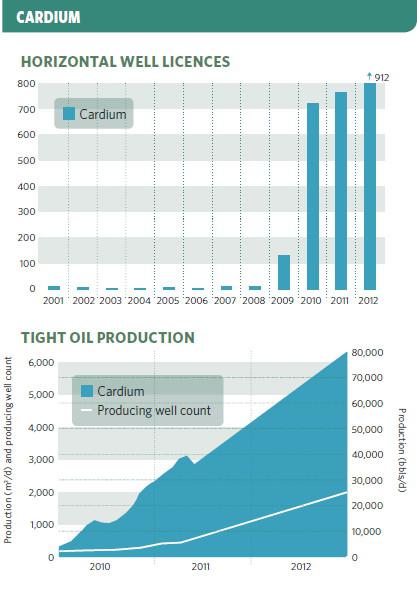 See page 15 of this Alberta Oil & Gas Industry Quarterly Update.
Bonterra's well drilling, completion and abandonment costs are in the $2.5-2.6 million range. Compare this with the adjacent and much deeper Duvernay play, where wells can easily cost 10 times this amount.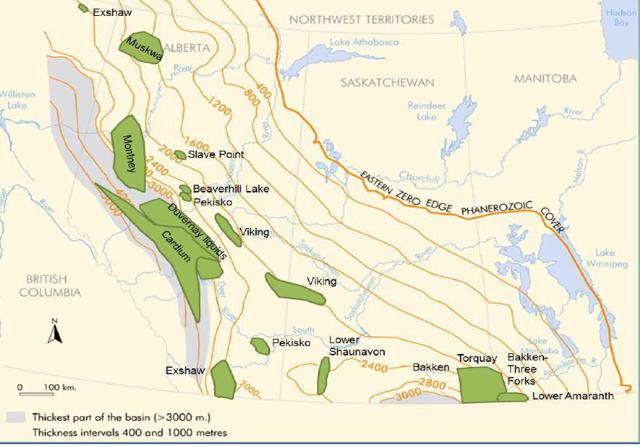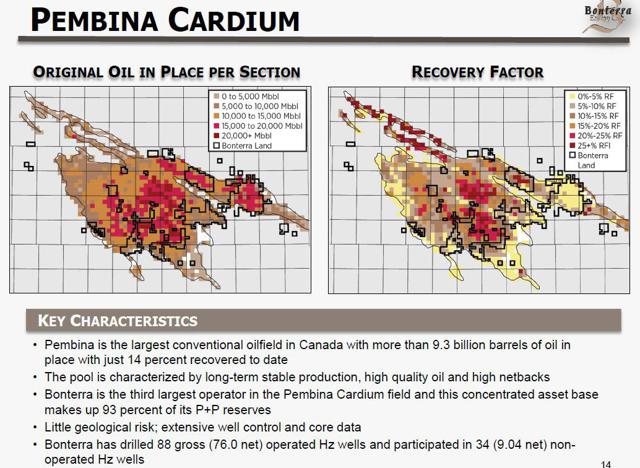 Synergies with Spartan Oil
Bonterra is benefiting from the early 2013 $480 million acquisition of fellow Cardium operator Spartan Oil, and Spartan's 21.4 million in 2P reserves have yet to be reflected in Bonterra's, set to be released this week. Total pro forma combined reserves were 70.5 million boe for 2012 (February 6, 2013 press release).
Indications are that Cardium operators will see technical revisions to their reserves due to higher year-end Alberta oil and gas prices.
Another Cardium operator, ARC Resources (OTCPK:AETUF), reported positive technical revisions of reserves last week based on $92.26/bbl CAD Edmonton "Par" Light Crude Oil and $4.03/mcf AECO natural gas prices versus $85 and $3.38 in 2012. Similarly, Bonterra's 2012 reserves were based on $84.55 EP and $3.31 AECO.
2013 Spartan Oil's operations were synergistic with Bonterra's in the East Cardium and came with 493 million estimated barrels of original oil in place with only a 5.2% recovery factor and 305-500 drilling locations. Spartan also provided a 4,500 bbl/d oil battery, two 8 mmcf/day natural gas processing plants and 250+ km of pipeline. Cardium unit with Spartan had zero debt and positive working capital, another rarity for the oil patch.
The all-paper combination reduced Bonterra's debt leverage to below industry average levels (<1 times debt/funds flow) and reduced operating costs from $15.00 to $12.45/bbl. They most recently guided operating costs at $13.00 for the full year 2013.
Spartan was an aggressive driller (estimated 46.6 net wells in 2012, more than the combined company plan next year) and the decline rate on some of its wells approached 45%. The combined production of the two companies of 13,500 bbls/day was throttled down to 12,000 for 2013 to manage decline rates caused by the high growth rate of drilling by Spartan.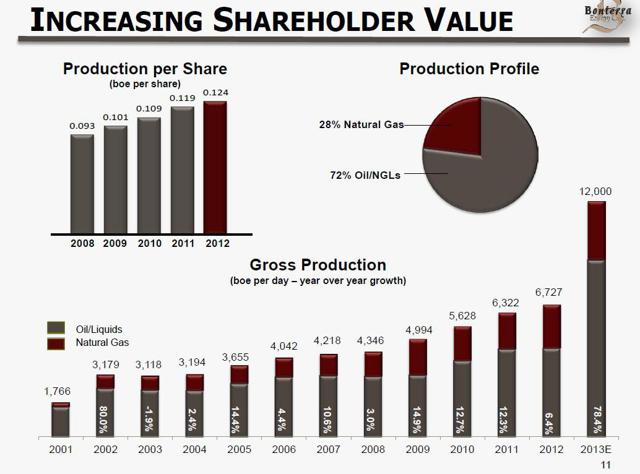 2014 Capital Budget
Bonterra is guiding for 12,400-12,700 bbls/day in 2014 as of the most recent January presentation. Bonterra plans to spend $120 million and drill 41 net wells in 2014, add infrastructure and bring one of the two natural gas processing plants back into operation. Their average Cardium well has an initial production of 150-200 boed declining to 80-100 in the first year, with ultimate recovery of approximately 150,000 barrels. These low cost wells have a 100% success rate and provide payout in 1.2 years with an IRR of 88% and recycle ratio of 2.4 years.
In spite of the corporate estimated 30% average decline rate, the excellent well economics and measured pace of drilling allows the company to sustain and modestly grow production with a relatively small capital budget for a company this size, keeping debt levels and need for equity lower than the norm.
Depending on topography, the company designs 2 to 5 wells per pod, reducing operational costs. Bonterra uses several third party drilling contractors as is the norm in the business. Further cost savings have come from the use of monobore drills extending one to one and a half miles from the wellhead.
Drilling an average of eight wells per section versus four is expected to boost recovery factors and ultimate oil recoveries. The company is piloting EOR (Enhanced Oil Recovery).
The company will drill over half of its wells in the Carnwood area which was an original Bonterra property. The play is shallower and therefore less expensive to drill than some of its other properties.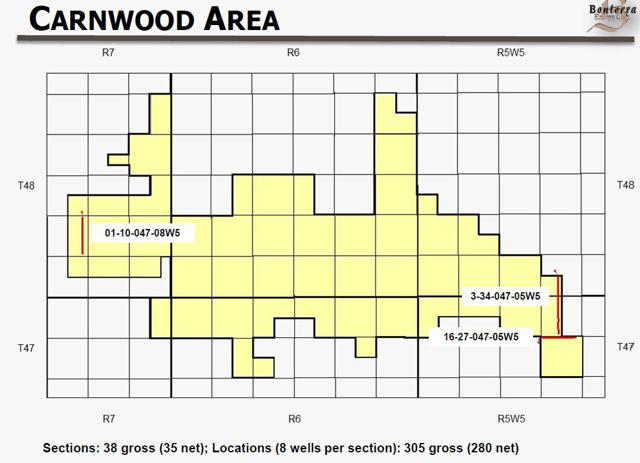 Three recent wells drilled at Carnwood have had excellent results.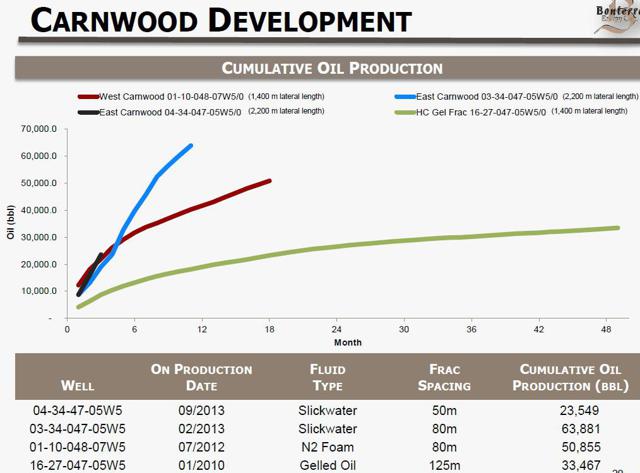 Bonterra Stock Price Lags Edmonton Oil Price
Bonterra's stock price is closely correlated with the Edmonton Par light oil price (also called Mixed Sweet Blend or MSW Stream), as 64% (7,727 boe/d Q3 YTD) of its average 12,100 boe/d corporate production is sold based on the MSW benchmark, albeit with a few dollars of quality discounts.
The BNE stock price tends to lag the EP price by as much as two months. Part of the reason could be deliveries are priced a month in advance and therefore price increases won't hit the income statement until a month or more later. The company is currently receiving an estimated $88 US or $97 CAD, for delivery in March.
Another reason could be investors would like to see if the oil price move is sustainable (both up and down). The WTI forward curve is in backwardation (March 2014 futures currently at $100 USD but December is at $93.26), which if correct, would dampen upside.
My feeling is the reasons have more to do with the relative lack of transparency in EP oil price and a lack of strong coverage on Bonterra due to its relative independence from capital raises, and the fact it is substantially controlled by its founder, Chairman and 10% shareholder Mr. George Fink with a small six member board.
It should be noted Bonterra does not use rail tank cars to market its oil and has no exposure to the regulatory problems this industry will soon face. The company sells its oil to third parties and it is transported in the Pembina Pipeline Corp. (NYSE:PBA) system which is proximal to Edmonton, Alberta and major cross country pipeline systems run by Enbridge (NYSE:ENB) as well as local oil refineries.
Here is a chart of the 2013 and YTD 2014 monthly closing price of BNE versus Edmonton Par and the discount EP receives from Canadian priced WTI.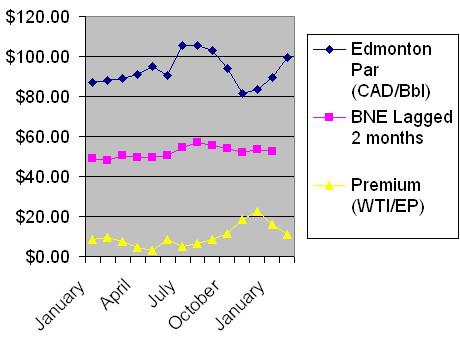 As you can see, the price of BNE last peaked (at $58.94) in early November even though EP had begun rising in July and peaked in September. Q4 results will reflect a deep discount in EP during November and December, when prices averaged $81.84 and $81.71, respectively.
The company explained the big discount as being caused by a variety of factors including a refinery fire, pipeline apportionment, and competition. Extreme cold weather, however, has benefited the company, as oil sands mining was curtailed in some instances.
Selected Crude Oil Prices Monthly - 2013
Month
Exch. Rate
Cdn Par Edmonton
Cdn Heavy Hardisty
Cdn Par Chicago
WTI NYMEX Chicago
Brent Chicago
Cdn Heavy Chicago
Brent Montreal
Brent Sarnia
$ Cdn/m3
2013-01
0.9924
548.59
456.06
571.59
600.69
714.39
482.26
717.65
741.94
2013-02
1.0091
554.66
449.21
577.81
614.09
742.54
475.59
754.49
778.77
2013-03
1.0238
560.54
478.10
583.84
608.21
725.60
504.64
723.65
747.93
2013-04
1.0188
570.87
476.29
595.64
598.75
683.31
504.52
681.26
705.55
2013-05
1.0201
598.96
527.11
623.74
616.79
681.46
555.36
658.49
682.78
2013-06
1.0238
569.18
493.06
594.00
622.32
687.73
521.36
685.12
709.41
2013-07
1.0407
663.71
597.23
688.96
694.49
723.11
626.00
720.04
740.19
2013-08
1.0407
664.98
603.95
690.23
706.94
743.83
632.72
740.25
760.41
2013-09
1.0353
647.22
553.87
672.40
700.59
742.69
582.57
741.13
761.29
2013-10
1.0363
592.45
492.81
617.64
665.03
732.85
521.52
732.51
752.67
2013-11
1.0493
511.57
421.13
536.91
629.29
731.05
450.02
729.72
749.88
2013-12
1.0642
524.09
402.26
549.22
664.80
766.86
430.89
761.57
781.73
Average
1.0295
583.90
495.92
608.50
643.50
722.95
523.95
720.49
742.71
Conversion: 1 cubic meter = 6.29 barrels
*Edmonton postings adjusted to 0.5% sulphur
Source: Natural Resources Canada
After another lull of weakness in mid-January, the price of Edmonton Par rebounded to $596/m3 ($94.75 CAD) by the end of the month. It has continued to rise due to firm WTI prices and a weak Canadian dollar. The latest posting (BID) for stream EP from Imperial Oil (NYSEMKT:IMO) as of February 10 was $688/m3 or $109.38 CAD/bbl. I am waiting to see another day or two of prints to confirm this level, but those would be very attractive prices.
Bonterra should begin enjoying the narrowing of the discount and improvement in oil revenues starting March, with a modestly weak Q4 to be announced March 20, reflecting poorer oil pricing during October and November, but higher natural gas prices.
Since the EP crude oil price has now reached levels last seen in September, either the market believes the current WTI price and low Canadian discount are not sustainable, or the market price of Bonterra has not properly reflected the recovery in oil prices.
The company's sensitivity analysis indicates it should make approximately $26.5 million (86 cents per share) of extra cash flow for every $10 increase in its USD crude oil price. The 2013 budget was based on an $81.88 CAD oil price, and at $97 CAD, we are approximately $15 above that currently. I expect this price to be sustainable, supported by high international light oil prices, a narrowing WTI/Brent spread due to completion of the TRP Gulf Coast pipeline operation and the lower 90 cent Canadian dollar.
Assuming 70% of the midpoint production of 12,550 guided for 2014 is light crude oil, I expect Bonterra to earn $1.35 additional CFPS from oil sales over 2013.
Natural Gas price spike a windfall
Even as Bonterra benefits from unhedged light oil production, natural gas has also added to cash flow lately. Bonterra produces exclusively solution gas associated with its Cardium oil production. Natural gas production averaged 21.7 mmcf/day (3,667 boe/day) during the nine months ending September 30, 2013.
The natural gas is removed at the crude oil batteries and then processed and put into the TransCanada Corp. (NYSE:TRP) gas pipeline system. Bonterra is reactivating one of its mothballed natural gas plants (8 mmcf/day) to process raw gas from the Carnwood play, starting March 1, 2014, thereby saving fees paid to third party plants.
The Bonterra gas is sold based on the AECO daily index price rather than the monthly index. AECO spot gas went into February at over $5/mcf and spiked to over $24/mcf on February 5. At $24/mcf, Bonterra made almost half a million dollars extra margin in one day.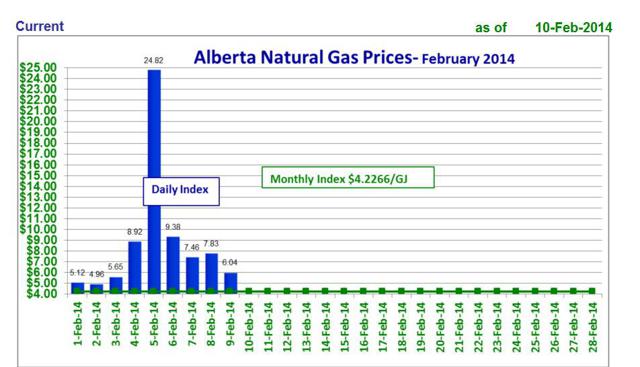 I estimate the very cold winter of 2013/14 took an extra half trillion cubic feet of gas out of US gas storage (total consumption in the US was 25.5 tcf in 2012). The US Energy Information Administration thinks the country can get back to only the low end of the five year range of natural gas storage levels in its best case scenario for withdrawals to the end of the heating season (April 1).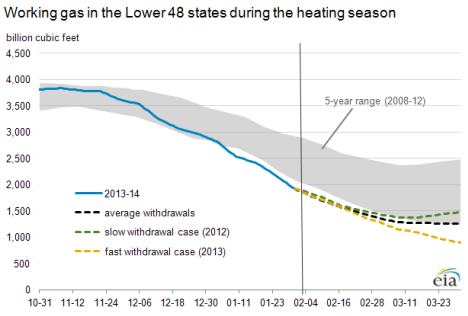 The extremely cold weather in Western Canada probably drained AECO storage levels as well. The NYMEX and AECO natural gas twelve month strips have been climbing into the mid $4/mcf range and summer gas futures on NYMEX are trading at $4.50/MMBtu ($4.62/mcf).
The natural gas supply curve is inelastic in the short term. I have read that Marcellus shale gas wells lack pipeline infrastructure to get product to market.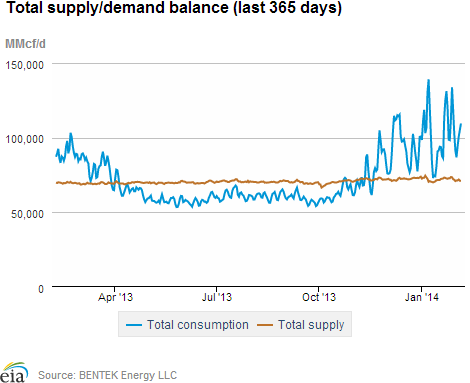 We should see a response in late 2014 with an increased rig count and infrastructure to release shut in gas and then more production in 2015.
At the current AECO strip of $4.65, plus the 24 cent premium heat content Bonterra receives and a 1 mmcf/d increase in associated gas production to 23 mmcf/d, I estimate Bonterra natural gas will generate an extra $9.2 million cash flow (30 cents) in 2014.
Financial Forecast Q4 and FY 2013
In the 9 months to September 30, 2013, Bonterra earned $142 million in Funds Flow including working capital generation of $21.4 million and assuming Spartan Oil was owned from January 1 versus the acquisition date of January 25.
Company guidance for FF in all of 2013 was $192 million as of the last presentation.
I expect the company to slightly miss the guidance with 2013 FF in the high $180's, but this will not be reported until March 20. My expectation is due to the lower Q4 EP oil price (ARC reported $86.64 versus Q3 MSW Benchmark $101.10 and BNE Q3 $103.30) but higher Q4 AECO natural gas price (ARC reported $3.15/mcf versus Q3 $2.43 AECO benchmark and BNE realized $2.71).
I expect BNE to report a Q4 average realized oil price 16% lower than Q3 but a natural gas price 25% higher. The company also produces a small (762 boe/d) amount of natural gas liquids, which have seen a strengthening in price.
Overall Q4 revenues should be down about 4% quarter/quarter and cash flow could be $42 million ($1.35 CFPS) for Q4 and $168 million ($5.56 CFPS) for 2013.
The company used $169.2 million in the first nine months of 2013, $95.6 million for CAPEX and $73.6 million in dividend payments.
Before working capital sources, the company reported $126.1 million in cash flow during the nine months ($4.21 per diluted share) to September 30, on revenues of $225 million. With $12.3 million in working capital cash generation, total cash flow was $138.4 million.
Therefore, there was a $169.2-$138.4 or $30.8 million shortfall or a 122% payout. The company also paid back $19.6 million in short-term debt for total net cash requirements of $50.4 million.
This shortfall was made up from $10 million cash acquired with Spartan, a $10 million addition to the note to the significant shareholder, as well as a $27.5 million public share issue Bonterra completed on July 2, 2013 (553,725 shares at $49.85).
Financial Forecast for FY 2014 vs Street Estimates
The 2014 budget would require cash flow of $238.5 million or $7.65 per share without any equity or debt financing and assuming 100% payout ($108.5 million for the current dividend rate and $120 million for planned CAPEX). The company has $250 million in credit room with $147.2 million bank debt outstanding as of September 30, and therefore, I do not expect additional equity financings. The company had 31.19 million shares outstanding.
The average estimate of the dozen analysts that cover Bonterra Energy is $6.25 per share for 2014. Price targets range from $57 to $63 with five a hold, five a buy and 2 a strong buy.
Conclusion: 2014 BNE target price of $64.89
Based on the current $97 Edmonton Par oil and $4.65 AECO natural gas 12 month strip pricing, plus 4.6% guided midpoint production growth, I expect Bonterra to earn $5.56+$1.35+$0.30 = $7.21 CFPS ($225 million). This is 15.4% above the $6.25 analyst consensus.
I expect the $18.5 million difference between cash requirements of $238.5 million and cash flow of $220 million to be made up from additional debt financing and proceeds from stock option exercise.
Based on a 50% payout, lower than the estimated 2013 payout of 60%, I expect Bonterra to raise its monthly dividend to 32 cents sometime this year, to $3.84 annualized, up 11.2%, by year end.
The company had $578 million in tax loss carryforwards and does not expect to pay current taxes until 2016. However, the Canada Revenue Agency has indicated it is reassessing certain tax losses related to a transaction five years ago. A company representative said "Bonterra has not received a reassessment from the CRA yet but if such reassessments are issued and maintained on appeal, Bonterra will owe total cash taxes of approximately $25 million for the five taxation years since the conversion. Bonterra continues to maintain that all tax returns are correct as filed and will defend its position should the CRA proceed with any reassessment."
I should note the downside would be worth 80 cents per share and easily funded in the short term with credit.
My primary valuation method and target price for Bonterra is based on my 2014 cash flow per share estimate and a reasonable cash flow multiple of 9 times given the conservative debt leverage and modest production growth profile.
A net asset approach would indicate Bonterra is valued at $26.44/boe with a market cap of $1.864 billion on 70.5 million boe 2P reserves. This is within the range for Cardium producers and could be quickly reduced depending on technical revisions in the 2013 reserve statement to be released after the market close.
The cash flow method would indicate a 2014 BNE target price of $64.89 and an exit yield of 5.9%. Including ten dividend payments of 29 cents per month in 2014 (goes "ex" the February dividend tomorrow), the estimated total pre-tax return is 26.3% to the end of 2014 for Canadian residents. Non-Canadians would have refundable taxes withheld on distributions.
Risks
The main risk to owning Bonterra would certainly be a drop in energy prices and/or oversupply of light crude oil in the midwest refinery markets Bonterra's oil is consumed by. Other risks include higher than expected well depletion rates, additional carbon taxes on energy producers or users and changes in the provincial royalty regime or income tax regime.
Bonterra shares are illiquid at times with a 50-day average daily volume of only 65,000 shares. The shares trade on average with a large spread, so trading costs can be high. In addition, the company's small board and dominant shareholder would indicate reduced board independence and corporate governance. The company has issued a $25 million note to the significant shareholder although this is subordinated to bank debt.
The company has no major shareholders other than Mr. George Fink (9.7%) and BlackRock Asset Management Canada (5.2%).
Disclosure: I am long BNEFF. I wrote this article myself, and it expresses my own opinions. I am not receiving compensation for it (other than from Seeking Alpha). I have no business relationship with any company whose stock is mentioned in this article.
Additional disclosure: Bonterra Energy became a "Pick" of Chris Damas and The BCMI Report on February 4, 2014. Some or all of the above information was disseminated to readers of The BCMI Report prior to the publishing of this article.