Hospira (NYSE:HSP) reported first quarter fiscal 2010 earnings per share (EPS) of 84 cents, down 18.4% from the year-ago quarter's $1.03. However, this figure reflects a 2009 per share benefit of 57 cents from a settlement with its IRS audit. Not including this one-time benefit, first quarter 2010 EPS would have improved year over year by 38 cents.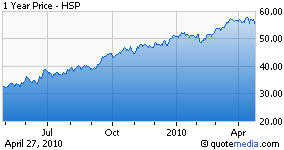 Excluding non-recurring items, EPS came in at 94 cents, well above the Zacks Consensus Estimate of 72 cents and the year-ago quarter's 60 cents.

Revenues recorded a year-over-year increase of 17.2% to $1 billion, primarily driven by growth in Specialty Injectable Pharmaceuticals (SIP).

While SIP revenues increased 36.8% from the year-ago period (at constant exchange rates or CER) to $611.4 million, revenues from the Other Pharma segment declined 14.8% to $146.1 million. Strong growth in the SIP segment was driven by the launch of the generic oncolytic oxaliplatin during the third quarter of 2009 and robust growth in the sedative agent Precedex.

Revenues from Medication Management Systems (MMS) increased marginally (0.6% year-over-year at CER) to $150.8 million. However, like the fourth quarter of 2009, Other Devices continued to fall in the reported quarter and recorded revenues of $99.3 million, down 16.9% at CER.

Geographically, during the quarter, Americas, Europe, Middle East & Africa (EMEA) and Asia-Pacific contributed $815.8 million (up 17.4%), $122.5 million (down 5.6%) and $69.3 million (up 4.6%), respectively (compared with the corresponding period last year) at CER, to total revenues.

Adjusted income from operations increased 60% to $240 million, largely driven by increased sales volume, favorable product mix and efficiency arising from restructuring initiatives.

In addition to posting strong results, Hospira raised its EPS guidance for 2010. The company expects full-year EPS in the range of $3.35–$3.45 compared with the earlier guidance of $3.25–$3.35. Revenue guidance has improved from flat to 3–5% at CER.

In order to strengthen its product portfolio, Hospira recently decided to acquire Javelin Pharmaceuticals (JAV) for $2.20 per share or approximately $145 million. The acquisition of Javelin will provide access to its lead product candidate, Dyloject, a post-operative pain management drug, currently under US Food and Drug Administration (FDA) review.

We are currently Neutral on Hospira.