Target Corporation (NYSE:TGT) is an American-based retailer that sells both groceries and discounted retail items. With over 1,900 stores scattered throughout the U.S. and various parts of Canada, Target is ranked 36th on the Fortune 500 as of 2013, along with being a major component of the Standard & Poor's 500 index. Tragically, as you may know, this past December marked a horrifying event in Target history. Over 110 million customers were affected as hackers were able to access credit card numbers, expiration dates, CVV security codes, PIN numbers, phone numbers, addressees, customer names, email addresses... you name it. This data breach was the second largest cyber attack in history! With Americans stunned, and Target being sued left and right, something had to be done. As a result, Target gave its customers a 10% discount store-wide for the weekend of December 21-22, 2013, in an attempt to gain their loyal customers' trust back. Target also offered a one year free credit monitoring service, and continually reminded customers that it was not liable for any fraudulent charges.
Millions of Americans were enraged at Target for doing so little to compensate for the breach. Offering a measly two day 10% sale is absurd, considering the data and security breach that Target was responsible for. This discount was too little too late because most customers could not take advantage of this offer due to the short two-day window that Target provided. What Target really should have done was make a more meaningful attempt to make up to their loyal consumers by extending the 10% store-wide discount for a long enough period to not only bring back customers, but to bring positive attention to their recently shattered image. Not only that, but Target, if it were smart, should have also incorporated a 90 day incentive where with any purchase of $100 or more, customers would receive a $20 discount. This type of incentive would have people coming back into the store, and talking about Target's very sincere apology, thus helping it repair its image even more. This would also be a great time to announce a stock buyback program to help boost the stock price, and to help illustrate that Target believes in itself to rebound and prosper. All of which it should've, but didn't do.
The pros resulting from the cons
Since Target did a terrible job trying to repair its image, I believe this creates a spectacular opportunity to snap up Target stock at a clearance price. As a result of the data breach, slow retail traffic, terrible weather conditions (Polar Vortex), and emerging market troubles, Target has certainty taken a beating.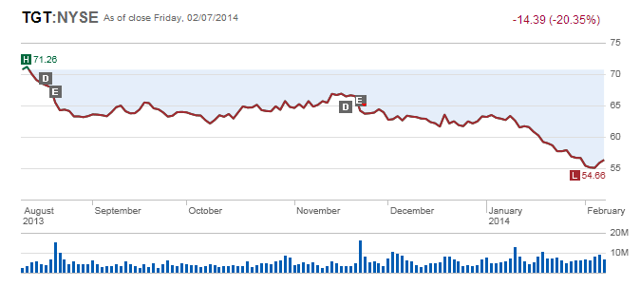 Source: schwab.com
Seen on the graph above, over the last six months, Target has fallen over $15 a share, a 20% reduction! Target is certainty not going bankrupt, nor does it have any flaws in its fundamentals. Target is constantly increasing the number of stores, along with satisfying customer needs. Target is tanking because of five bad breaks, the data breach, slow retail traffic, terrible weather conditions (Polar Vortex), emerging market troubles, along with the selloff of the stock by panicked investors. However Target was wise enough to stuff every bit of bad news into this horrendous quarter. Target announced January 22, only a couple of days after the breach, it would cut 475 jobs, along with confirming it would also leave 700 currently open positions vacant. Additionally, Target announced that it would be cutting health insurance for all part-time workers (this will likely help reduce costs for part-time workers which will help to boost Target's bottom line). With its earnings announcement just around the corner (February 26), I believe that this date will mark the end of the bleeding, and the beginning of a new era. I am certain Target will post hideous numbers, setting the stock price even lower (if that is even possible at this point), presenting an opportunity to purchase the stock at an even greater discount. This date will signify the end of Target's terrible quarter, but the beginning of what I believe to be a major comeback.
The Future
Target has a very healthy 15.08 P/E along with an outstanding 3% yield. Combined with the recent troubles Target has had because of the terrible weather, major data breach, emerging market issues, and the selloff of its stock, February 26 marks the end of its troubles, and the beginning of a comeback. Although Target has been constantly setting new 52-week lows, its troubles have come under control, and it seems like everything is in place for the Target stock to rebound. Americans will soon forget about the data breach (like they have forgotten about all the other breaches), leading to an increase in consumer confidence translating to increased sales and a higher stock price. Early to mid July would be a great time to sell as sales in July are always substantially higher due to the weather, the 4th of July holiday, and the summer selling season.
Risks
For all we know Target may not be done descending, and may continue to fall due to the severity of the data breach. Target may never return to pre-data breach levels and may just be a slowly dying company. With Wal-Mart (NYSE:WMT) being America's number one discount retailer who is not afraid to consistently slash prices to gain market share, it is in a position to dominate Target's disgruntled customers.
Disclosure: I am long TGT. I wrote this article myself, and it expresses my own opinions. I am not receiving compensation for it (other than from Seeking Alpha). I have no business relationship with any company whose stock is mentioned in this article.