Time Warner Inc. (NYSE:TWX) turned in a solid 2013 and is poised for continued growth through 2014. The company operates under three main segments: Turner, Home Box Office and Warner Brothers. During late 2013, the company announced they would be spinning off Time Inc. into its own publicly traded company in order to focus on film and television assets. As a result of a strong 2013, Time Warner increased its dividend by 10% and increased its 2014 share repurchasing program to $5 billion. All three business segments saw growth in 2013 and are set-up for continued growth in 2014.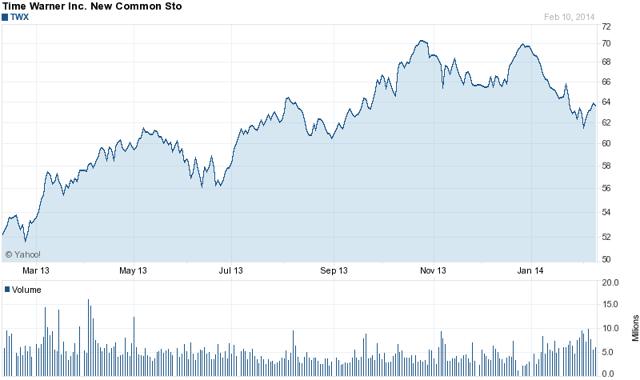 Twelve months ended 12/31/2013

2013

2012

Y/Y % change

Revenues ($millions)

-Turner

$ 9,983

$ 9,527

4.8%

-HBO

$ 4,890

$ 4,686

4.4%

-Warner Bros.

$ 12,312

$ 12,018

2.4%

intersegment eliminations

$ (724)

$ (906)

-20.1%

Total excluding Time Inc.

$ 26,461

$ 25,325

4.5%

-Time Inc.

$ 3,354

$ 3,436

-2.4%

Total Revenue

$ 29,795

$ 28,729

3.7%

Total Operating Income

$ 6,605

$ 5,918

11.6%

Free Cash Flow

$ 3,516

$ 2,941

19.6%

Diluted EPS

$ 3.77

$ 3.00

25.7%

Dividends per share

$ 1.15

$ 1.04

10.6%
Turner
The Turner business segment includes TBS, TNT, CNN, TMZ, TruTV and HLN. During 2013 the company posted revenue and operating income growth of 5% and 6% respectively. For the first time in over a decade, TBS was ranked the #1 cable network in prime time for adults 18-49. TNT was ranked the #2 cable network among adults 25 to 54 in daytime, and #4 in prime time among adults 18 to 49. The company expects to increase investment in original programming by 20% in 2014. Turner will also expand its men's NCAA March Madness coverage to include 2 Elite Eight games and 2 Final Four games for the first time. The company expects this will add 5%-7% in segment revenue during the first half of 2014.
HBO
HBO added nearly 2 million subscribers in 2013, its highest increase in 17 years. Latin America has seen solid growth which helped to increase international subscribers by 15% in 2013. HBO now has 84 million international subscribers and roughly 46 million domestic subscribers to total 130 million global subscribers. Game of Thrones, Boardwalk Empire and True Blood will all return in 2014, as well as HBO's new original True Detective. True Detective premiered in January 2014 and features Matthew McConaughey and Woody Harrelson. The show has already passed 10 million viewers for its first episode.
Warner Brothers
Warner Brothers led both domestic and international box office revenues in 2013, which brought in over $5 billion for the first time in company history. 7 movies had over $300 million in global revenue, including The Hobbit, Gravity and Man of Steel. 2014 has a strong lineup which will include the Lego Movie, Edge of Tomorrow, Godzilla, Interstellar, and the final installment of The Hobbit.
In television production, Warner Brothers produced 32 shows for broadcast, more than any other studio. These shows include The Big Bang Theory (#1 comedy), The Voice (#1 unscripted show), and The Following (#3 drama). Warner TV expects to produce over 60 shows in total in 2014.
2014 Growth Factors
Share Buyback Program
Management is committed to return value to shareholders and have done an excellent job of doing so through aggressive share buybacks. Since 2008, the company has repurchased close to $15 billion in shares or approximately 32% of outstanding shares. The company also recently approved an additional $5 billion for its share buyback program in 2014. With a current market cap around $58 billion, this newly authorized plan has the potential to further reduce outstanding shares by 7-9%. By doing this, the company will improve EPS as well as reduce its dividend payout ratio.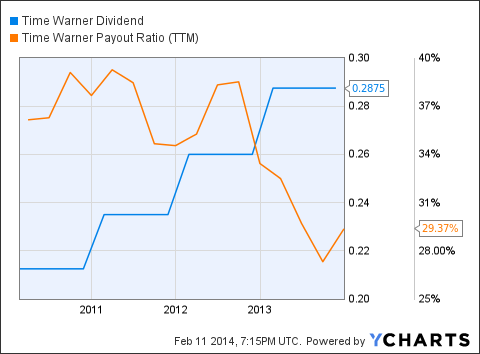 TWX Dividend data by YCharts
Strong Free Cash Flow
Since 2008, Time Warner has generated nearly $15 billion in free cash flow. In 2013, FCF increased 20% over 2012 to $3.5 billion. This gives the company flexibility to continue its aggressive share buyback program, increase dividends (as it has done so for the past 5 years), and invest in new original programming.
HBO Growth
In an effort to show the solid fundamentals and growth of HBO, Time Warner decided to break out HBO's financials for the first time in their 4Q2013 earnings release. With Netflix (NASDAQ:NFLX) trading at such high multiples, Time Warner believes giving investors direct insight into HBO can gain value for the company. HBO operates under a similar platform to Netflix and while not growing revenues as fast as Netflix, it is larger and more profitable. Netflix reported a twelve month operating income of $228 million compared to HBO's $1.67 billion operating income in 2013. The company is investing heavily in HBO GO, which allows subscribers to watch all HBO content on mobile devices. This gives Time Warner a direct mobile competitor to Netflix. HBO GO is available on the iPad, iPhone, Apple TV, Google Chromecast, Kindle Fire, Roku and Xbox 360. HBO GO is expected to soon be available on PS4 and Xbox One.
Warner Brothers
Warner Brothers has a strong 2014 movie lineup and most recently saw a massive opening weekend for the Lego Movie. Analyst had been expecting a strong opening weekend box office of $50 million, but the movie blew this out of the water with $69.1 million. With an estimated budget of $60 million, the movie is already in the green and has the potential to easy surpass $200 million. The next family movie, Mr. Peabody and Sherman, isn't set to be released until March 7, 2014, which could further increase sales.
Risks
During the 4Q2013 conference call, management warned of a higher effective tax rate in 2014 compared to 2013. Favorable audit settlements and recognition of additional foreign tax credit carryovers lowered the company's tax rate in 2013. Time Warner said the higher tax rate could negatively impact 2014 adjusted EPS by $0.15-$0.20.
With the spin-off of Time Inc., the company expects to incur restructuring costs of $150 million in the first half of 2014 with $100 million of this expense to occur in 1Q2014.
Conclusion
Growth across all three business segments in 2013 should carryover to 2014. The company has the financial flexibility to return value to shareholders while continuing to invest in new content and programming. International markets still hold significant growth potential and HBO will continue to penetrate this market. Of the 29 analyst covering Time Warner there are 7 strong buys, 12 buys and 10 holds with an average price target near $75, or 15% above current levels. A recent Barron's article put the price target on the company at $83-$85.
Disclosure: I have no positions in any stocks mentioned, and no plans to initiate any positions within the next 72 hours. I wrote this article myself, and it expresses my own opinions. I am not receiving compensation for it (other than from Seeking Alpha). I have no business relationship with any company whose stock is mentioned in this article.