Avery Dennison Corp. (NYSE:AVY) reported first quarter earnings per share of 61 cents, surpassing the Zacks Consensus Estimate of 43 cents and the year-ago earnings of 11 cents.

Sales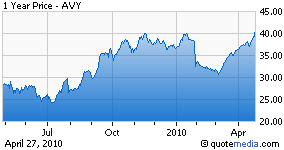 Total revenues in the first quarter increased 9% year over year to $1,554.7 million. Excluding acquisitions, organic growth was 7% year over year.

The Pressure-sensitive Materials segment revenue increased 11% year over year to $897.2 million. Growth was primarily due to higher sales of Roll Materials, Graphics and Reflective Products businesses.

The Retail Information Services segment revenue increased 9% year over year to $344.8 million. Growth can be attributed to higher demand from apparel retailers and new products introduced in the market.

The Office and Consumer Products sales declined 2% year over year to $179.9 million. Net sales in Avery's office specialty converting businesses improved 13% year over year to $132.8 million.

Margins
Avery registered an expansion in margins in the first quarter. Gross margin increased 420 basis points (bps) year over year to 28.4%. Excluding restructuring, asset impairment, goodwill, legal expenses, etc., adjusted operating margin increased 360 bps year over year to 6.5%.

Balance Sheet
Avery ended the first quarter with cash and cash equivalents of $143.6 million, an increase of 73% year over year. The company had outstanding long-term debt of $1,702 million at the end of the first quarter.

Outlook
Avery expects total revenues in fiscal 2010 to grow between 5 and 7% year over year. Adjusted earnings per share should range between $2.50 and $2.80. Free cash flow is expected in the range of $300 to $350 million.

Headquartered in Pasadena, California, Avery develops innovative identification and decorative solutions for businesses and consumers worldwide.