Executive summary:
Goldman continued its leadership in investment banking.
Solid returns in a challenging environment.
In the near term, shares are poised for gains following a 12% drop.
Based on EPS, a reasonable valuation suggests upside potential.
_________________________________
One can say that the Goldman Sachs Group (NYSE:GS) is one of the most powerful financial institution in the world. In fact, the quality of its experts give the highest status to the bank in all financial and business areas, and its client base is outstanding and diversified.
Goldman Sachs was founded in 1869 and is headquartered in New York City with additional offices in international financial centers. The firm is a leader in mergers and acquisitions, underwriting services, asset management, and prime brokerage. Its clients include corporations, financial institutions, financial sponsors, public authorities, and governments of countless countries.
Interestingly enough, one of the largest events in the firm's history was its own IPO in 1999 which left approximately 12% of the company as being held by the public.
On September 21, 2008, Goldman Sachs and Morgan Stanley, the last two major investment banks in the United States, both confirmed that they would become traditional bank holding companies, bringing an end to the era of investment banking on Wall Street.
Currently with a market capitalization of about $75B, Goldman is one of the most profitable banks in the world. With a trailing P/E of 10.4, and trading at a P/B ratio of 1.05 it is an attractive stock for investors.
Goldman Sachs reported net revenues of $34.21 billion and net earnings of $8.04 billion for the year ended December 31, 2013. Diluted earnings per common share were $15.46 compared with $14.13 for the year ended December 31, 2012. Fourth quarter net revenues were $8.78 billion and net earnings were $2.33 billion. Diluted earnings per common share were $4.60 compared with $5.60 for the fourth quarter of 2012 and $2.88 for the third quarter of 2013.
Goldman Sachs continued its leadership in investment banking, and tangible book value per common share increased approximately 7% to $143.11 compared with the end of 2012. On the other hand, the firm's Tier 1 capital ratio was 16.7% and the firm's Tier 1 common ratio was 14.6% as of December 31, 2013, in each case under Basel I and also reflecting the revised market risk regulatory capital requirements.
Goldman's stock has experienced a very interesting track record as shown in the chart below which reflects the entire period after the IPO.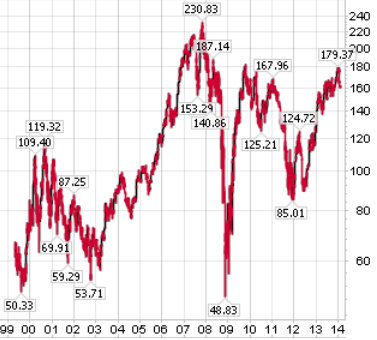 Charts courtesy of StockCharts.com
Over the last eighteen months, prices have registered a fairly sustained rise.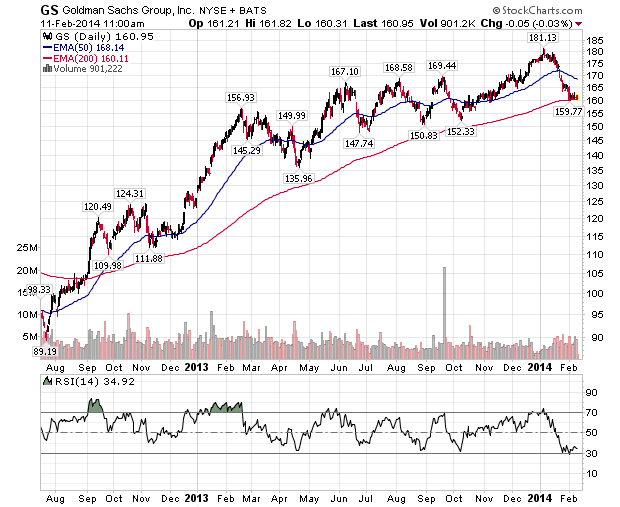 In September 2012 the EMA(50) has broken above the EMA(200). Since then only in early January of this year the price has given a sign of weakness as it has dropped to the EMA (200). Nevertheless, this long term moving average seems to be giving good support to share prices.
Conclusion
With EPS of around $17, and a low P/E of 10-12, Goldman shares can reach in the short-to-medium term a range of $170-$205 per share.
Goldman Sachs has shown a financial strength worthy of note and its brand is a symbol of the banking business everywhere. Even in a challenging environment, its dominance in several areas of investment banking is very significant. On the other hand, its influence in the world of high finance is notorious, enabling the creation, development, and implementation of a wide range of important business to its clients. It will be critical to confirm if Goldman's upside potential will materialize in this complicated stage on the financial markets.
Disclosure: I have no positions in any stocks mentioned, and no plans to initiate any positions within the next 72 hours. I wrote this article myself, and it expresses my own opinions. I am not receiving compensation for it (other than from Seeking Alpha). I have no business relationship with any company whose stock is mentioned in this article.