With well-known brands such as Kleenex and Huggies, Kimberly-Clark Corp. (NYSE:KMB) has dominated the personal household and personal product industry for some time. The company announced its recent quarter results that beat expectations and brought joy to investors. As a slow growth stock, Kimberly-Clark still offers tremendous potential for growth especially in the emerging markets. The company's share price has increased by 23% year to date and the stock currently trades at $107.
Currency and Other Impacts hid Organic Growth Earned by Kimberly-Clark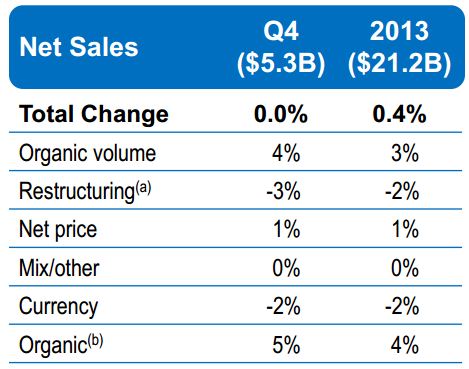 Source: Presentation
Fourth quarter sales remained the same as last year at $5.3 billion. However, excluding restructuring and currency impacts, the company achieved organic sales of 5% as a result of a 4% volume increase and a 1% price increase. Since organic sales is what matters, when we see how the company is progressing, this was a good sign.
Strategic changes in the European territory and pulp and tissue restructuring eliminated potential sales (3%). Nonetheless, in the coming period, the positive impact will add to the company's revenue once those changes are implemented properly.
The growth is being led by the international market (precisely emerging) where it generated an even higher figure of organic sales (11%). The international segment is growing and will be a source of future top line growth for the company.
Personal Care
Segment wise, the personal care department's sales increased organically although currency and restructuring effects slightly decreased the total revenue by 1% to $2.4 billion. Sales in North America were even but increased by 5% in the emerging markets that include China, Russia, Vietnam and Brazil due to improvements in the product mix. In Europe, the sales declined for the reasons discussed above.
The operating profit was 5% less than a year ago at $398 million. This was because the company was negatively impacted by input cost inflation and unfavourable currency that offset organic sale and cost initiatives.
Consumer Tissue
The segment that produces Kleenex remained relatively stable in terms of revenue ($1.7 billion) due to the same reasons that affected the company overall. Geographic locations were affected by the same reasons as the personal care segment and the only difference was the magnitude of these effects.
However, the operating profit jumped 17% to $275 million from a year ago. Lower marketing, research and general expenses brought forward due to cost initiatives and organic growth surpassed input cost inflation and resulted in an increase in the profits.
KC Professional
This segment that caters to safety products for work and professional environments was the first that showed positive nominal growth in terms of revenue during the last quarter. Revenue increased 3% to $800 million which would have been higher (+2%) if currency impact didn't pour in. Sales increased in North America (2%) as well as throughout the emerging markets (6%) while in Europe the other segments deteriorated. The operating profit also increased by 8% to $149 million as a result of cost savings and organic growth.
Healthcare
Healthcare also posted positive results just like KC Professional. Sales increased 2% to $400 million with the operating profit increasing to $62 million from last year's level. Healthcare is a critical area for the company. Even though the sales of medical devices has been high with strong demand for pain management and digestive health products, the company lacks the expertise to deal with the segment that has recorded poor results in the past. Spinning off this segment, which KMB plans to do, is a right choice to help generate better margins (discussed below).
The adjusted total operating profit for the company was $836 million, up 5% compared to $798 million a year ago. For adjusted results, I excluded restructuring costs for European strategic changes of $14 million in 2013 and $299 million in 2012. The adjusted results also excluded a $50 million cost for pulp and tissue restructuring in 2012.
All in all, the adjusted EPS increased by 5% to $1.44 with the improvement driven by organic sales growth and cost savings partially offset by input cost inflation and unfavourable foreign currency rates. Most of the negative impacts were related to restructuring and currency fluctuations. The company should be able to out pass them through more hedging and once the restructure is completed; so it is not a material thing to worry after.
Kimberly-Clark is Spinning off Healthcare to Better Focus on Core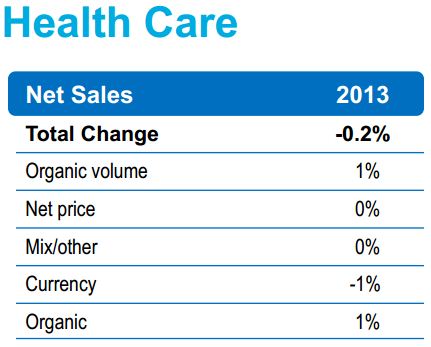 Source: Presentation
Like I said above, the healthcare segment has been experiencing declining results for the past four quarters. The business has been very volatile for the company for years, and the new company that will be worth $1.6 billion (annual revenue) is going to be formed through a tax-free deal. If Kimberly-Clark had decided to sell off, there would have been a huge tax bill that would have harmed investors' returns in the near short term since the company anticipates completing the procedure by the end of 3Q14.
With tax free spinning in the future, Kimberly-Clark will be able to focus on its core and more fruitful operations hence promoting efficiency that will combine with the cost-saving initiatives that the company is presently pursuing.
Kimberly-Clark's FORCE is Significantly Saving costs but is Hidden Behind Currency Fluctuations
The company generated $75 million last quarter from its FORCE (Focused on Reducing Costs Everywhere) program. For the full year, this figure was $310 million. The program is still underway and is expected to deliver $300 million in cost-reduction for 2014. If the company hedges its currency fluctuation effectively, this saving will translate into more profit and better returns.
European Restructuring is Time Consuming but Better Long Term
Apart from cost savings and spinning off its healthcare segment, I mentioned how European structuring is negatively affecting its profits at the moment. Kimberly-Clark is moving away from the diaper category in Western and Central Europe. These lower margin businesses bring negligible returns to investors despite the $500 million in annual sales and therefore moving away is a good sign for the long-term health of the company. Total related restructuring costs will be incurred through to 2014 and are expected to be in the high end range of $350 to $400 million pre-tax. This will hamper bottom line for short term but once done, will improve company's margin substantially.
The restructuring and spin off will decrease the annual sales by around $2.1 billion and profits by around $240 million, however, the impact on operating margin would be positive and the operating margin will increase by 27 bps. Adding to that expected saving of nearly $330 million from FORCE and pulp & tissue restructuring, the operating margin will jump by 200 bps to 15.4% coming near to the industry average of 15.6%.
Conclusion
In conclusion, there are a lot of events working in favor of Kimberly-Clark. Organic sales are growing in every department which means there is strong demand and top line growth. Cost-saving initiatives are proving successful and bringing in millions towards savings, hence bottom line promotion.
Once the European restructuring and spin off is completed, Kimberly-Clark will turn towards its path of becoming fully operational at an impressive profit generating level. Although it has still delivered return on equity of 33.6% higher than the industry's 22.4%, the near future indicates that this figure will rise instead of falling. Based upon these events, I give Kimberly-Clark a buy rating.
Disclosure: I have no positions in any stocks mentioned, and no plans to initiate any positions within the next 72 hours. I wrote this article myself, and it expresses my own opinions. I am not receiving compensation for it (other than from Seeking Alpha). I have no business relationship with any company whose stock is mentioned in this article.