Executive summary:
Tesla has rocketed to all-time highs, but investors should be careful with such lofty expectations.
Analyst estimates shooting higher makes any beat smaller.
Short interest has started to turn lower.
Convertible notes could add more dilution.
_______________________________________
Another day, another new high for electric car maker Tesla Motors (NASDAQ:TSLA). Shares of the momentum name broke through $200 for the first time, just as I expected they would in 2014. Tesla shares are now up about $60 since I wondered if another major short squeeze was coming for the name. With the stock hitting another new all-time high, it's time to look at the name one last time before next week's earnings report.
Estimates continue higher:
One thing that really stands out is the sharp rise in analyst estimates. When I covered Tesla in late January and encouraged investors to take a little money off the table, estimates stood at their highest point. Those estimates have continued higher, thanks to Tesla's mid-January announcement of Q4 deliveries well above prior expectations. With the company going from under 6,000 to about 6,900 deliveries for Q4, you knew estimates would go higher. It was just a question of how much. You can see all of Tesla's estimates here, and the table below shows my collection of these estimates since the Q3 report.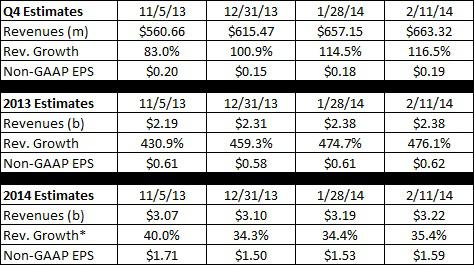 *2014 revenue growth figure based on 2013 estimate at that time, which will continue to change until we get final 2013 results.
With Tesla pre-announcing the quarter, analyst estimates have jumped significantly in 2014. The average Q4 revenue estimate is up over $100 million since the company reported Q3 in November. Tesla will report on Wednesday, February 19th, after the bell.
Most investors seem to be expecting a beat, with the potential for revenues up to or over $700 million. However, any potential beat will be much smaller than it would have been a month ago, or even a few weeks ago. We still have another week until the company reports, so there is the chance that estimates could continue to rise. Additionally, with shares rocketing higher to new all-time highs, investor expectations will be sky high as well. Even with a beat of analyst estimates, it may not be enough to keep shares elevated if investors are expecting a bit more.
Tesla will also be closely watched for its profitability, and analyst EPS estimates are non-GAAP. Since the Q3 report, you'll notice that revenues estimates have soared, but the Q4 EPS estimate average is down by a penny. Valuation may eventually come into play for Tesla, which currently trades for nearly 125 times expected 2014 non-GAAP EPS. With such a large revenue expectation for Q4, I wouldn't be surprised if the EPS "whisper number" for Tesla is somewhere around $0.25 or more.
Short interest turning lower:
One reason why I was so positive on Tesla around $140 is that short interest was again rocketing higher. On Tuesday, we got the latest update from Nasdaq on short interest, and my chart below shows Tesla's short interest from May 2012 to the end of January.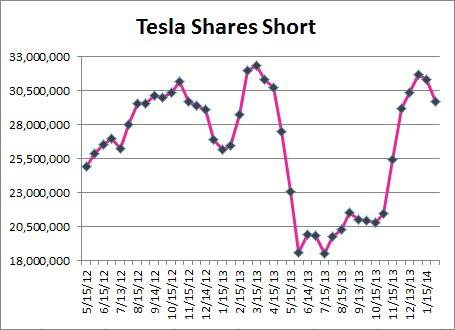 Nearly 1.7 million shares were covered at the late January update. That means that in January, over 2 million shares were covered. That may not seem too significant, but the short squeeze case would be a lot different if short interest had risen by 2 million plus in January. Also, the latest update came before the recent rise to $200. It's possible that even more shorts have covered since then. Unfortunately, we won't get the mid-February short interest update until a few days after Tesla reports. Tesla is still a very heavily shorted stock, so there is still some short squeeze potential left. However, there is a small dent in that argument, and after a $60 run, that dent may be growing. Don't forget, Tesla is a name that shows more dilution each quarter. So 29 million shares short in early 2013 will equal a smaller percentage of the float (and outstanding share count) than the current amount.
Don't forget about the convertible notes:
I discussed the convertible notes back in October, so I won't go into too much detail here. If you want to read about them in detail, see my linked article in this section or pages 16-18 of the 10-Q filing. If you remember, Tesla issued convertible debt in May 2013 which if all converted equaled about 5.3 million shares. The notes could be converted if certain conditions were met, and one of those conditions was based on the trading price of shares during the quarter. This was condition 1 where the notes could be converted:
During any fiscal quarter beginning after the fiscal quarter ending September 30, 2013, if the last reported sale price of our common stock for at least 20 trading days (whether or not consecutive) during the last 30 consecutive trading days of the immediately preceding fiscal quarter is greater than or equal to 130% of the conversion price on each applicable trading day.
In Q3 2013, the condition was met, so bondholders were eligible to convert during Q4 2013. I'll be interested to hear if any of the notes were converted. These are interest paying notes, so any notes converted will help Tesla's interest expense to be reduced. However, the flip side to this argument is that any notes converted means more shares outstanding, and more dilution to shareholders. Tesla had more than 122.5 million shares outstanding at the end of Q3 2013, up from 105.8 million a year earlier.
Looking at Tesla's historical prices, the share price towards the end of Q4 did not seem to satisfy the condition above. So I don't think the notes can be converted in Q1 unless some extreme event occurs that forces another conversion factor. However, if Tesla shares remain elevated as they are now, the notes could become eligible for conversion again in Q2 2014.
I'll be listening to hear about the notes during the earnings report. Any notes converted reduces interest expenses, but increases dilution. So there may not be a positive or negative impact on EPS, depending on how the numbers shake out. But if more shares are added to the count, it does hurt the short squeeze argument from before. Take a little chunk out of that argument here, and another one there, and the argument eventually falls apart.
Final thoughts:
Tesla shareholders are loving this rally. The company is expected to announce a huge Q4 next week, and expectations will be very high. We saw recently that even a large beat and good guidance from Twitter (NYSE:TWTR) wasn't enough as the stock had gotten way ahead of itself. I'm not arguing that will be the case with Tesla, but shares are up about $60 in just a couple of weeks. If shares and estimates continue to rise into earnings, this could be another case of "buy the rumor, sell the news". Investors must consider rising estimates, lower short interest, and potential dilution when looking at Tesla. I'm still a believer in the future of Tesla, and I do think shares will go higher in the next couple of months. However, Tesla has been on quite a ride lately, and now the company must deliver. I expect shares to be volatile, and those looking to buy wouldn't be dumb if they waited for a pullback. I don't mean for this article to be negative, not in the slightest. In the end, Tesla bulls have gotten the rally they wanted, but if the company doesn't deliver, this blessing will soon become a curse due to extremely high expectations.
Disclosure: I have no positions in any stocks mentioned, and no plans to initiate any positions within the next 72 hours. I wrote this article myself, and it expresses my own opinions. I am not receiving compensation for it (other than from Seeking Alpha). I have no business relationship with any company whose stock is mentioned in this article.
Additional disclosure: Investors are always reminded that before making any investment, you should do your own proper due diligence on any name directly or indirectly mentioned in this article. Investors should also consider seeking advice from a broker or financial adviser before making any investment decisions. Any material in this article should be considered general information, and not relied on as a formal investment recommendation.