Executive summary:
Many financial firms are prohibited from holding stocks selling for below $5 a share.
Most stocks priced at under $5 a share are small caps and are relatively uncovered by analysts.
I have found that once a stock breaks above $5 it can gain significant momentum.
Below are a few attractive stocks under $5 a share that have been on the move recently.
_________________________________
Although small speculative names only make up 10% to 15% of my portfolio, I have more fun researching, buying and writing about them than my large caps or stodgy income plays. Apple (NASDAQ:AAPL) is currently the largest stock in my portfolio but it is not going to double in the next 12-18 months which my small caps can and not infrequently do. Who wouldn't like that?
I particularly like small cap stocks trading over $3 a share and below $5 a share. Many big financial institutions are prohibited from buying equities selling at less than $5 a share. In addition, since most stocks priced under $5 a share are usually small caps; they quite often receive scant analyst coverage.
I had some luck spotting some attractive values in this price range in 2013 such as GT Advanced Technologies (GTAT) and Himax Technologies (NASDAQ:HIMX). Both provided huge returns last year to my portfolio - although to my detriment I bailed on both after they tripled. Here are a few attractive stocks with some momentum approaching that magical $5 level.
Not surprisingly given the recent rise in precious metal prices in the New Year, a silver miner makes the list. Endeavour Silver Corp. (NYSE:EXK) has shot up more than 50% in the last couple of months. However, it is still ~25% below its 2013 highs and ~60% below where it began at to start 2012. I added heavily to this position on its big decline in the fourth quarter of 2013 along with other gold & silver miners.
Endeavour gets it production from geopolitical stable Mexico. The country recently passed significant energy reforms and is hell bent on attracting additional foreign investment. This means tax & royalty rates should remain stable and I don't see the environment for strikes. Compared to mining properties in Africa and other unstable areas of the globe, Mexico looks like Luxembourg right now.
The company has also managed to stay profitable despite the significant decline in silver prices in 2013 and has raised production for nine straight years. Endeavour has a solid balance sheet with little debt and has managed to more than double operating cash flow since the end of FY2010 despite challenges in the industry. If we continue to see silver prices move up, Endeavour should continue to outperform the market.
Hercules Offshore (NASDAQ:HERO) has not been kind to my portfolio since I purchased shares at ~$6 a share a few months ago. I have bought additional shares on the decline to average down.
HERO had a positive move Tuesday, possibly due to presenting at the Credit Suisse Annual Energy Summit yesterday. The stock is giving investors here some hope here as it is bouncing off the same technical support level it did in late 2012, the last time the equity was in this price range (See Chart).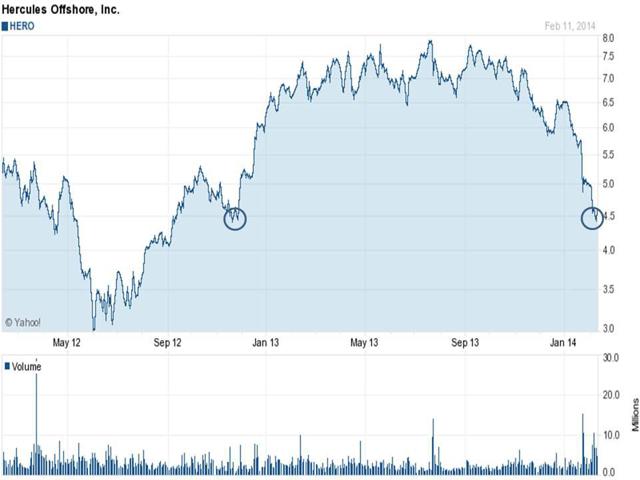 Hercules has been hit by the same negative sentiment that has affected most offshore players on concerns around declining day rates. I think this correction is overdone and oil prices consistently over $100 a barrel will be a tailwind for increased offshore activity that will burn through any overcapacity concerns over time.
A couple of insiders think the shares are undervalued and have stepped up to purchase over $750K in new shares over the past three months. Analysts are also bullish on the stock. The median price target by the 16 analysts that cover the stock is $8 a share, more than 60% above the current stock price.
They also project earnings will more than double to over 60 cents a share in FY2014 on back of a better than 25% increase in revenues. The company has also beat bottom line expectations significantly in the last two quarters. Shares are cheap at less than 8x forward earnings and under book value.
Disclosure: I am long EXK, HERO. I wrote this article myself, and it expresses my own opinions. I am not receiving compensation for it (other than from Seeking Alpha). I have no business relationship with any company whose stock is mentioned in this article.