On Monday, the Chinese Gold Association (CGA) issued its 2013 gold consumption numbers for mainland China and the results should raise eyebrows for all gold investors.
According to the CGA, and we note that the Beijing based organization is almost certainly issuing all statistics on behalf of the government's interests, Chinese gold consumption jumped 41 percent to 1,176.4 metric tons in 2013 from the year before. This total was made up of 717 tonnes of jewelry demand, 376 tonnes of gold bar investment and 49 tonnes in industrial use. The remaining 35 tonnes was in coins and other items, said the CGA. This total bears a close match to the figures that many have been reporting about Chinese consumption based on Hong Kong import data of 1157 tonnes in 2013.
The Mystery
The strange thing isn't the import numbers, because we know that China has importing a tremendous of gold and the 20 tonne discrepancy between the CGA data and the Hong Kong imports are reasonable. The question really is what happened to the almost 500 tonnes of gold mine supply and scrap?
According to many reports, China is the largest gold miner in the world and with scrap supply, this should be a portion of Chinese gold consumption - but it is completely missing. In fact, we're assuming that China imports absolutely no gold from anywhere other than Hong Kong - which is obviously not true.
If we simply include Chinese domestic gold production, those consumption numbers should be much closer to 1600 tonnes as indicated in the table below.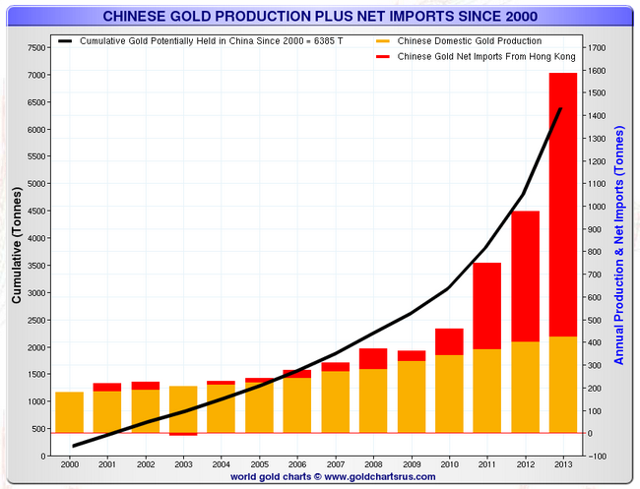 Source: ShareLynx
So What is Going On With The Missing Chinese Gold?
When it comes to government figures we almost always have our doubts about the quality of the numbers, but a discrepancy that is at least 500 tonnes (and maybe much higher than that when including other foreign imports) is hardly something that can be written off to poor statistical collection methods.
What we believe is happening is that this missing gold is going straight into the coffers of the Chinese central bank. The last time the Chinese central bank reported its gold reserves was 2009 and it has not updated them since - even though almost all analysts have figures for Chinese gold holdings much higher than the IMF declared 1054 tonnes. How much gold could the Chinese central bank own is a calculation for another article, but needless to say that the missing gold is almost certainly going straight into the government hoard.
Conclusion for Investors
So what does this mean for investors? It's obviously a very bullish indicator for both gold and gold stocks because it means that the Chinese government is purchasing serious amounts of gold. 500 tonnes of gold is around 20% of world gold mine supply (estimated around 2500 tonnes per year), and if that gold is being stockpiled by the Chinese central bank that means a few things.
First, it is confirmation that the Chinese are trying to increase their gold holdings very quickly to much higher levels. We think they're aiming to approach US gold holdings in the near future (around 8000 tonnes), and 500 tonnes a year will get them there in the next decade - not ideal but with physical gold there simply isn't enough to increase gold reserves in a speedier fashion.
Secondly, and perhaps more importantly, the missing Chinese gold tells us that the accumulation of gold is something that the government does not want to share - they want to keep it under wraps. That's important because it shows that they are afraid of what would happen if this information is made public. They may fear that the gold market may shoot higher if official Chinese buying was acknowledged (probably) and the repercussions to the financial system if the world clearly knew they were buying gold (maybe not a great thing for their massive treasury holdings).
Finally, the fact they didn't publicly acknowledge this buying means that they clearly are not done buying gold yet. If you are a central bank and are done buying a large amount of gold, it wouldn't hurt at all to release that data - if you spike the gold price then your holdings have now gained value. The only reason you wouldn't declare your new gold holdings are because you want to buy much more gold - thus we believe the Chinese have much more buying to go.
We believe that the recent rally in gold has a long way to go and it seems the Chinese government believes that too. Thus we will happily keep our position and we believe that gold will reach much higher prices in 2014 as part of our 2014 gold investment themes that we released in December. We still think it is an excellent time to accumulate more physical gold and the gold ETF's (SPDR Gold Shares (NYSEARCA:GLD), PHYS, CEF). For investors looking for higher leverage to the gold price, they may want to consider miners such as Goldcorp (NYSE:GG), Agnico-Eagle (NYSE:AEM), Newmont (NYSE:NEM), or even some of the explorers and silver miners such as First Majestic (NYSE:AG).
We don't know how much the Chinese government is buying, but we do know that massive amounts of gold are somehow not being reported in consumption numbers. Perhaps more importantly, the fact that the Chinese government is not reporting any of their gold numbers means that the government may have a lot more buying to go. If the Chinese government is buying gold in massive amounts then we think it is prudent to own some gold too.
Disclosure: I am long GG, SGOL, AG. I wrote this article myself, and it expresses my own opinions. I am not receiving compensation for it (other than from Seeking Alpha). I have no business relationship with any company whose stock is mentioned in this article.